Former Alaska Sen. Stevens Killed in Plane Crash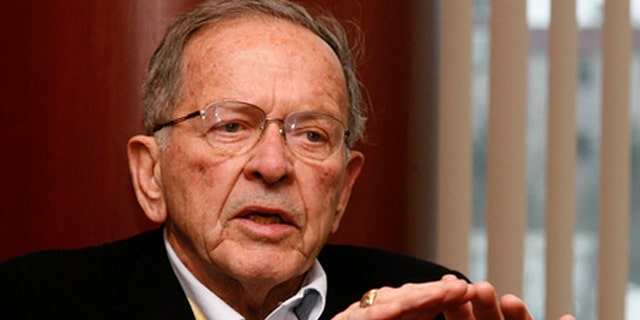 Former Alaska Sen. Ted Stevens, one of the longest-serving senators in U.S. history and a tireless advocate for his state, was killed Monday in a plane crash southwest of Anchorage.
Former chief of staff Mitch Rose, a spokesman for the family, confirmed to Fox News that Stevens was among the five dead. He was 86.
Colleagues of the veteran lawmaker remembered him as an Alaskan "hero."
"He built Alaska and he stood for Alaska and he fought for Alaska," Alaska Gov. Sean Parnell said at a news conference.
"The thought of losing Ted Stevens, a man who was known to business and community leaders, Native chiefs and everyday Alaskans as 'Uncle Ted,' is too difficult to fathom," Sen. Lisa Murkowski, R-Alaska, said in a written statement.
Stevens was the longest-serving Republican in U.S. Senate history when he left office after losing his seat in the 2008 election. The end of his term in office was marked by a high-profile corruption trial that was ultimately dropped after he lost re-election. The senator had served more than 40 years in office and took on a patriarchal role for his state, leveraging his seniority to win large sums of federal funding for Alaska projects. The airport in Anchorage is named after Stevens.
The National Transportation Safety Board, which sent a team to the crash site, said nine people were aboard the DeHavilland DHC-3 Otter, a single-engine plane commonly used to ferry passengers in and out of remote areas. The NTSB said rescuers at the scene reported five deaths.
The victims were identified as Stevens; pilot Theron "Terry" Smith, 62, of Eagle River; William "Bill" Phillips Sr.; Dana Tindall, 48, an executive with GCI; and her 16-year-old daughter Corey Tindall.
Former NASA Administrator Sean O'Keefe also was on the flight but survived, according to defense contractor EADS North America. O'Keefe is the current chief executive of the U.S.-based division of the European firm. O'Keefe's son Kevin also survived, as well as William "Willy" Phillips Jr., 13; and Jim Morhard, of Alexandria, Va.
O'Keefe and Stevens were said to have been traveling with their sons. According to the Anchorage Daily News, the plane was registered to Anchorage-based communications company GCI -- the firm owns the Agulowak Lodge where Stevens was traveling Monday.
The rescuers on scene were "administering help to at least two people and "working to get those people out as soon as possible," the Alaska Air National Guard said. Rescuers from the Guard said they were able to reach the crash site by helicopter Tuesday morning and were "currently providing medical support to the crash victims at the scene."
Alaska National Guard spokesman Maj. Guy Hayes said about five good Samaritans were on scene early Tuesday helping the crash victims.
The plane crashed outside of Dillingham, located on Bristol Bay about 325 miles southwest of Anchorage. Flights at Dillingham are often perilous through the mountains, even in good weather. NTSB chairwoman Deborah Hersman said weather conditions at the time of the accident included light rain, clouds and gusty winds.
The cause was not immediately known, but weather is one area investigators will examine.
Hersman said the group had eaten lunch at a lodge and boarded a 1957 red-and-white float plane between 3 p.m. and 3:15 p.m. local time for a trip to a salmon fishing camp. The FAA had previously said the plane took off between 1 p.m. and 2 p.m.
Lodge operators called the fish camp at 6 p.m. to inquire when the party would be returning for dinner, but were told that they never showed up. Civilian aircraft were dispatched, and pilots quickly spotted the wreckage a few miles from the lodge, Hersman said.
The doctor and EMTs were flown to the area and hiked to the wreckage as fog and rain blanketed the area and nightfall set in, making it impossible for rescue officials to reach the scene until daybreak.
Pilot Tom Tucker helped shuttle the medical personnel to the scene and said there was no rhyme or reason to how some survived the crash. The pilot was killed, but a passenger in the co-pilot's seat survived. "The front of the aircraft was gone," he said. "He was just sitting in the chair."
Four survivors were taken to Providence Hospital in Anchorage with "varying degrees of injuries," Alaska State Troopers said.
Sean O'Keefe was listed in critical condition late Tuesday afternoon, while son Kevin was listed in serious condition and sleeping.
For the former senator, however, the crash marked a tragic end to a storied career.
Stevens left office at the beginning of 2009 after losing to Democrat Mark Begich in an election that coincided with Stevens' corruption trial. The case took several twists and turns -- Stevens was convicted on seven charges just days before the election, but Attorney General Eric Holder dropped the charges last April citing prosecutorial misconduct. The former senator had been accused of lying on a disclosure form to hide gifts from an oil company executive.
Stevens suggested afterward that he might have won re-election if not for the "unfair" case against him. Despite calls for a do-over election at the time, Begich stayed in the seat and Stevens returned to private life.
When his party held a majority, Stevens -- known as a formidable parliamentarian -- was chairman of several Senate committees, including the powerful Rules and Appropriations panels. For three years, he was majority whip. When the Democrats took back control of the Senate in January 2007, he lost his chairmanships but remained ranking Republican member of the powerful Commerce Committee.
His skill in appropriating military and other federal money for Alaska earned him the reputation among many in Washington as a pork-barrel politician. Revered in Alaska -- he was named Alaskan of the Century in 1999 for having the greatest impact on the state in 100 years -- he brought in "Stevens money" that literally helped keep the remote state solvent. "The only special interest I care about is Alaska," he was fond of saying.
He helped shape landmark legislation on Alaska Native land claims, the trans-Alaska oil pipeline, fisheries management and public lands. One of his projects became a symbol of pork-barrel spending in Congress and a target of taxpayer groups who challenged a $450 million appropriation for bridge construction.
The "Bridge to Nowhere" would have connected Ketchikan, Alaska, to an island with just 50 residents at a cost of nearly $400 million. The proposal became a symbol of the waste associated with earmarks, which are items inserted into bills, often at the last minute.
Congress scrubbed funding for the bridge in 2005.
The crash that killed Stevens was not his first. Shortly after being elected to his second full term in 1978, he was aboard a private jet that went down at Anchorage International Airport, killing his first wife, Ann.
Begich's father, former Rep. Nick Begich, also was killed in an Alaska plane crash along with House Majority Leader Hale Boggs decades ago.
Sen. Begich on Tuesday called Stevens one of the state's "greatest statesmen and a true pioneer."
"Over his four decades of public service in the U.S. Senate, Senator Stevens was a forceful advocate for Alaska who helped transform our state in the challenging years after Statehood. Senator Stevens' many contributions to Alaska are enormous and his legacy of fierce devotion to Alaska will be long-lasting," he said.
Former Alaska Gov. Sarah Palin called Stevens, who is a World War II veteran, a "warrior" and "an Alaskan hero" who has "dedicated his life to his country."
Stevens' family, in a statement Tuesday afternoon, said the former senators "loved Alaska with all his heart."
"He was a guiding light through Statehood and the development of the 49th State. Now that light is gone but the warmth and radiance of his life and his work will shine forever in the last frontier. His legacy is the 49th star on the American flag," the family said.
The Associated Press contributed to this report.