Foley Considers Legal Challenge After Malloy Seizes Edge in Connecticut Governor's Race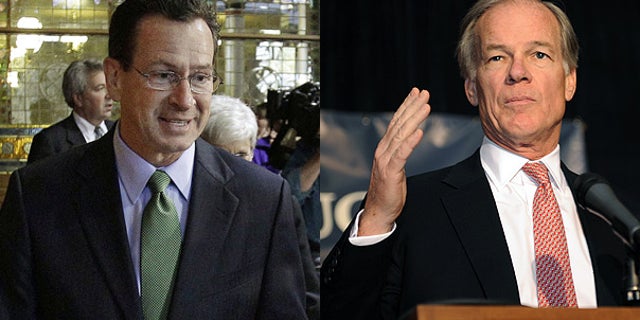 HARTFORD, Conn. -- Republican Tom Foley said Friday a re-count might be needed to get an accurate tally of the vote in the Connecticut governor's race and left open the possibility of a legal challenge after a late count in Bridgeport appear to give Democrat Dan Malloy the victory.
The Associated Press on Friday reinstated its call of Malloy as the winner of the governor's race. The AP initially called Malloy the winner on Wednesday, after Secretary of the State Susan Bysiewicz said her preliminary count showed Malloy had won by 3,103 votes. The AP withdrew the call Wednesday night when its vote count, with all but a handful of precincts reporting, showed Foley with a narrow lead.
The AP received a complete report of results from heavily Democratic New Haven on Thursday, which substantially boosted Malloy's total, as did new vote totals from heavily Democratic Bridgeport on Friday. The AP's complete but unofficial count shows Malloy winning by 7,762 votes. A separate complete count now posted on the secretary of the state's website shows Malloy winning by 5,644 votes. Both margins are well outside the difference that would trigger an automatic recount under state law.
But Foley said he was not ready to concede. He said he wants to meet with officials to discuss the problems in Bridgeport, where a ballot shortage forced some residents to stand in long lines Tuesday night or vote on photocopied ballots.
"We need to understand more about how Bridgeport got to these numbers," he said, adding how "the number in Bridgeport has been moving around so much."
He later said: "We are being laughed at around this country."
Foley said his campaign would review the numbers before deciding whether to take legal action.
Bridgeport officials announced the vote totals after working through the night to hand count the ballots.
"This is not exactly the way we'd like to see things done in Bridgeport, but what I want to emphasize is that when we became aware of problems in the process of not having enough ballots printed, we reacted swiftly so that every vote was counted," Mayor Bill Finch said.
The Democratic mayor said Friday he would appoint a three-person panel to investigate the ballot shortage, and a public hearing will be held in City Hall on Nov. 16 for residents to voice their concerns.
He dismissed reports that not enough ballots were printed because of financial constraints. "It was by no means a financial matter," he said. "I have no idea where something as ridiculous as that comes from."
City officials said Malloy had received 17,969 votes compared with 4,099 for Foley.
"There are no hanging chads here. Every paper ballot was counted, period," Finch said in defending his city's vote-counting operation.
Malloy's spokesman, Brian Durand, said he was confident Malloy and his lieutenant governor candidate, Nancy Wyman, would be declared winners.
"We'll wait for the Secretary of the State to make it official, and will then have more to say," he said.
Bysiewicz, relying on a combination of unofficial returns from cities and towns and unofficial tallies she received over the phone, announced Wednesday that Malloy had defeated Foley by more than 3,000 votes out of more than 1.1 million cast.
Both Foley and Malloy began forming transition teams Wednesday in anticipation of becoming Connecticut's 88th governor, succeeding the retiring M. Jodi Rell.
Republicans have voiced concerns about the photocopied ballots and the extended voting hours and criticized Bysiewicz for declaring Malloy the winner based on unofficial vote totals. But the GOP hasn't filed any formal complaints, state GOP Chairman Chris Healy said.
The race won't be officially certified until Nov. 25.