Florida turns out three – possibly four – 2016 presidential contenders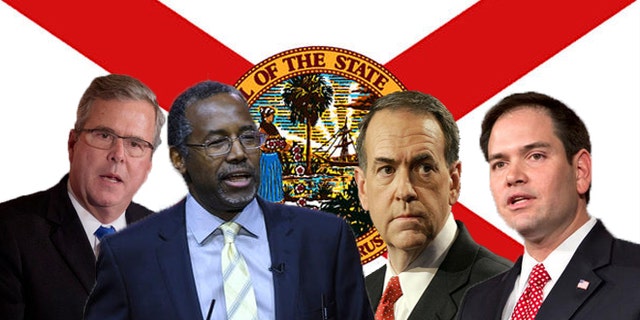 NEWYou can now listen to Fox News articles!
Sen. Marco Rubio and Ben Carson, both from Florida, have launched their presidential campaigns.
But when all is said and done, there may well be four Floridians – all Republicans – vying for the Oval Office.
Former Arkansas Gov. Mike Huckabee, who now lives in Florida, is expected to announce his candidacy on Tuesday.
And former Florida Gov. Jeb Bush is expected to announce that he also is running in the near future.
Rubio, the son of Cuban immigrants, made his announcement in April in Miami, in front of the city's Freedom Tower—an iconic landmark where the federal government once processed Cuban immigrants fleeing the Communist regime of Fidel Castro.
Carson, who lives in West Palm Beach, made his announcement on Monday in Detroit, where he grew up.
Huckabee, who did well in several states when he ran unsuccessfully to be his party's presidential nominee in 2008, plans to launch his campaign in his native hometown of Hope, Arkansas. His primary resident these days is the Florida Panhandle.
Last year, he said: "Janet and I, neither of us grew up thinking we'd see salt water in person."
"We both grew up dirt poor in Southern Arkansas ... For us, growing up, the thought that we would ever put our feet in salt water, no that would never happen," Huckabee was quoted as saying in nwsdailynews.com.
"We're totally at home with the culture here — because it's Southern," Huckabee said.
Republicans need Florida's 29 electoral votes for a shot at winning the White House, experts say.
The Florida Legislature plans a winner-take-all primary March 15, 2016 in order to make the Sunshine State more of a critical stop for political campaigns.
Like us on Facebook
Follow us on Twitter & Instagram