Florida GOP Gov. Rick Scott narrowly defeats Dem challenger Crist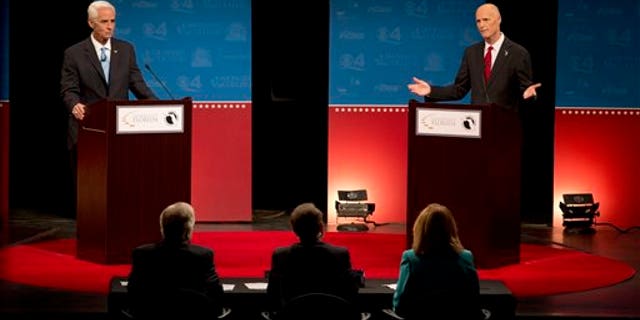 NEWYou can now listen to Fox News articles!
Florida Republican Gov. Rick Scott narrowly defeated Democratic challenger Charlie Crist Tuesday night after a bitter campaign that was one of the most expensive in the country.
With 97 percent of precincts reporting, Scott held a 48 percent to 47 percent lead over Crist, the state's former Republican governor.
Scott, who along with his wife put almost $13 million of their own money into the campaign in its final days, said Tuesday night that he is hoping Florida an put the nasty race in the past. He urged his supporters to "forget about partisanship" in the best interest of the state.
"Now is time to charge boldly ahead," he said.
The 61-year-old Scott overcame a late deficit in some polls to win the race, which saw the candidates squabble over everything from unemployment to Crist's insistence on bringing a fan to a debate.
In the end, Crist couldn't overcome Scott's attacks blaming him for the state's financial problems during his term from 2007 to 2011. Crist blamed the troubles on the global economic meltdown.
Crist also told his supporters Tuesday night that Florida must work together to overcome the partisan divide.
"For me, it's never been about right versus left," he said. "It's been about right versus wrong."
Exit polling showed that despite Scott's victory, most Florida voters had an unfavorable view of him. While voters did have a favorable view of Crist, they believed he switched parties to win elections rather than to reflect his own beliefs.
Overall, Florida voters expressed worry about the economy and overwhelmingly believed the nation is on the wrong track, the polling showed.
The Associated Press contributed to this report.