Flipped script: Rand Paul inscribes, auctions Hillary's book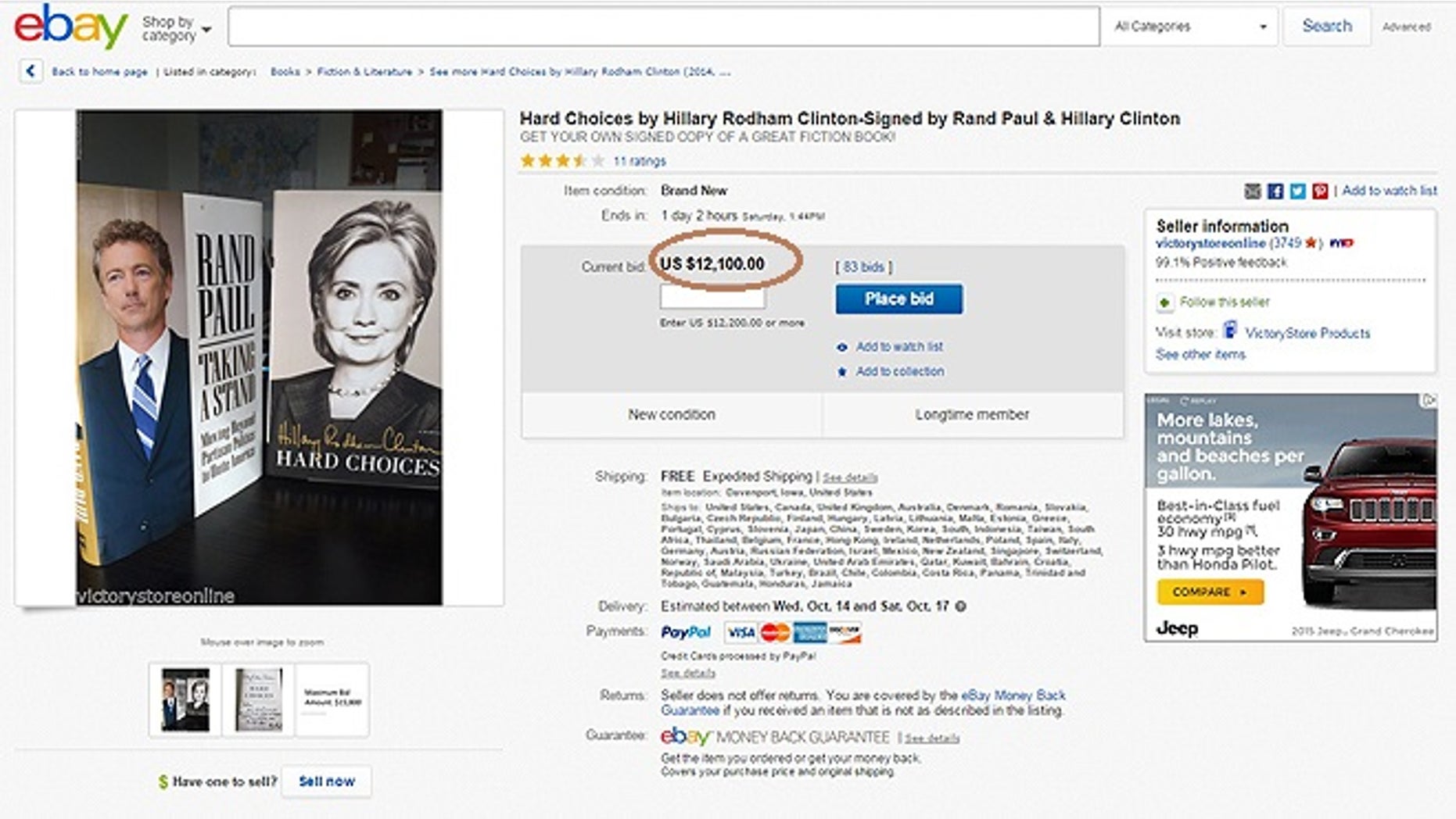 Rand Paul turned the tables on Hillary Clinton, inscribing a copy of the former secretary of state's new book with a message of his own and putting it up for auction on eBay, where bids topped $12,000.
"Hillary, Your refusal to provide security for our mission in Benghazi should forever preclude you from higher office!" the Kentucky senator wrote in the copy of "Hard Choices" that he, along with 14 fellow GOP presidential hopefuls, received from Clinton.
Clinton sent copies of the memoir, which outlines her time running the State Department, in response to claims from candidates and pundits that her tenure was heavy on travel but light on accomplishments. She included a note defending her record.
"I understand that you and your fellow Republican Candidates for president were questioning my record of accomplishments at your last debate, so I thought you might enjoy reading my book, Hard Choices," reads Clinton's letter. "From working to restore America's standing in the world to bringing crippling sanctions to Iran to negotiating a ceasefire in Gaza, please enjoy all 596 pages of my time as secretary of State.
"With 15 candidates in the race, you've got enough people for a book club!" Clinton added.
On Thursday, Paul tweeted his opinion of - and plans for - the book.
In addition to auctioning it on his campaign site, he put up for auction a copy of his own memoir, "Taking a stand."
As of late Friday morning, the action for the two books had garnered a bid of $12,100. The auction closes on Saturday or until bidding hits the maximum of $15,800.
A spokesperson for Paul tells FoxNews.com that the auction is being handled by a vendor and proceeds from the winning bid will be donated to his campaign fund.
Presidential candidate Dr. Ben Carson responded to the gift from Clinton in his own way. On Friday he posted a video on his Facebook page in which campaign staffers discover different "uses" for the memoir, such as a coaster, a door stopper and foot stool.