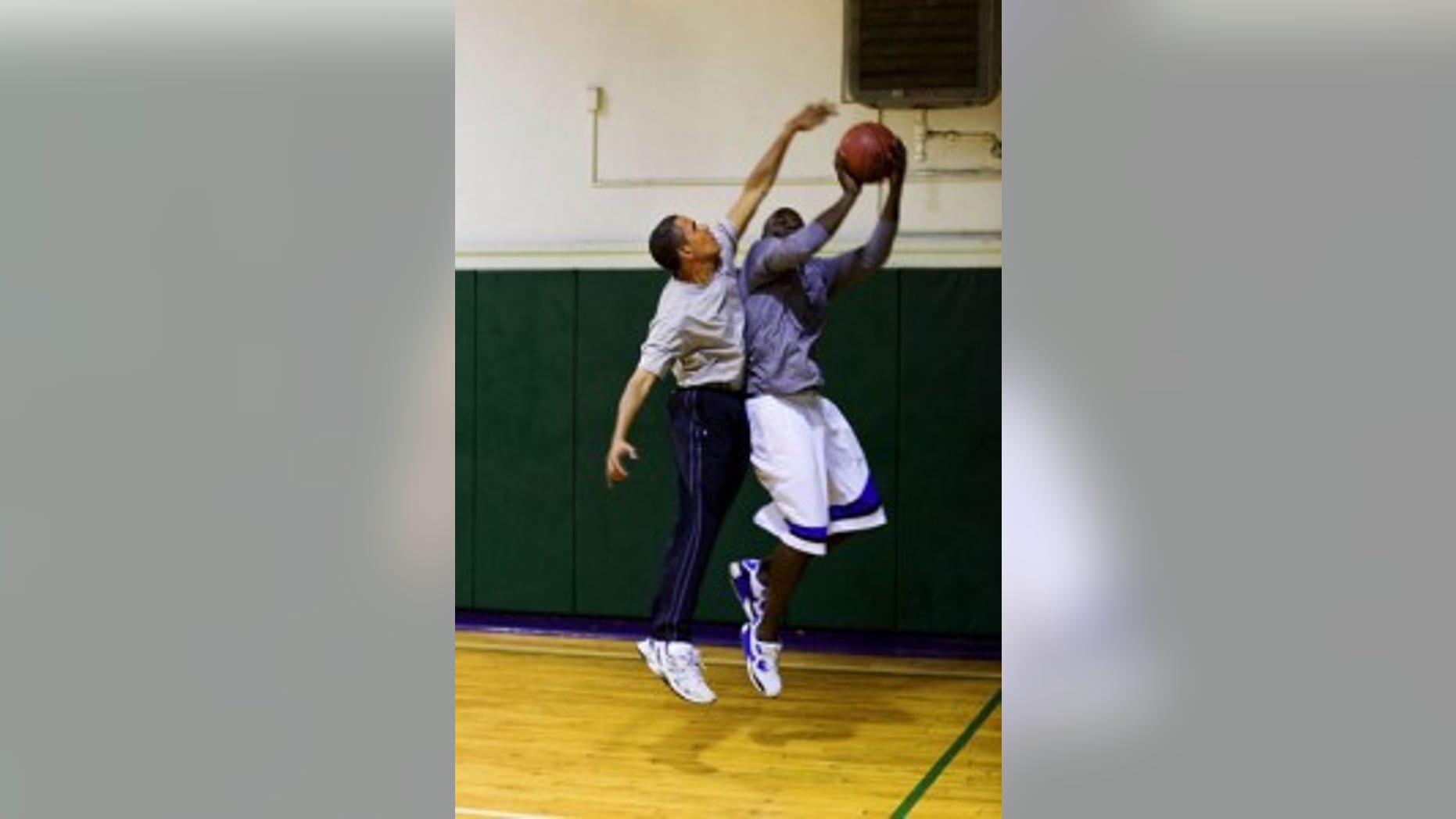 The rigors of life in the Oval Office can take a toll on a president, which is why it's important for a commander-in-chief to monitor his health and get routine checkups.
But the head honcho doesn't mosey on down to the doctor's office, take a few deep breaths, say "ah" and call it a day. Just like his house, his office, and his car, his routine physical is anything but ordinary. And no, he doesn't get stuck with a bill for his visit. As commander-in-chief, he gets medical services for free.
President Obama will undergo his first physical as commander-in-chief on Sunday at the National Naval Medical Center in Bethesda, Maryland.
It's no secret that he's conscientious when it comes to his health. Although he was often seen eating diet-derailing meals on the campaign trail (pancakes in Pittsburgh, chicken wings in Charleston, West Virginia) and has ventured out of the White House for the occasional burger or ice cream, Mr. Obama is more often captured on camera heading to the gym for a workout, hitting the links for a round of golf, or shooting hoops with friends and staffers.
His wife Michelle recently launched a nation-wide campaign to combat childhood obesity and has shown off her own fitness skills by playing Double Dutch and hula hooping with local children at activity-promoting events on the White House lawn. She's also been known to accompany the president for gym workouts.
Mr. Obama is young, exercises regularly, and typically watches what he eats. After all, this is the guy who infamously complained about the price of arugula to a crowd of Iowa voters.
After Sunday's visit, additional aspects of the president's physical fitness will be revealed. Like his those before him, Mr. Obama will get a full head-to-toe examination.
Recent presidential physicals at the Bethesda medical center have lasted approximately 4-5 hours and have included the following tests:
- blood pressure
- cholesterol
- chest x-ray
- electrocardiogram
- stress test
- urinalysis
- blood tests
- ear, nose, throat, and eye exams
The White House typically releases all findings of routine presidential procedures to the public, including the more private details that most Americans tend to keep discreet. In 2006 after his 60th birthday, it was revealed that (gasp!) President Bush had gained nearly five pound, though at the time doctors said he was in better shape than most men his age. Bush blamed it on too many birthday cakes.
And who could forget the intricate colon diagrams that were displayed on cable news programs and on the Internet after he had polyps removed during a 2007 colonoscopy?
President Clinton, who was recently hospitalized for a clogged coronary artery, had a precancerous skin lesion removed from his nose during an annual physical in 1996, and was told by his doctors to avoid prolonged sun exposure following the procedure.
After that same visit, it was revealed that Clinton's cholesterol count had dropped significantly, showing a marked improvement from his previous exam. At the time, a presidential spokesman said the cholesterol level drop was surprising given the president's meal with German Chancellor Helmut Kohl one day earlier. During that lunch meeting, Clinton is said to have eaten chicken wings, short ribs, vegetable soup with meatballs, steak, lemon chicken, hash browns, green beans and apple pie.
In 1992 George H. W. Bush claimed he was in "perfect" health, after undergoing four hours of medical exams that included screening for glaucoma, a thyroid disorder, mild arthritis and an allergy.
The White House is expected to release the results of President Obama's exam Sunday afternoon.