First Family Gets Moving for White House Easter Egg Roll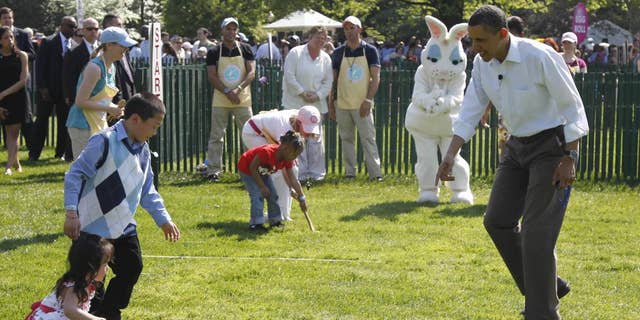 NEWYou can now listen to Fox News articles!
It's not just about eggs and the bunny anymore. The White House annual Easter Egg Roll this year focused on promoting health and wellness.
Under the theme "Get Up and Go!" the festivities on the south lawn Monday were another part of First Lady Michele Obama's "Let's Move!" initiative to bring awareness to health eating and activities for children.
And the first family lead the way.
Michelle Obama participated in a cooking demonstration at the "Kid's Kitchen" stage with Kelly Ripa, Al Roker and Chef Jacques Pépin to create healthy crepes. She told the audience on the south lawn that eating healthy can also taste good.
The First Lady is also teaching her daughters about nutrition and says one of Sasha's favorite things to do is spending time in the kitchen. "She's got a real palette," Mrs. Obama says of her youngest daughter, "She likes searing things. She's used a blow torch...but that's with our chefs at the White House."
And over on the courts, the President himself got moving. He told reporters, "I was just playing tennis with Chris Evert. Except none of the kids remember [her]."
Evert was a major tennis star in the 70s and 80s, winning record numbers of French Open and US Open tournaments. How did the president hold up to the world's former number one tennis player? "She killed me. We were playing with little nerf balls," Mr. Obama told reporters.