'Fire Holder' protesters miffed after demonstration cut short over unattended bag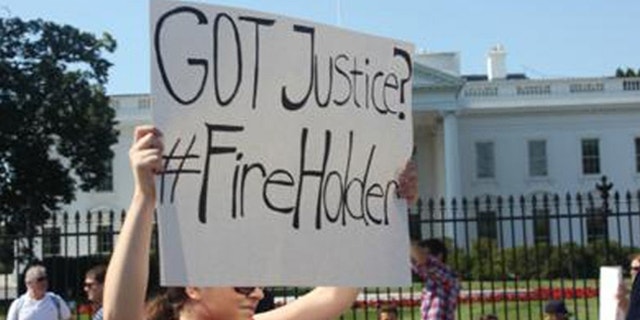 NEWYou can now listen to Fox News articles!
A protest in front of the White House calling for the firing of Attorney General Eric Holder was shut down before it even began when Secret Service agents spied an unattended bag.
But the incident appeared to be yet another one of Washington's false alarms -- and had the anti-Holder protesters wondering why their demonstration was cut short.
"It's definitely one heck of a coincidence. It seemed like an overreaction (by Secret Service agents)," protest organizer and activist Oliver Darcy, of Arlington, Va., told FoxNews.com.
A group of about 50 activists had gathered near the North Lawn Monday as part of a protest over the ongoing Fast and Furious scandal and were protesting for about 30 minutes before the street was cleared for an unattended backpack.
"The Secret Service agents had asked us if the bag belonged to any of us," Darcy told FoxNews.com. "We told them it didn't, and that's when they cleared the street and shut it down."
[pullquote]
It was determined that the backpack belonged to a tourist who had left the bag on the ground to take a photo, according to sources that were at the scene.
The package was cleared from the area and Pennsylvania Avenue was quickly reopened to the public, according to Secret Service officials. But by then, the gathering had lost steam and demonstrators had scattered.
Holder is under fire after being found in contempt of Congress for not turning over documents relating to the gun-walking sting that went awry, allowing thousands of guns to potentially fall into the hands of Mexican drug gangs. One such gun turned up at the scene of Border Patrol agent Brian Terry's murder.
Several protesters who took to Twitter and other social media forums found the Secret Service's actions more suspicious than an errant backpack.
"(Agents) were antsy the whole time we were there. They kept asking a lot of us if we were planning any civil disobedience," Darcy added, maintaining that the group was there only for a peaceful protest.
Secret Service spokesman Brian Leary said agents handled the situation professionally.
"We followed standard operating procedure to protect the safety of the public, our agents and the safety of others," Leary said.