Financial industry braces for Maxine Waters' ascent on key committee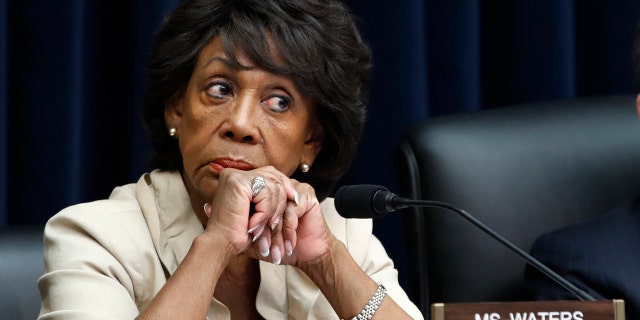 The banking and financial sectors are anxiously bracing for firebrand California Rep. Maxine Waters to claim the chairmanship of the House Financial Services Committee, unsure of what her leadership on the key panel will mean.
Waters, a frequent and vocal critic of President Trump and his administration, is seen as one of Wall Street's biggest adversaries in Congress thanks in large part to her calls for stricter rules on the nation's biggest banks and opposition to moves from the White House to roll back financial regulations implemented during the last recession.
She has toned down her rhetoric since the midterm elections but has also called for more oversight, creating somewhat of a guessing game as to what she'll have in store for the industry when Democrats take control of the House in January.
"I don't know what Chairwoman Waters will be thinking," Richard Hunt, president of the banking industry trade group the Consumer Bankers Association, told Fox News. "We're prepared to defend the good work that we're doing but we're also willing to work with Chairwoman Waters to make sure we get smart, well-balanced policy."
While the country's major banks have expressed their willingness to work with Waters, they are all preparing for a very different House Financial Services Committee than the one currently being headed by Rep. Jeb Hensarling, R-Texas.
Since the midterm elections, Waters has made clear that one of her priorities will be putting a halt to the Trump administration and Republicans' moves to deregulate the banking industry.
Treasury Secretary Steve Mnuchin and other members of the Trump administration have worked with the Federal Reserve to ease constraints placed on financial institutions by the Dodd-Frank Act, a 2010 law implemented in the aftermath of the financial crisis. The Fed last month also laid out new rules to ease regulations on smaller banks.
"I just don't know who is going to be in her crosshairs," Hunt said. "Is it going to first be [Tresury Secretary Steve] Mnuchin and Trump or is it going to be the banks?"
Waters' office did not respond to Fox News' request for an interview. But speaking recently to the Financial Times, the California Democrat said that congressional Republicans have allowed widespread corruption and policies harmful to working Americans to "run rampant."
"For the last two years, Republicans in Congress have served as accomplices to Trump and have completely neglected Congress' oversight responsibilities, enabling corruption and destructive policies to run rampant," Waters said. "It is critical that we bring accountability to the Trump administration and the regulatory agencies under the committee's jurisdiction."
Waters in the past has run into her own financial ethics issues. In 2010, the House ethics committee accused Waters of breaking three rules for allegedly trying to assist trust company OneUnited, where her husband held a sizeable share of stock. The case was eventually dropped when a lawyer hired to review it found that the congresswoman believed she had been acting in the interest of all minority-owned banks, not just OneUnited.
Her power in the new Congress will be limited as Democrats only hold the majority in one chamber, with the Republican-led Senate likely to act as a cooler for any aggressive regulatory efforts should they advance in the House. But the committee perch would give her the ability to investigate and subpoena.
Two banks that Waters has put in her crosshairs are Wells Fargo and Deutsche Bank, the German financial institution that has a long history with Trump.
In a letter to her Democratic colleagues on the committee earlier this month that was obtained by the Los Angeles Times, Waters called Wells Fargo one of the country's "recidivist financial institutions" that would be punished under a bill she introduced last year allowing regulators to break up big banks that "repeatedly harm consumers."
Over the past few years, Wells Fargo has been hit with a number of controversies that have made them a target of Waters' ire.
In 2016, she pushed Hensarling to hold a hearing on the bank's unauthorized account scandal after Wells Fargo agreed to pay $185 million to settle investigations into the matter by Los Angeles City Attorney Mike Feuer.
Wells Fargo has also been accused of consumer abuses tied to the bank's mortgage and auto-loan businesses, which led to a record $1 billion fine from federal regulators in April, and the Federal Reserve earlier this year ordered the bank to stop growing until it could prove that it can prevent consumer abuses.
In a statement sent to Fox News, Wells Fargo said the bank is willing to work with lawmakers on both sides of the aisle and hopes to restore consumer's trust in the financial institution.
"Wells Fargo remains committed to working with lawmakers on both sides of the aisle, including Congresswoman Waters," a spokesperson for the bank said in the statement. "Our priority is to continue sharing the progress that we have made to transform our company, make things right with customers, and give back to our communities."
Deutsche Bank, which is one of the few banks that continued to lend Trump money after bankruptcies by a number of his companies, may face even harsher scrutiny from Waters. The congresswoman, who has called for Trump's impeachment and publicly urged her supporters over the summer to confront members of the president's Cabinet, singled out the bank's ties to Trump in her letter.
"I am committed to strong oversight and following the Trump money trail, starting with Deutsche Bank," she wrote.
The German financial institution paid about $630 million in fines to U.S. and British regulators after it failed to stop the transfer of around $10 billion out of Russia in violation of anti-money laundering laws. Waters has pushed to see any suspicious activity reports the bank filed with the Treasury Department's Financial Crimes Enforcement Network and while she hasn't explicitly discussed plans to subpoena bank officials to come before the committee – to testify about either their records or their lending to Trump – she also hasn't ruled it out.
Deutsche Bank spokesperson Troy Gravitt said in a statement sent to Fox News that the bank is willing to cooperate with whatever action Waters takes.
"Deutsche Bank takes its legal obligations seriously and remains committed to cooperating with authorized investigations," Gravitt said. "Our recent record of cooperating with such investigations has been widely recognized by regulators. We intend to keep working in this spirit if we get an authorized request for information."