Ferguson businesses - among them a Mexican restaurant - anxiously wait for unrest to fade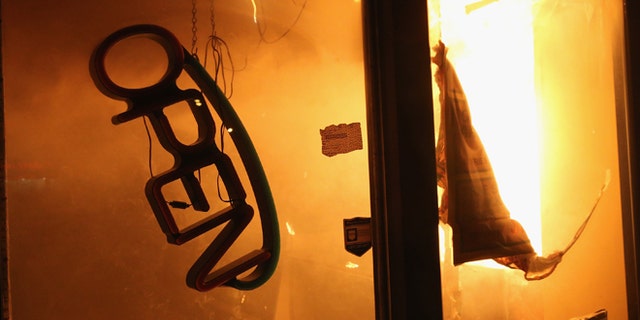 NEWYou can now listen to Fox News articles!
Joel and María Flores spent decades saving up their money in order to open up their own business, a Mexican restaurant in St. Peter's, Missouri, that they named El Palenque.
They moved their burgeoning eatery to the St. Louis suburb of Ferguson nine years ago, hoping to capitalize on a diverse community with a growing middle-class.
But on Monday night, as the town burned and police clashed with angry protesters, the Flores family were afraid that their lives' work would go up in flames. Twelve commercial buildings were destroyed in the unrest following the grand jury decision not to charge Ferguson police officer Darren Wilson in the shooting death of teenager Michael Brown.
Instead, the front windows were smashed, but nothing much worse.
"The people destroying things are criminals – they don't care about people's families or their jobs," Joel Flores told Fox News Latino. "They're criminals, not protesters."
Business owners in Ferguson continue to be on edge as looting and rioting continue.
The Flores family, who own Ferguson's sole Latino-owned restaurant, boarded up the front of the store after Monday night, but they continue to serve reasonably priced fare – like enchiladas and camarones al diablo (shrimp in a chili sauce) – from the restaurant's fortified back entrance.
We're going to get over this. We're a strong community.
Members of the National Guard — which tripled its numbers in the Ferguson region Tuesday — were far more visible and remained posted throughout the town over night to dispel any more attempts of arson, looting or rioting, but many shop owners decided to not take any chances even with the military presence.
While the threat of violence Tuesday night wasn't as drastic as the previous evening – with the 12 buildings burned plus eight other blazes and a dozen vehicles torched – police officers in Ferguson still used tear gas and pepper spray as demonstrators set a squad car on fire and broke windows at City Hall.
Missouri governor Jay Nixon dispatched a large contingent of extra National Guard troops – up from the initial force of 700 to 2,200 - in the hopes that their presence would help local law enforcement keep order in the St. Louis suburb.
National Guard units protected the Ferguson Police Department and left crowd control, arrests and use of tear gas to local officers. In one commercial area on Wednesday morning, a soldier was stationed at every few storefronts, and some were on rooftops.
Forty-five people were arrested, most of them for failure to disperse. Outside police headquarters, one woman was taken into custody after protesters hurled what appeared to be smoke bombs, flares and frozen water bottles at a line of officers. Several other protesters were arrested after defying police instructions to get out of the street or out of the way of police vehicles.
"Lives and property must be protected," Nixon said. "This community deserves to have peace."
Joel Flores, a native of the Mexican state of Jalisco who worked in a chocolate factory in Chicago for more than 30 years, said that despite the unrest, the community would soon recover.
"We're going to get over this," Flores said. "We're a strong community."
While there are not many Latinos in Ferguson – they comprise only 1.2 percent of the town's population and just 2.7 percent of that in St. Louis County as a whole – Flores said that his restaurant is frequented by members of both the white and black communities and is even a popular lunch spot for the town's much-disparaged police force.
"They're our customers. They eat at our place," he said.
While business owners believe they can weather the unrest, Flores said that it will be a long time before business bounces back. Until then, he and his employees will have to be watchful that more problems don't threaten his operations.
"We're going to keep our eyes open," he said, "and just keep doing what we do."
The Associated Press contributed to this report.