Feds Hope Veggie Discount Will Stimulate Healthy Eating for Low-Income Families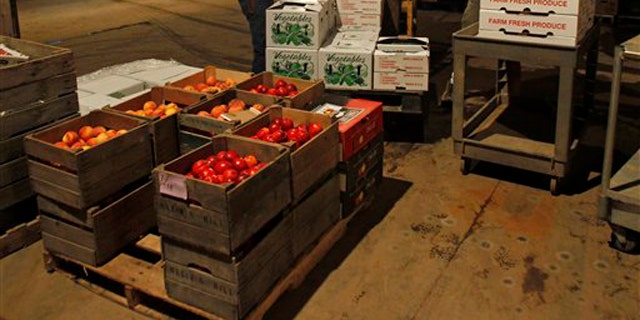 NEWYou can now listen to Fox News articles!
Your parents always told you to eat your vegetables. But if French fries are cheaper than potatoes, cream of mushroom soup is cheaper than portobellos, and a medium pizza is a better buy than a caprese salad, the veggies you can afford might not be so fresh and crunchy.
So what if the produce were cheap?
That's the question the U.S. Agriculture Department is trying to answer as it launches a test project in western Massachusetts to offer low-income families a 30 percent discount on fresh fruits and vegetables.
"There is a lot of very low-cost, processed food products that are out there," said Scott Soares, commissioner of the Massachusetts Department of Agricultural Resources. "It can be much more expensive on the vegetable, fruit side."
Amid a broad federal push to put the squeeze on America's obesity epidemic, officials hope this $20 million pilot program will yield vital clues about how the government can play a role in making the food that ends up on the dinner table healthier -- when so many unhealthy options are available. The pilot, announced Thursday, is set to begin next fall and last about a year. From there, it could be the model for a national program if lawmakers want to take it in that direction.
For now, the project is limited to 7,500 households receiving food stamp benefits in Hampden County, Mass. Under the program, those families will get 30 cents reimbursed to their debit cards for every dollar they spend on fruits and vegetables.
Soares said that simply making the produce cheaper could have a measurable effect on the amount of fresh food families eat.
"There aren't too many of us that are eating the right number of servings and getting the right nutrients," said Jean Daniel, spokeswoman for the USDA's Food and Nutrition Service. "This is a way for us to rigorously look at how we can encourage the purchase of fruits and vegetables, and ultimately do we see a change in behavior?"
There are a number of variables to the experiment. Cost might not be the only barrier between families and better eating -- if a grocery store is 20 miles farther away than a fast-food restaurant, that factors in.
"Some people are living in neighborhoods where there's easy transport to a grocery store and the grocery store is fully stocked," said Ellen Vollinger, legal director at The Food Research and Action Center. "There's some communities where that's not the case."
Vollinger said cost is a big factor and expressed hope the pilot program could make a difference.
But she also said recent congressionally imposed cuts to the food stamp program, known formally as the Supplemental Nutrition Assistance Program, could undo the benefits of an incentive program.
"This type of modest incentive approach doesn't seem to be anything that would trump (the cuts)," she said. "One would think that that would undermine that kind of approach."
As for the ever-present concern that the government is meddling in personal choices about nutrition, Daniel said the problem of childhood obesity -- one first lady Michelle Obama has made a national cause -- is something "we all need to be concerned about."
According to the Centers for Disease Control and Prevention, childhood obesity has more than tripled over the past three decades. Obesity among teenagers has climbed to about 18 percent, putting them at risk of health problems ranging from diabetes to cardiovascular disease.
Daniel said families play the biggest role in their children's eating habits, but that schools and governments have a role, too.
"All of us can take small steps to improve our eating habits," she said.