Feds fighting to keep cash seized from person never charged with crime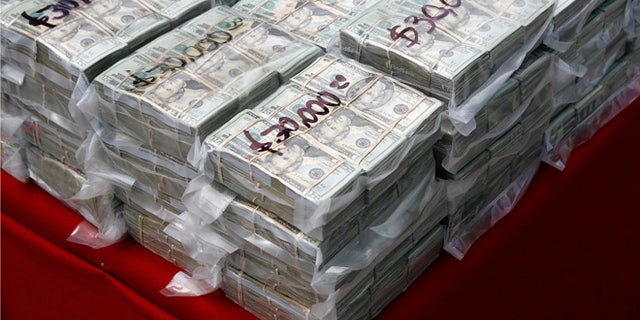 NEWYou can now listen to Fox News articles!
Federal prosecutors are battling in court to keep $167,000 in cash seized in a 2013 traffic stop, despite the motorist never being charged in the incident and the Obama administration clamped down this spring on such asset seizures and forfeitures.
The case -- which highlights the ongoing concerns about the government unjustly seizing money and property -- began when a Nevada state trooper pulled over the motorist on a cross-country trip to California.
The trooper stopped Hawaii resident Straughn Gorman's motor-home in January 2013 for allegedly going too slow along Interstate 80.
According to court documents, Gorman was allowed to proceed without a citation despite the trooper suspecting he was hiding cash.
The trooper said he couldn't inspect the vehicle because he would have needed a canine unit and for the dog to detect drugs, which would have created enough probable cause to get a search warrant.
However, no canine unit was available so the trooper released Gorman but not before requesting the county sheriff's office stop him again -- about 50 minutes later and this time with a drug-sniffing dog.
No drugs were found during the second stop, in which Gorman was pulled over for two alleged traffic violation. But his vehicle, computer, cellphone and the cash, stashed throughout the vehicle, were seized.
In June, a federal judge in Nevada ordered Gorman's cash be returned.
In his ruling, District Judge Larry Hicks cited Gorman's "prolonged detention" for the alleged traffic violations and criticized federal authorities for failing to disclose that the first officer requested the second stop.
"The second stop was not based on independent, reasonable suspicion sufficient to justify the prolonged investigation," wrote Hicks, a Bush administration appointee. "The two stops were for minor traffic violations, and they both were extended beyond the legitimate purposes for such traffic stops."
Hicks also said in his ruling the second stop never would have happened if the first officer had not relayed information about the first stop, which included a vehicle description, suspicion about concealed cash and that a "canine sniff" would likely be needed to get probable cause for a search.
The federal government earlier this month appealed Hicks' ruling in the 9th Circuit Court, in San Francisco, considered among the most liberal in the country.
Federal attorneys did not submit a reason for the appeal in their one-paragraph request, according to The Daily Signal, which first reported the request.
The court is expected to also decide whether Gorman should be reimbursed $153,000 in legal fees, which federal lawyers don't want to pay.
The first court proceeding is scheduled for November 19.
The Justice Department earlier this year issued a series of directives to reform and restrict its policies on asset seizures and forfeitures, amid the complaints about government abuse and overreach.
"We are keenly aware of concerns raised about certain seizures and forfeiture practices," the agency told the Senate Judiciary Committee in April. "The department takes seriously any and all allegations of perceived or actual abuse."
The first of the changes were announced in January by then-Attorney General Eric Holder, starting with forfeitures.
Holder said federal agencies could no longer take assets seized by state and local law enforcement agencies, except for those "directly related to public safety concerns" including firearms, ammunition, explosives and property associated with child pornography.
Among the valuables the agencies can no longer take are cash and vehicles.
In March, Holder announced changes to banking laws that allow money to be seized from people who make deposits below specific amounts to intentionally keep the transaction from being reported to federal authorities -- a scheme known as "structuring."
Holder said authorities would now focus on "the most serious offenses" and essentially that money could be seized only after the defendant is charge with a crime or found to have been engaged in a crime beyond structuring, according to document the Justice Department gave FoxNews.com this week.
The minimum-deposit laws were enacted to detect and nab drug dealers, terrorists and other money-launders and criminals trying to conceal their enterprise and cash. And they were enacted to create a money stream to provide financial compensation to crime victims.
The IRS seized more than $242 million in roughly 2,500 alleged structuring violations, from 2005 to 2012. However, no other criminal activity was alleged in roughly 33 percent of the cases, according to the Institute of Justice, which worked on a more recent case in North Carolina.
Last year, the IRS took $107,000 from Carolina small-business owner Lyndon McLellan after he made a series of deposits under $10,000.
McLellan owns a convenience store-restaurant-gas station. And many of his transactions are in cash.
The federal government offered to return half of McLellan's cash, a standard move by federal officials who know many people cannot afford a lengthy court battle and would rather settle.
McLellan got back all of the money but wasn't reimbursed roughly $22,000 in legal and accounting fees, Institute attorney Robert Everett Johnson said Tuesday.
"We're pleased that Lyndon's money has been returned," Johnson said. "That the federal government returned the money validates he didn't do anything wrong."
However, Johnson expresses dismay that his client is still battling to recoup his costs and interest on the seized money, to which he appear entitled under the 2000 Civil Asset Forfeiture Reform Act.
"We thing the federal government should make him whole," he said. "It simply cannot pretend that nothing happened."