Federal judge blocks Arkansas Planned Parenthood defunding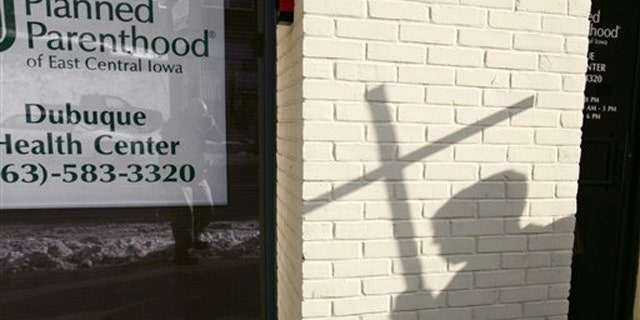 NEWYou can now listen to Fox News articles!
LITTLE ROCK, Ark. – A federal judge on Thursday temporarily prohibited Arkansas from blocking Medicaid payments to Planned Parenthood, expanding her order requiring the state to continue paying for services for three patients who had sued over the move.
U.S. District Judge Kristine Baker issued a preliminary injunction preventing Arkansas from suspending payments to Planned Parenthood for any services to Medicaid patients in the state. Republican Gov. Asa Hutchinson last year terminated the organization's Medicaid contract because of secretly recorded videos made by an anti-abortion group.
Baker last year had ordered the state to continue paying for services for three women who sued over the defunding move, and Planned Parenthood asked her to expand that decision to cover any Medicaid patients who want to obtain health care services through the organization. The state has appealed that ruling covering the three patients to the 8th U.S. Circuit Court of Appeals.
Baker ruled Thursday that any future Medicaid patients who seek services at Planned Parenthood would suffer irreparable harm if she didn't expand that order.
"Should the court fail to issue injunctive relief, members of the patient class will be denied their choice of provider for family planning services," she wrote.
Planned Parenthood praised the ruling.
"This is a win for the Arkansans who rely on Planned Parenthood of the Heartland for birth control, cancer screenings, and other essential health care," Suzanna de Baca, chief executive officer ofPlanned Parenthood of the Heartland, said in a statement. "Every person deserves access to quality, affordable health care from the provider they know and trust, and today, the court recognized that."
Attorney General Leslie Rutledge, a Republican, said she was disappointed with Baker's decision.
"Her order unfortunately allows Planned Parenthood to continue to use its patients to pad its bottom line at taxpayers' expense," Rutledge said in a statement. "Thankfully, the ultimate issues in this case will be decided by the Court of Appeals."
The state has said Planned Parenthood received $51,000 in Medicaid funds in the fiscal year before Hutchinson's decision to terminate the contract. None of the money paid for abortions. Baker last year had initially blocked the defunding move, but later narrowed her order to the three patients.
Arkansas is among several states that tried to cut off funds to Planned Parenthood. Republican lawmakers and governors around the country targeted the organization after several videos were released by the anti-abortion Center for Medical Progress. The center said the videos showed thatPlanned Parenthood illegally sells fetal tissue for profit.
Planned Parenthood said the videos were heavily edited and denied seeking any payments beyond legally permitted reimbursement of costs. The organization, in an effort to squelch the controversy, announced last year it would no longer accept reimbursement for the cost of providing the tissue to researchers. A federal appeals court earlier this month upheld a judge's injunction blocking Louisiana from cutting off funding to the organization.
A Texas grand jury that looked into the videos cleared Planned Parenthood in January of misusing fetal tissue and indicted anti-abortion activists involved in making the videos. Prosecutors later dropped those charges, agreeing with defense attorneys that the grand jury exceeded its authority by investigating the activists.