Federal Immigration Office Puts Hold on Rejections of Same-Sex Couple Applications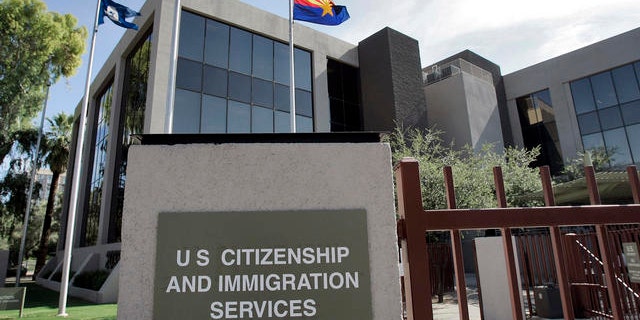 The Obama administration has put on hold immigration cases involving married gay couples following the decision to drop its defense of the federal law banning same-sex marriage.
The move means a foreign national married to a U.S. citizen of the same sex would not automatically be denied immigration benefits. One immigration lawyer said the decision could also give those facing deportation a reprieve.
"They would not be deportable and they would be eligible for work authorization," said Christopher Nugent, a longtime immigration attorney who also works on immigration matters with the American Bar Association.
U.S. Citizenship and Immigration Services insists the move is only temporary and that nothing is changing.
USCIS spokesman Chris Bentley told FoxNews.com the cases will be held "in abeyance" while the department seeks final guidance on a handful of "technical legal issues." The expectation, he said, is once that "imminent" guidance comes down, the administration will continue enforcing the Defense of Marriage Act as it always has -- meaning marriage-based immigration benefits would be denied for same-sex couples.
"It's normal course of business for us," Bentley said, referring to the pause. "There'll be no change in the policy whatsoever."
The Defense of Marriage Act defines marriage on a federal level as between a man and a woman. The Obama administration, though, threw that policy's legal heft into question when it announced in February the Justice Department would no longer defend it in court. The administration outlined a peculiar position, saying that while the president views the law as unconstitutional the administration would continue to enforce it and assist others who want to defend it.
That decision prompted USCIS to seek additional guidance and put relevant cases on hold.
Nugent said he anticipates the administration will end up keeping those cases on hold while the Defense of Marriage Act is litigated in the courts.
"It would be a contradiction in terms to defer defending DOMA, but not do anything for people who really are facing serious problems with immigration," he said, though he added it's unclear whether the immigration courts would follow suit and hit pause on pending cases.
Bentley, though, said the administration is not waiting for the court battle to conclude.
That battle is ongoing. Though the Justice Department will no longer defend the law, House Speaker John Boehner announced earlier this month he would convene a legal advisory group to argue on behalf of DOMA after several challenges work their way through the court system from gay couples claiming the law violates the U.S. Constitution.