Federal court blocks logging in largest national forest, Alaska officials fuming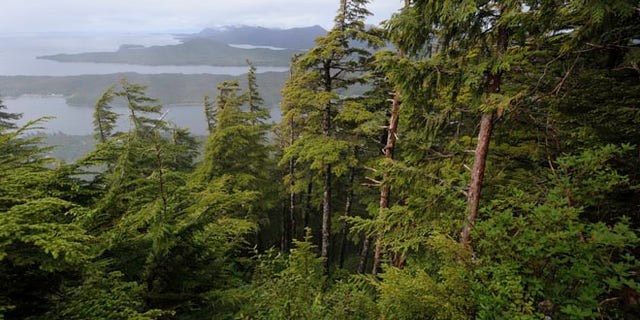 NEWYou can now listen to Fox News articles!
A federal appeals court has locked down America's largest national forest from logging, in a tight decision that reverses a Bush-era bid to open up the Alaska land and has state officials fuming.
"[The] ruling is a disappointment and a severe setback for the economies of Southeast Alaska," Senate Energy and Natural Resources Committee Chairwoman Lisa Murkowski, R-Alaska, said in a statement.
The 9th Circuit Court of Appeals, in the 6-5 decision, on Wednesday lifted Tongass National Forest's longstanding exemption from a 2001 federal mandate called the "Roadless Rule." That rule prohibits road construction and timber harvesting across millions of acres of America's national forests.
The George W. Bush administration gave a special exemption to the Tongass forest in 2003, but conservationists fought the move -- and won.
Alaska officials, who had been hoping to use the land for limited timber harvesting and other projects, are weighing their options. Murkowski said the ruling would cut off access to 9.5 million acres -- an area roughly the size of New Jersey -- and stifle "renewable energy projects, needed electronic transmission lines, mining operations, and other economic proposals."
The battle may not be over. Murkowski introduced legislation in March to exempt all Alaska national forests from the rule. There is also a case before the D.C. District Court that challenges the rule as a whole, according to KTUU.
Murkowski spokesman Robert Dillon said Alaska also could petition the Supreme Court over the ruling, and other states might consider challenging the government's "one size fits all" rule.
According to KTUU, the exemption was originally given because of economic hardship in the area. The court, however, ruled that the Department of Agriculture and Forest Service "failed to provide a reasoned explanation" for the exemption.
And despite the exemption, legal battles prevented any economic activity in the area. Murkowski's office said that, meanwhile, local timber harvests have fallen by over 70 percent in the last 15 years.
Environmental groups see things differently. They say the ruling will help the economy.
"Today's decision is great news for the Tongass National Forest and for all of those who rely on its roadless areas," Earthjustice official Tom Waldo in a statement. "The remaining wild and undeveloped parts of the Tongass are important fish and wildlife habitat and vital to residents and visitors alike for hunting, fishing, recreation, and tourism, the driving forces of the regional economy."
According to the Center for Biological Diversity, the ruling could boost hydropower, tourism and other areas as alternative industries.
Dillon said any such gains still mean a lose-lose for Alaskans.
"Commercial fishing has taken up some of the economic downturn and eco-tourism is a good thing, but they cannot replace the high paying timber jobs and mill jobs that we once had, and those families have either had to change careers and see severe decreases in salary or leave the state they love, Alaska," he told FoxNews.com.
FoxNews.com's Matt Fossen contributed to this report.