Fed Raid Targets Guitars Made From Endangered Trees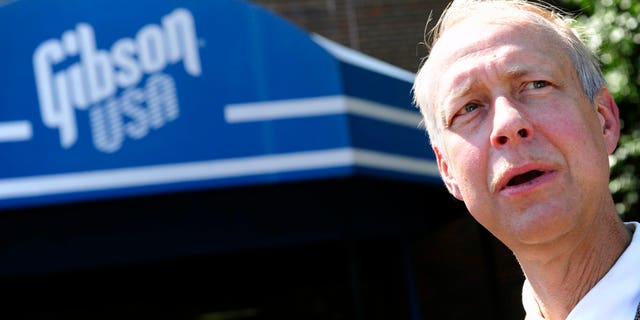 NEWYou can now listen to Fox News articles!
The Justice Department raided the Memphis and Nashville offices of a guitar manufacturing company this week, seizing several pallets of wood, electronic files and guitars as part of a crackdown on illegally harvested hardwoods from protected forests, The Wall Street Journal reported.
But Henry Juszkiewicz, the chairman and chief executive of Gibson Guitar, defended his company's manufacturing policies and accused the Justice Department of overreaching.
"The wood the government seized Wednesday is from a Forest Stewardship Council certified supplier," he said in a statement to the newspaper, suggesting the Feds are using the aggressive enforcement of overly broad laws to snare the company.
The Justice Department refused to speak to the newspaper.
This isn't the first time that the company – which makes such iconic instruments as the Les Paul electric guitar, the J-160E acoustic-electric John Lennon played, and essential jazz-boxes such as Charlie Christian's ES-150 -- has been raided by agents with the Fish and Wildlife Service.
In 2009 the Feds seized several guitars and pallets of wood from a Gibson factory, and both sides have been wrangling over the goods in court.
The first raid appeared to try to determine whether Gibson had been buying illegally harvested hardwoods from protected forests, such as the Madagascar ebony that makes for such lovely fretboard, the newspaper reported. But if Gibson did knowingly import illegally harvested ebony from Madagascar, that wouldn't be a negligible offense, the newspaper said.
Peter Lowry, ebony and rosewood expert at the Missouri Botanical Garden, calls the Madagascar wood trade the "equivalent of Africa's blood diamonds." But with the new raid, the government seems to be questioning whether some wood sourced from India met every regulatory detail, the newspaper said.
Click here to read the full story.