Fears Over Arizona Shooting Have Congress Looking to Cash-Strapped Local Law Enforcement to Provide Extra Security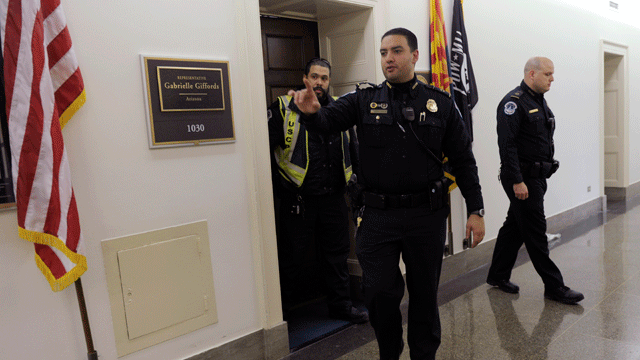 Members of Congress and other federal employees worried about their safety in the wake of the Arizona mass shooting can always request additional security detail from the U.S. Capitol Police or Marshals Service, but relying on local law enforcement may not be an option as cutbacks hit cash-strapped police forces.
In the aftermath of the murderous rampage in Tucson Saturday that left six dead and 14 wounded, including Rep. Gabrielle Giffords, D-Ariz, who was hosting a constituents meeting, House Sergeant at Arms Bill Livingood this week reissued a security guide for lawmakers concerned about their safety.
"It is essential that each district office establish communication with local law enforcement," Livingood said in a memo sent Thursday to House members and their staffs. The memo provided security guidance, including designating a law enforcement coordinator for each office.
"Members participate in a tremendous assortment of events each year, throughout the United States. Experience demonstrates though that not every event requires the presence of law enforcement," reads the memo obtained by Fox News. "However, the decision whether or not to have a law enforcement presence at any event is one best made through close liaison with the Office of the Sergeant at Arms, the U.S. Capitol Police and your local law enforcement agencies."
Some lawmakers have already taken the advice to heart. Freshman Rep. Joe Walsh of Illinois reached out to the local sheriff to provide security at a town hall on Wednesday night in honor of Giffords.
Other lawmakers are going further. Rep. Jesse Jackson, Jr., D-Ill., this week proposed additional congressional spending for security at district offices. Rep. Peter King, R-N.Y., proposed barring people from bringing a weapon within 1,000 feet of a government official. Rep. Louie Gohmert, R-Tex., suggested allowing lawmakers to carry weapons inside the Capitol.
Already, Reps. Jason Chaffetz, R-Utah, and Heath Shuler, D-N.C., announced they're going to step up the frequency with which they carry concealed weapons to district events.
For lawmakers who have started requesting assistance from local police, one agency is already working very closely with Congress and U.S. Capitol Police.
John Firman, director of research for the International Association of Chiefs of Police, told FoxNews.com, that police chiefs will need coordination to determine how best to meet requests, whether that means pulling an officer out of another unit or division or handing out overtime.
While he said there will be "natural limitations" to what can be offered, providing adequate security to U.S. lawmakers is a "high priority."
"The magic words here are going to be communication and planning," he said. "Local police are going to be extremely receptive to this. It's going to come down to planning and communication so they don't get caught short with the knowledge that it's happening."
But for others, providing additional security is bound to be complicated by the budget crises facing many police agencies.
A quarter of U.S. cities have reported cutting their public safety budgets in the past year, according to a report by the National League of Cities.
Rep. Donald Payne, D-N.J., represents Newark, which just cut 13 percent of its police force, or about 163 officers, to help close an $83 million budget deficit. Rep. Barbara Lee, D-Calif., represents Oakland, which last year slashed nearly 10 percent of its police force, or 80 officers, to help close a $31 million budget deficit.
Dallas police and fire unions last year agreed to pay cuts and mandatory unpaid leave to help the city close a $130 million gap. That city's congressional representation is split among several lawmakers -- Ralph Hall, Eddie Bernice Johnson, Pete Sessions, Sam Johnson, Jeb Hensarling and Kenny Marchant -- who may pull from the same resources.
Jim Pascal, executive director of the Fraternal Order of Police, the nation's largest police union, noted that more than 80 percent of police departments have 10 or fewer officers.
One retired New York City Police Department officer who has provided security detail for a U.S. lawmaker said it's going to create a lot of strain on police departments because "like so much else, you don't want anything to happen on your watch."
Nonetheless, Pascal said, despite the cutbacks and grim financial picture, police unions and former officers say local law enforcement will accommodate any security requests from lawmakers.
"It's important to state they're going to do what needs to be done, but it will cost an extraordinary strain and something will be left undone," Pascal said.
"Monitoring, in general, is just another thing that has been placed on the plate of local and state law officials. At the same time, robberies, car thefts, none of that is going away. So the cops have their hands full," added Bill Johnson, executive director of the National Association of Police Organizations.
Johnson said overtime costs will go up for employees, agencies and municipalities -- costs that he expects the federal government to pick up if they continue in the long term.
"The individual cops and sheriffs will do whatever they're asked to do to protect elected representatives of the people, but you can't get away from the fact that it will cost a lot of time and money to do a good job and it will have to be a federal responsibility to cover that," he said.
Sheldon Greenberg, an associate dean of the Division of Public Safety Leadership at Johns Hopkins University, said there's a difference between police departments being "shorthanded and not adequately analyzing resources you have to determine how they can be best used.
"A lot of agencies in my opinion are not shorthanded, but haven't allocated their people well," Greenberg said, explaining that patrol services are treated as a lower priority while resources are poured into specialty units and task forces.
Greenberg said he doesn't believe there will be a flood of requests from lawmakers for additional security.
"In the short term, there may be a flurry of activity, but normalcy will prevail," he said. "The worst thing that could happen would be to turn an average town hall meeting into a law enforcement endeavor. It's not what this country wants or will tolerate."
The House hasn't arrived at a conclusion yet on how it will provide more protection for members.
The proposal from Jackson, who is also working to restore last week's 5 percent cut in member budgets, would add 10 percent to lawmakers' budgets for district offices, an increase that he says would translate into hiring more security personnel for public events in some districts, installing surveillance cameras or improving the locks or entry systems at district offices. One option he suggested is using additional resources to move some lawmakers' offices to safer areas.
"I do not feel that fear should grip us, but since 9/11 we've secured every federal facility with the exception of our district offices," Jackson said in a statement. "After the events of last weekend, it is clear that our district staffs are vulnerable. Members should have the resources and the latitude to take the appropriate security measures in order to protect themselves and their staffs."
But freshman Rep. Michael Grimm, who is a former law enforcement officer, says no additional money is required. Instead, he wants to offer low-cost security awareness training for lawmakers and their staff.
"I firmly believe this training will be beneficial in various situations, from accidents and illnesses to acts of violence or terrorism they may encounter," he wrote.