FBI posts images of individuals wanted for questioning on Benghazi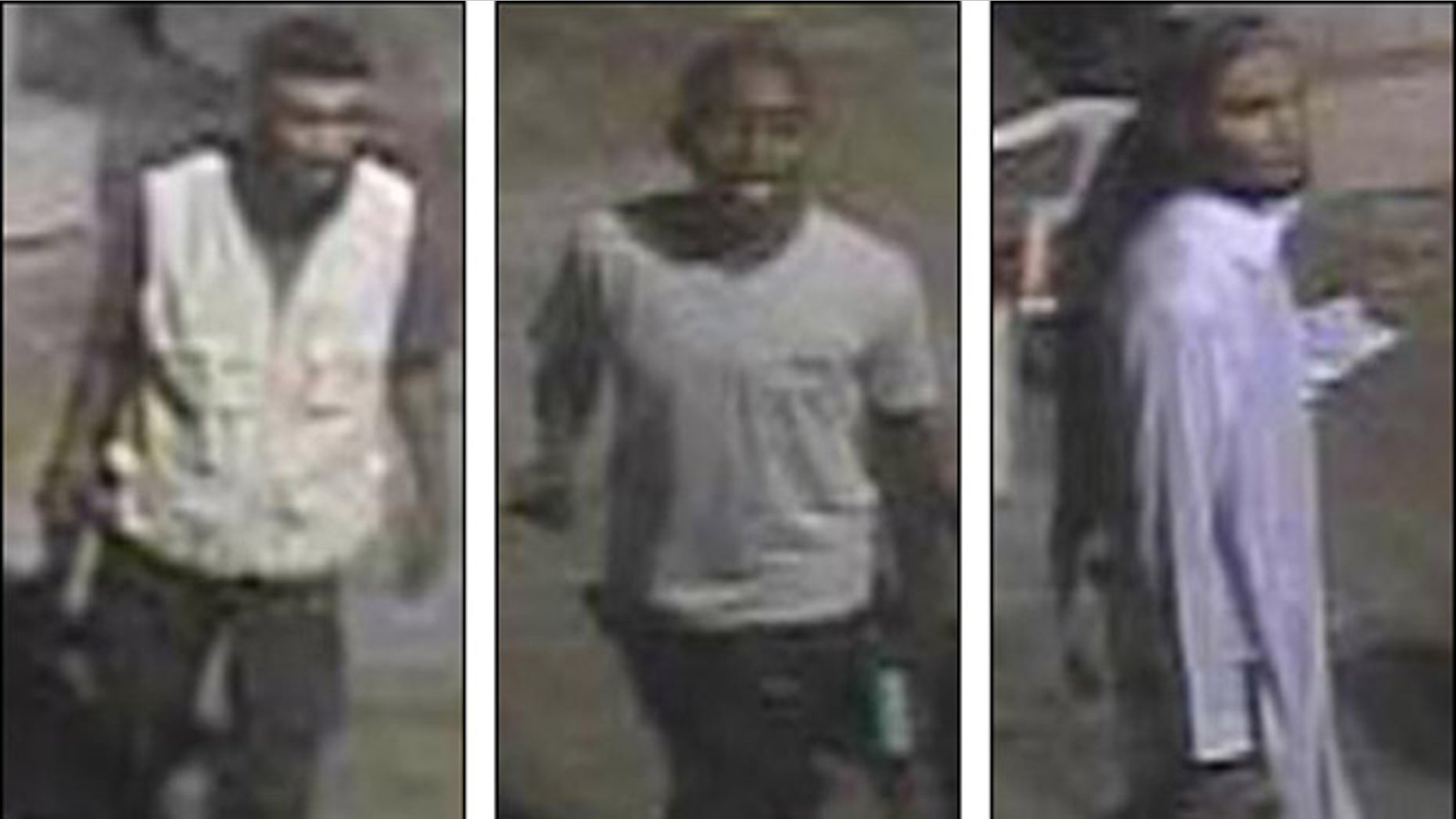 The FBI has posted images of three people wanted for questioning regarding the terror attack last year on a U.S. compound in Benghazi, Libya, as investigators continue to search for suspects more than seven months after the deadly assault.
The FBI released the grainy images on its website, claiming the individuals pictured were at the U.S. compound when it was attacked on Sept. 11.
"We are seeking information about three individuals who were on the grounds of the U.S. Special Mission when it was attacked," the FBI said in a statement. "These individuals may be able to provide information to help in the investigation."
The FBI is encouraging anyone with information to text or email BenghaziTips@ic.fbi.gov or submit information confidentially by going to https://forms.fbi.gov/benghazi.
U.S. officials have struggled to track down and detain suspects ever since the attack, despite a pledge by President Obama immediately afterward that "justice will be done."
One individual held in Tunisia was released by a judge in January. Sources told Fox News that the U.S. has actually identified the mastermind of the attack, who according to them is walking free in Libya, though that claim has not been confirmed publicly by federal officials.
The FBI said it is asking "Libyans and people around the world" for information on the attacks, which killed four Americans, including U.S. Ambassador Chris Stevens.
Click for more images of the individuals sought by the FBI.
While the investigation continues, the debate over Benghazi once again is heating up in Washington as insiders apparently are seeking permission to speak to Congress.
An attorney for one of the employees recently claimed to Fox News that her client and others have been threatened by administration officials.
But the White House denied Wednesday that any whistle-blowers were being blocked from testifying. Press Secretary Jay Carney addressed the claims a day after President Obama, during a lengthy press conference, said he was unaware of the claims and would look into them.
"Benghazi happened a long time ago," Carney said. "We are unaware of any agencies blocking an employee who would like to appear before Congress to provide information related to Benghazi."
Carney said a prior review board "heard from everyone and invited everyone." He said the latest allegations "are part of an unfortunate pattern of spreading misinformation and politicizing the issue."
At the same time, officials with the State Department and Defense Department both wrote back to House Oversight and Government Reform Committee Chairman Darrell Issa, R-Calif., this week claiming they were "unaware" of any request for a security clearance for an employee's attorney.  The request for a security clearance would be a necessary step for any potential whistle-blower, in order for them to share sensitive details with an attorney - Issa had sought specifics on this process from the administration last month.
The letters offered some details on that process, though attorney Victoria Toensing questioned why it took so long for the departments to produce those letters in the first place.
"They're stonewalling," she told Fox News on Wednesday.
Toensing, who is representing one of the State Department employees looking to come forward, earlier told Fox News that her client and others were threatened.
"I'm not talking generally, I'm talking specifically about Benghazi - that people have been threatened," Toensing said in an interview Monday. "And not just the State Department. People have been threatened at the CIA."
Three Republican senators on Wednesday also renewed a request for the administration to provide the names of the Benghazi survivors to Congress in order for lawmakers to conduct interviews.
"This information will allow Congress to meet its oversight obligations and will help ensure our government is taking the proper steps to protect American lives abroad and prevent future terrorist attacks," they wrote.
The letter to President Obama was signed by Sens. John McCain, R-Ariz.; Kelly Ayotte, R-N.H.; and Lindsey Graham, R-S.C.