FBI, DOJ reportedly probing ties of California rep's staffer to driver in DUI death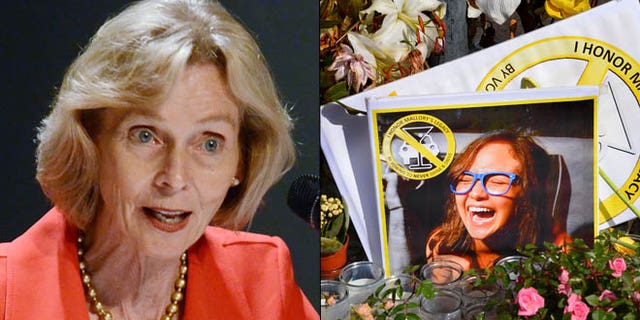 The FBI and the Justice Department are reportedly probing allegations that the office of California Rep. Lois Capps tried to help one of her staffers who killed a young woman in a drunk-driving accident -- before abruptly cutting him off when the victim was taken off life support.
Raymond Victor Morua III, an Iraq war veteran, was employed as a district representative for the Democratic congresswoman when he struck 27-year-old Mallory Rae Dies in a Santa Barbara crosswalk on Dec. 6. Dies was taken off of life support and died on Dec. 11.
Morua pleaded guilty on April 15 to hitting Dies with his Dodge Caliber and fleeing the scene after attending a holiday party put on by local newspaper the Santa Barbara Independent. The Santa Barbara News-Press reported that on May 29 he was sentenced to fifteen years to life for manslaughter, plus another five years for fleeing the crime scene.
Freelance journalist Peter Lance reported Saturday that the FBI has begun an investigation into claims against one of Capps' staffers, Mollie Culver, that he made in a five-part series about the case in the News-Press in April. He reported that the FBI is investigating on behalf of the DOJ's Public Integrity Section, which investigates possible wrongdoing of public officials.
In the series, Lance detailed numerous actions Capps' staff allegedly took in the wake of Morua's arrest in an apparent attempt to get him off the hook for jail time.
In one instance, he reported Culver, the district director for Capps, forged Morua's signature on paperwork from the Department of Veterans Affairs in the hopes of getting him sent to a treatment facility in Los Angeles for veterans.
The report also revealed Morua was on the congresswoman's payroll until Dec. 10, and that Culver was sending text messages of support to Morua's fiancée Teresa Montoya.
However, after Dies was taken off life support, Capps completely cut off Morua, claiming he had been fired on Dec. 8.
Dies' family has since sued Capps, claiming that Morua was working in an official capacity for her the night of the accident, which the congresswoman's office has denied. Capps' office claims Morua was not at the party as a representative for Capps and suggested Morua may have picked the invitation to the party off Capps' desk.
Lance reported that over the past several weeks, investigators from both agencies have interviewed key players in the case, including Morua himself, to determine if Culver committed fraud by forging Morua's name on the VA documents.
According to Lance, Culver could face five years in prison if found guilty of misstating facts on the VA form, and other charges if found guilty of the unauthorized use of federal records.
A spokeswoman for the FBI's Los Angeles field office told FoxNews.com she could neither "confirm nor deny" the existence of a probe.
Capps' spokesman Chris Meagher told FoxNews.com in April that Lance's report was "full of inaccuracies," but that the congresswoman's office could not comment further because of the pending lawsuit.
Meanwhile, Dies' father Matt told Lance that he is hoping the investigation will expose the truth.
"The fact that the FBI and Justice Department are taking these matters seriously is a great comfort to my wife and me," he said. "I only hope they go all the way and leave no stone unturned in trying to get at the truth.