Faux real: Obama to unveil global warming 'treaty'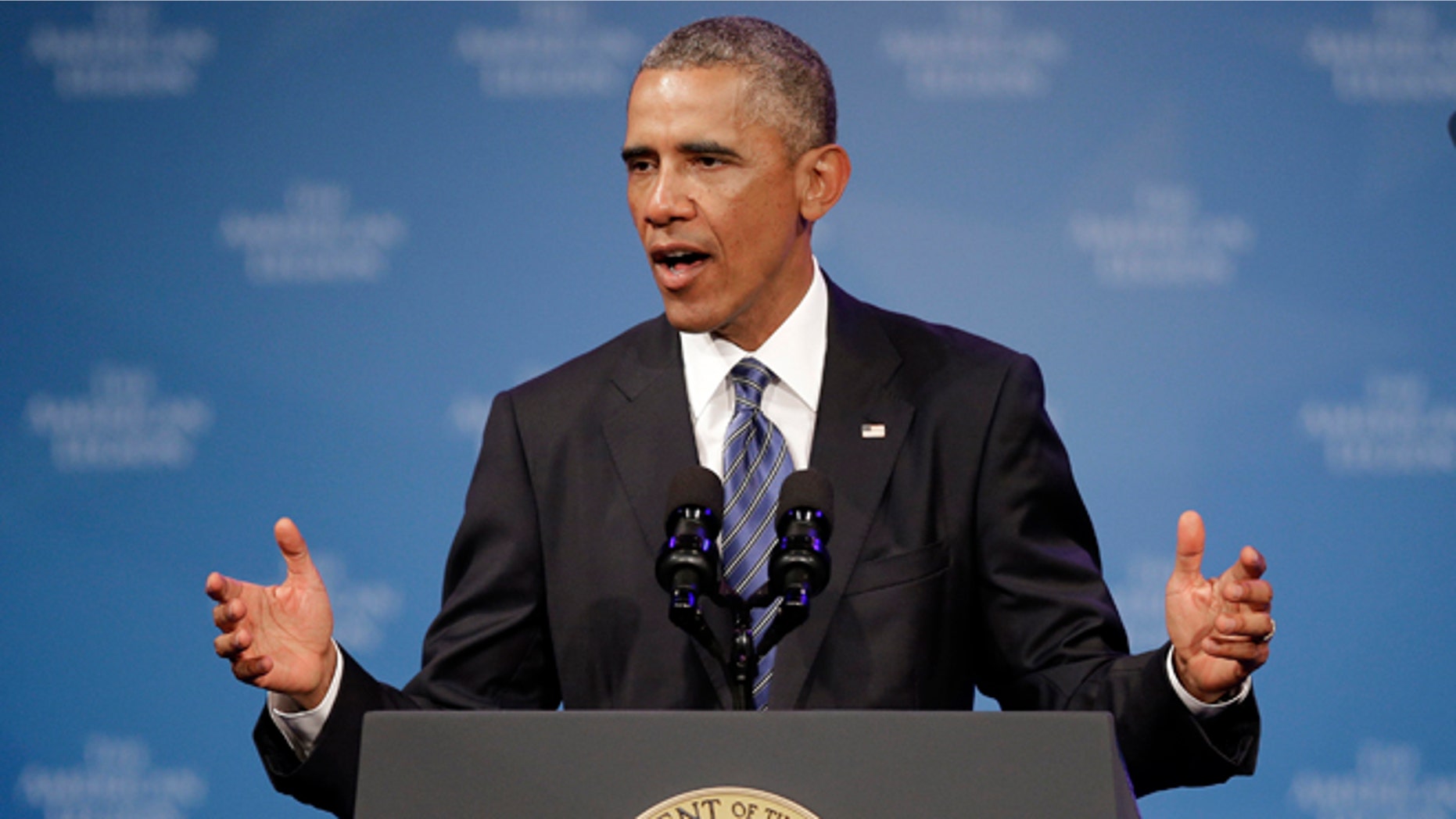 **Want FOX News First in your inbox every day? Sign up here.**
Buzz Cut:
• Faux real: Obama to unveil global warming 'treaty'
• More delays for ObamaCare transparency
• Romney nudges door wider to 2016 run
• Elvis Style: Sullivan shoots TV in new ad
• Gnome-gnapping
FAUX REAL: OBAMA TO UNVEIL GLOBAL WARMING 'TREATY'
Unwilling or unable to work out a deal with either party in the Senate to address his legacy project of an international treaty on global warming, President Obama today will unveil a mock version of the pact that would bring new restrictions on U.S. emissions but be enforced globally through peer pressure. NYT: "…Obama's climate negotiators are devising what they call a 'politically binding' deal that would 'name and shame' countries into cutting their emissions. … [The plan is] a proposal to blend legally binding conditions from an existing 1992 treaty with new voluntary pledges. The mix would create a deal that would update the treaty, and thus, negotiators say, not require a new vote of ratification." Shorter version: The reimagining of an old treaty would allow the administration to further clamp down on U.S. industry but would rely on the promises of other nations for compliance. Because Russia and China are totes anxious about "naming and shaming." Totes.

[Dems use Gore to frack for cash - Washington Examiner: "The former vice president was the nominal 'sender' of a blast email Tuesday touting President Obama's push to address climate change…"]

The United States has rejected every successor treaty to the 1992 UN global warming "framework," something the second-term Obama administration vowed to reverse, with Secretary of State John Kerry calling global warming "perhaps the world's most fearsome weapon of mass destruction." But Senate Democrats haven't been interested in joining the fight, staging a symbolic "all-nighter" to seemingly show gratitude to key donors but otherwise have ditched the politically poisonous topic. Unwilling to tangle with his own party on the issue, but desirous of showing some result for disaffected liberal Democrats, the president has decided to go it alone. And that's got to be music to the ears of Republican Senate candidates like Michigan's Terri Lynn Land, whose latest ad campaign is focused on slashing federal gas taxes. Carbon controls may sound good to the folks on Martha's Vineyard, but won't play well in blue states like Michigan, Iowa and Minnesota, let alone the battleground states of Kentucky, West Virginia, Arkansas, Alaska, North Carolina, Colorado and Louisiana.

["Unfortunately, this would be just another of many examples of the Obama administration's tendency to abide by laws that it likes and to disregard laws it doesn't like — and to ignore the elected representatives of the people when they don't agree" –Senate Minority Leader Mitch McConnell in a statement Tuesday.]

Why? - It seems unlikely that the legally questionable effort to further regulate U.S. industries would ever be put into effect. Obama would likely be out of office before the legal challenges could be worked out, and none of his potential successors would want to campaign as a proponent of something that, at best, could be called a workaround. There is the aforementioned base appeal and it may help to further stoke Republican outrage over executive actions, which has a multiplier effect on Democratic donations. But this move, especially when there are obviously more pressing issues on the world stage, looks unlikely to succeed or gain much momentum. The most likely answer is that Obama believes what he says about global warming, which he called a threat to "everything we hold dear -- the laughter of children, a quiet sunset, all the hopes and dreams of posterity." This is a legacy project, but one that might further ensure that he faces a Republican Senate next year.

[New in Fox News Opinion - John Stossel takes a look at what the EPA really does: "[T]he EPA spends every day hunting for new things to do, even if its new efforts cost much more and accomplish far less.… instead of environmental regulations that actually save lives, we pay to subsidize politicians' cronies and pet projects…"]

IRS SAYS LERNER BLACKBERRY DESTROYED AMID PROBE
Fox News: "Lois Lerner's Blackberry was intentionally destroyed after Congress had begun its probe into IRS targeting of conservative groups, a senior IRS lawyer acknowledged in a sworn declaration. Thomas Kane, Deputy Assistant Chief Counsel for the IRS, wrote in the declaration, part of a lawsuit filed by Judicial Watch against the IRS, that the Blackberry was 'removed or wiped clean of any sensitive or proprietary information and removed as scrap for disposal in June 2012.' That date - June 2012 - is significant because by that time, ex-IRS official Lerner had already been summoned before congressional staffers who interviewed her about reports of the IRS' targeting of conservative groups."

[Watch Fox: Rep. Jim Jordan, R-Ohio, discusses the IRS scandal in the 2 pm ET hour]

Three Ds - New at Fox News Opinion: American Center For Law and Justice Chief Counsel, Jay Sekulow writes: "Sadly, this has become standard operating procedure for the Obama administration. Delay. Derail. Deceive."

MORE DELAYS FOR OBAMACARE TRANSPARENCY
Fox News: "At issue is a database known as the Open Payments website. It was created under [ObamaCare] to shed light on the financial ties between doctors and pharmaceutical companies as well as device manufacturers… The government is hoping to take the site public on Sept. 30. But it's already a year behind schedule, and if some industry heavy hitters have it their way, the schedule will slip by another six months."

ObamaCare site reboot blows past budget - Daily Caller: "The Obama administration is on track to blow past the estimated $1.7 billion budget for HealthCare.gov, according to a federal report released Tuesday. …less than one year into the website's operation — and before it's even been completed — a third of HealthCare.gov-related contracts are over budget."

WITH YOUR SECOND CUP OF COFFEE...
Why do we call commercial broilers "salamanders" and why is there a salamander in the logo of the union for insulation workers? And why was asbestos called "salamander wool?" There's not much that's fiery about the slimy lizards which like to hang out under rocks in cool streams. The answer relates to an epic misunderstanding that includes the ancient Persians, Alexander the Great, Pliny the Elder, Marco Polo and Leonardo Da Vinci. Wired looks at the comedy of scientific errors, including its likely origin: "You see, these amphibians take shelter in rotting logs, which provide them not only protection from predators but protection from desiccation. Ancient peoples likely often found themselves tossing logs into the fire, only to see salamanders legging it out of there, as if being born from flame."

[And speaking of misunderstood nature, did you know that it was on this day in 1859 that the first commercially successful oil well was drilled? You would if you from Bradford County, Pa.]
Got a TIP from the RIGHT or LEFT? Email FoxNewsFirst@FOXNEWS.COM

POLL CHECK
Real Clear Politics Averages
Obama Job Approval: Approve – 41.2 percent//Disapprove – 52 percent
Direction of Country: Right Direction – 26.8 percent//Wrong Track – 65.2 percent
Generic Congressional Ballot:  Democrats – 41.4 percent//Republicans – 41 percent

-- 69 days until Nov. 4 --

ROMNEY NUDGES DOOR WIDER TO 2016 RUN
While 2012 GOP Presidential nominee Mitt Romney has often said he does not plan to make a third attempt for the White House, a recent spate of favorable polls and some egging on by his former running mate might be causing him to reconsider. During a radio interview late Tuesday with radio host Hugh Hewitt, the former Massachusetts's governor appeared to leave the door open saying, "I had the chance of running. I didn't win. Someone else has a better chance than I do. And that's what we believe, and that's why I'm not running. You know, circumstances can change, but I'm just not going to let my head go there."

Mitt to pitch for Mitch - Lexington (Ky.) Herald-Leader: "[Mitt Romney,] is scheduled to attend a fundraiser for [Senate Minority Leader Mitch McConnell] on Oct. 2 in Lexington…Coal magnate Joe Craft, his fiancée, Kelly Knight, a former Bush administration appointee to the United Nations and a prolific Republican fundraiser, and Don and Mira Ball will host the event."

HE'S SERIOUS: O'MALLEY STAFFS UP IN EARLY PRIMARY STATES
WaPo: "…Gov. Martin O'Malley [D- Md.] is preparing to dispatch more than two dozen campaign staffers to other states with competitive elections this year, including Iowa and New Hampshire, in his latest move consistent with someone gearing up to run for president."

PRYOR FANS EBOLA FEARS IN COTTON ATTACK AD
AP: "…Sen. Mark Pryor [D-Ark.] invoked the Ebola outbreak in a new television ad unveiled this week criticizing his Republican rival over a vote against medical disaster funding, injecting fears about the deadly disease into an already intense race… The spot criticizes Republican rival Tom Cotton… for a vote last year against legislation reauthorizing pandemic response programs. 'Tom Cotton voted against preparing America for pandemics like Ebola,' a narrator says in the ad before another voice adds, 'Congressman Cotton voted to cut billions from our nation's medical disaster and emergency programs'… Cotton spokesman David Ray ridiculed the spot and said it ignores a vote the congressman cast in favor of a later version of the legislation. 'Senator Pryor's desperation is comical,' Ray said in a statement released by the campaign."

[Jersey drawl - WSJ: "A trip to Arkansas by New Jersey Gov. Chris Christie on Wednesday will give the Republican a chance to lend a hand in a state where the GOP sees an opportunity to pick up an open governor's seat and test the waters in the South as a possible 2016 presidential candidate.]

MONTANA SENATE CANDIDATE FREEZES UP ON AIR
Newly minted Senate candidate Amanda Curtis, who replaced plagiarism-plagued Sen. John Walsh, D-Mont., appeared to lock-up during a live interview on local news channel KBZK. Curtis, who has come under scrutiny for her ties to a socialist organization and radical views from video series she posted as a state senator, fell strangely silent as she tried to describe her campaign strategy. The awkward moment was just the latest blow to Montana Democrats as polling shows the belatedly-chosen Curtis lagging far behind Republican candidate Steve Daines.

ELVIS STYLE: SULLIVAN SHOOTS TV IN NEW AD
Alaska Republican Senate candidate Dan Sullivan is ripping Sen. Mark Begich, D-Alaska, in a new ad, for refusing to sign the "Alaska Agreement." The agreement requires candidates to donate half of the value of outside groups' ad buys to a charity of their opponent's choice. Sullivan appears in the ad shooting a TV saying, "I proposed a plan to stop all the mud-slinging from outsiders, so we can keep this election focused on the issues. Unfortunately, Mark Begich said no." Nearly $9 million has already been spent on the contest by outside groups in what is shaping up to be the costliest race in the state's history.

AYOTTE AIDS 'FRIEND' BROWN IN AD
Washington Examiner: "Sen. Kelly Ayotte [R-N.H.] gives a boost to her 'friend' and fellow New Hampshire Republican Scott Brown in a new television ad released Tuesday by Brown's campaign. 'I'm the mother of a nine-year old and a six-year old and I want a better future,' Ayotte says in the ad. 'I support Scott Brown because I know that he's for fiscal responsibility, accountable government and, finally, a health care plan that works for all of us.'''

PETERS PRIMPS IMAGE IN MICHIGAN
On the heels of criticism over investing in a foreign energy company that produces a petroleum product he denounced, Michigan Democratic Senate candidate Rep. Gary Peters is engaging in image repair. Peters makes his first foray on the airwaves with an ad highlighting his family's history in the state and touting the candidate as "an independent leader" who broke with his own party over Congressional pay raises.

POLL: DEMS SLIP IN N.C.
Democratic Sen. Kay Hagan was happy (kinda) to greet President Obama on his visit to Charlotte to address the American Legion, but their party has been on the decline in her state, an ominous sign for her re-election bid. Democrats have seen their popularity slip as a new Gallup survey  out this morning of North Carolina voters finds a near equal split in party identification, 42 percent Democrat to 41 percent Republican. In 2008, Democrats held a 10-point advantage in party affiliation.

TIDE RISING
NYT's latest election forecast gives Republicans a 67 percent chance of taking the Senate, up from 64 percent Monday.

PICK SIX:  SURE BETS
Republicans only need six additional seats to gain control of the Senate. Which Democratic held seats are most likely to land in the GOP's hand's come November? Based upon Fox News First reader e-mails and tweets, the current consensus is: Arkansas (13.6%), Montana (12.2%), Louisiana (11.6%), West Virginia (11.3%), South Dakota (10.8%) and North Carolina (9.6%). Readers Ron and Carol Beaubot aren't sold on the GOP winning the upper chamber come November and "…see, at best, three seats:  Montana, Louisiana, and West Virginia." Are the GOP's hopes of taking the Senate overstated?

Share your top six picks. Email them – just your top six, please – to FOXNEWSFIRST@FOXNEWS.COM or tweet @cstirewalt.
PRIMAY ROUND UP
Crist cruises, but can he reverse history? - Republican-turned-independent-turned-Democrat Charlie Crist, easily defeated challenger Nan Rich to secure the Sunshine State's Democratic gubernatorial nomination Tuesday. Tampa Bay Times' Adam Smith outlines the challenges the former self-described "Jeb Bush" Republican faces as he takes on Republican incumbent Gov. Rick Scott: "[Crist] needs energy and enthusiasm — far more than the past three Democratic nominees managed to generate. The single-biggest obstacle to Crist this year is voter turnout history. In 2002, 40 percent of Democrats turned out to vote and 46 percent of Republicans turned out. In 2006, 40 percent of Democrats showed up, and 45 percent of Republicans. In 2010, Scott won when just 38 percent of Democrats voted and 46 percent of Republicans did."

Ducey serves up a win in Arizona - Former Cold Stone Creamery CEO Doug Ducey topped a field of six Republicans to secure the party's gubernatorial nomination and advance to the November race for the seat of retiring GOP Gov.Jan Brewer. Ducey will take on Democrat Doug DuVal, a former Clinton administration appointee who ran unopposed in his party's primary. More.

'Warren wing' claims a win - Liberal rising star Ruben Gallego won the hotly contested Democratic primary in Phoenix's seventh district. He faces no Republican opposition in November to succeed retiring Rep. Ed Pastor, D-Ariz.

Saddam seeker likely headed to Hill - The Hill: "Former Oklahoma state Sen. Steve Russell (R), a member of the military team that captured Saddam Hussein in Iraq in 2003, has nearly punched his ticket to Congress this fall. Russell won the GOP primary runoff Tuesday to succeed Rep. James Lankford [R-Okla.]"]

GNOMES GNAPPED
WaPo: "Last weekend in the mountainous Austrian state of Vorarlberg, 400 gnomes disappeared. Nobody knows where they have gone. But everyone knows it's down to politics. With regional elections set for Sept. 21, the left-wing Social Democratic Party ordered 20,000 gnomes called 'Coolmen' earlier this year. The gnomes, toting sunglasses and campaign signs, were the party's last-ditch effort to prevent an electoral defeat in Vorarlberg. About 400 of the gnomes were attached to lampposts on Saturday as alternatives to traditional posters, but their mass disappearance by Sunday morning was conspicuous. . … According to the Social Democratic Party, it spent roughly a third of its campaign resources in the state, $660,000 in total, on the gnomes."

AND NOW, A WORD FROM CHARLES…
"You don't have to be a conspiracy theorist to see some slight-of -hand going on here. It's not clear whether… these [email] backups actually exist. … If this actually is something that the administration had known about, the IRS had known about, and it was pretending that this doesn't exist, that, I think, will be a huge development in this scandal. " –Charles Krauthammer, on "Special Report with Bret Baier."

Chris Stirewalt is digital politics editor for Fox News.  Want FOX News First in your inbox every day? Sign up here.