Father of Virginia Gov. Bob McDonnell Dies at Age 94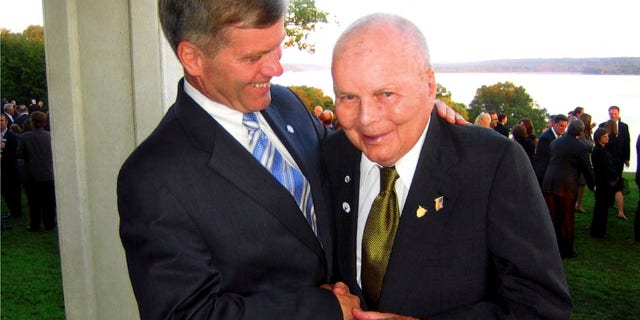 John F. "Jack" McDonnell, a World War II veteran and father of Virginia Gov. Bob McDonnell died Tuesday. He was 94.
The elder McDonnell had been ill for years with Alzheimer's disease.
The elder McDonnell was based in England during World War II and flew aboard bombers that made sorties into Nazi-occupied Europe. He served for 23 years in the Air Force.
The governor was the eldest of five children that Jack and Emma McDonnell, raised in a strict Irish-Catholic household in northern Virginia.
In an 2009 interview, the governor described his father as "a tough, Boston Irish-Catholic Air Force officer who wasn't afraid to use the belt."
Jack McDonnell was a University of Maryland graduate who taught Sunday school, coached children's baseball and was a fan of the Boston Red Sox and Notre Dame University athletics.
In one of his father's last public appearances, the new governor knelt before his father's wheelchair after his inauguration on Jan. 16 and kissed his forehead.
The elder McDonnell was widowed in 1994. He will be buried alongside his wife in Arlington National Cemeteries, though funeral arrangements were not immediately available.
The family request that any contributions be made to the Emma and Jack McDonnell Memorial Scholarship Fund at Mount Vernon, Va.
Death came to John McDonnell on election day, a year after his son's own easy election victory. The Republican governor campaigned for GOP congressional candidates in Virginia and other Republicans for U.S. House and Senate candidates elsewhere this year, but he is not on this fall's ballot.