Farmers Worry About Effect of $30B in Cuts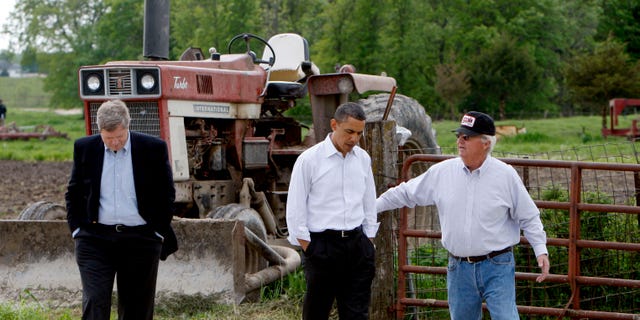 Washington – Farm groups are rushing to save government subsidies that they have enjoyed for years.
As President Obama and lawmakers try to negotiate a deficit-reduction deal, they have targeted $30 billion or more in agriculture spending cuts.
Farmers say they know they will have to take a hit, but they fear that too many cuts will force booming crop prices to take a dive, sending farmers back into a 1980s-era farm crisis.
Negotiators in the budget talks are looking at three pots of agriculture money. The first, direct payments, are subsidies that farmers get regardless of what they grow. The second, crop insurance, helps farmers in the event of losses. Finally, conservation money pays farmers to protect environmentally sensitive land.
As happens every five years when Congress renews a massive farm bill, farm lobbyists and lawmakers from farming states are fighting to save their piece of the pie. Now it's just happening a little earlier, and largely out of public view, as Washington tries to find a way to raise the nation's debt limit and cut spending before the government defaults on some payments Aug. 2.
A new farm bill isn't due until next year but could be pushed up if lawmakers are forced to find immediate savings. A budget deal could either dictate the terms of the cuts or leave it up to the congressional agriculture committees.
House Agriculture Committee Chairman Frank Lucas, R-Okla., says he hopes negotiators will tell lawmakers exactly how much they want cut from the farm budget and let Congress hash out the details. Negotiators are looking at reductions of $30 billion to $35 billion over 10 years, which amounts to a more than a 15 percent cut from the three programs.
"If they give us an absolute number, we will meet that number," Lucas said. "But don't make major policy decisions on the back of a piece of yellow paper or a napkin at the White House that rural agriculture has to live with."
Rep. Collin Peterson of Minnesota, the top Democrat on the agriculture panel, says such large cuts would make it almost impossible for Congress to write a new farm bill and figure out how to protect producers from a downturn. "It's a mess is what it is," he said.
Negotiators at the White House and congressional leaders were originally looking to cut about $33 billion, or roughly the amount to be spent in direct payments over the next decade, according to several congressional and farm industry officials familiar with the talks.
Direct payments are farm subsidies popular in the South with cotton and rice farmers who say they need the money because their crops are expensive. They are a frequent target of conservatives and farm subsidy critics because, unlike other subsidies, direct payments are made regardless of whether prices fall.
As rice and cotton groups have pushed back, negotiators have discussed making fewer cuts from direct payment programs and cutting deeper from crop insurance or conservation programs. Those familiar with the talks said it is unclear if negotiators will dictate how the money is spent.
The officials spoke on conditional of anonymity to freely discuss developments in the private negotiations.
Midwestern corn and soybean farmers generally depend on crop insurance more than Southerners do, and lawmakers and groups that represent that region are fighting for direct payment cuts instead of crop insurance cuts. Crop insurance is subsidized by the government, and Congress and the Agriculture Department have frequently used the program to find extra savings in recent years. USDA took about $6 billion from the program just last year.
Any additional cuts to crop insurance would probably mean lower and fewer payouts for farmers, advocates say. Like those who depend on direct payments, they say that decimating what farm country calls its "safety net" could hurl farmers into a depression when prices drop. As in previous downturns, farmers would then turn to Congress to bail them out.
"We are going to put ourselves in the `85 farm crisis again," says Chandler Goule, the top lobbyist for the National Farmers Union. "Do these politicians want us to produce food, fiber and fuel in this country or do they want us to import it all from China? I think they are cutting farm subsidies because they don't understand what they truly do."
Though a strong farm coalition has protected agriculture interests in Congress for decades, Goule says farm interests have had a tougher time since the November 2010 elections, when many moderate, rural Democrats were swept out of office and replaced by conservatives who are more focused on spending cuts than farm subsidies. The House Agriculture Committee lost more than a dozen Democrats after the elections.
Anthony Bush of the National Corn Growers Association, a corn, soybean and wheat farmer from Ohio, says he believes the nation's food supply is at risk if money is taken away. But he is also concerned about the national debt.
"I am as worried about that as I am how it affects my farm," he said.