Family, friends of US contractor held in Cuba plead for US to do more to secure release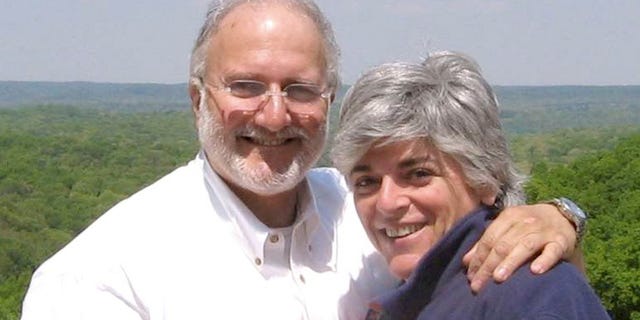 WASHINGTON – For Alan Gross, the American contractor locked up in a Cuban prison on spying charges, the road to freedom seems increasingly out of reach.
The Maryland resident, who repeatedly has denied working for any intelligence agency, was arrested by Cuban authorities in 2009, stripped of his rights and thrown into a foreign prison.
Since then, his family has worked tireless – and unsuccessfully -- to bring him home.
Gross currently is being held at the Carlos Finlay Military Hospital in the Havana Providence in Cuba where he spends 23 hours a day in a small cell with two other men. He is let out of his cramped quarters for an hour each day, led to a small courtyard with high walls and if he is lucky, he gets to catch a glimpse of the sun.
After his 60 minutes are up, the 64-year-old man who is facing another long decade behind bars heads back to his cell.
The details of Gross' daily routine were relayed to FoxNews.com by his legal team. With Gross starting, and recently ending, a one-week hunger strike, he and his supporters are trying to draw more attention to his case and urge the U.S. government to do more to help.
In December -- the four-year anniversary of his imprisonment – Gross wrote President Obama a letter pleading for the White House to get involved and negotiate his release.
So far, Gross hasn't heard back, his camp tells FoxNews.com. But that's where the stories start to blur.
The White House is on record multiple times calling on the Cuban government to let Gross go. Gross was working at the time of his arrest as a subcontractor for the U.S. Agency for International Development on expanding Internet access.
In December, around the same time Gross sent the letter to the president, White House Press Secretary Jay Carney told reporters Gross was a "dedicated professional with a long history of providing aid to underserved communities in more than 50 countries" and called for his release.
In the past, the Obama administration has called Gross' case a sticking point in improving ties with Cuba but has rejected any prisoner trade for Gross.
In March 2011, following Gross's sentencing, Philip Crowley, the assistant secretary in the bureau of public affairs at the State Department, issued a statement: "We deplore this ruling."
"Alan Gross is a dedicated international development worker who has devoted his life to helping people in more than 50 countries," Crowley said. "He was in Cuba to help the Cuban people connect with the rest of the world."
Still, while U.S. officials say they're pressing his case, it's unclear to what lengths they have gone to pursue his release. Attorney Scott Gilbert said: "We really hope that the two governments can work something out and do what it takes. He wants to come home ... the only way that will happen is if Obama gets involved, and that hasn't happened."
Gross, a native New Yorker, moved south where attended school at the University of Maryland and at Virginia Commonwealth University in Richmond, Va., where he studied social work.
In 2001, Gross formed the Joint Business Development Center -- a Chevy Chase, Md.-based company that works to increase Internet connections abroad.
As the boss, his career took him around the world. His passport has been stamped in Africa, Europe, Afghanistan and Iraq.
His friends and family describe the 64-year-old, white-haired contractor as a gentle humanitarian, a loving husband and father of two girls, now grown up and living in Oregon and Israel. His wife, Judy, a social worker, is still by his side and lobbying for his release.
"I've been begging our government for more than four years to bring Alan home," she said in a written statement. "I'm worried sick about Alan's health, and I don't think he can survive much more of this."
Gross has lost 110 pounds in prison. He has a growing list of health problems and is considerably weaker, his camp says.
It's been hard on Judy, too. In the four years her husband has been in a Cuban prison, she has been forced to sell their Maryland home, unable to afford the mortgage in the upscale Potomac, Md., neighborhood.
Last week, Gross announced through his attorney Gilbert that we was going on a hunger strike, "enraged" over recent reports about the controversial "Cuban Twitter" project, first reported by The Associated Press.
The project, a communication network called ZunZuneo, was reportedly built to stir unrest on the island. USAID, the same agency Gross was working for when he was arrested in 2009, was behind the now-defunct project. Gross and his supporters voiced concern that the project could have put him at additional risk.
"I am fasting to object to mistruths, deceptions and inaction by both governments, not only regarding their shared responsibility for my arbitrary detention, but also because of the lack of any responsible or valid effort to resolve this shameful ordeal," Gross said via a telephone conversation he had with Gilbert.
By Friday, Gross had called off the strike.
Disheartened, his friends, family and legal team say they'll push even harder for his release, especially in light of the ZunZuneo report. They argue the government has put his safety at risk and continues to do so every day he is in Cuba. They also blame his employer – USAID. "Once Alan was arrested, it is shocking that USAID would imperil his safety even further by running a covert operation in Cuba," Gilbert said in a statement.
Vermont Democratic Sen. Patrick Leahy said earlier this week he's gotten emails from USAID employees "all over the world" asking "how could they do this, to put us in such danger?"
At issue are a range of secretive USAID programs the agency claims are not "covert" – but aren't widely publicized either. Having them outed, some argue, leaves contractors like Gross in danger.
USAID Administrator Rajiv Shah said the responsibility for Gross' imprisonment lies with Cuba.
"The State Department has led an aggressive effort to help Alan secure his release," Shah said at the same Senate subcommittee.