Exclusive: Adm. Harris says duty is serve the president, Trump or otherwise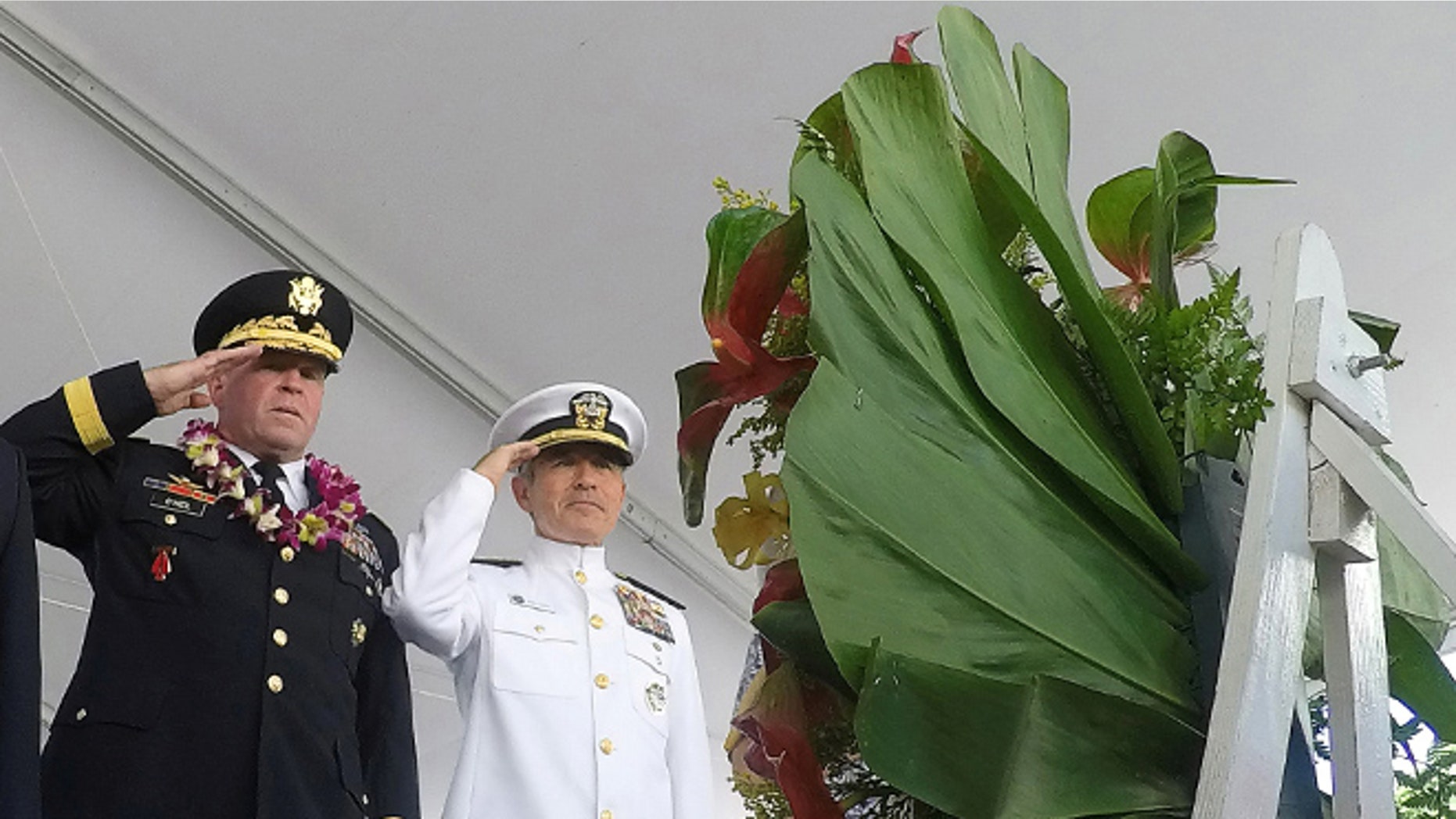 Navy Adm. Harry Harris is the top military officer in the Pacific Ocean theater but still has bosses -- namely President Obama and the secretary of defense. And while the men in those positions will soon change, Harris makes clear that his military duty is to follow their orders.
"I work for the commander in chief, who is President Obama, until the 20th of January, then my commander in chief will be President Trump," Harris said matter of factly on Monday.  "And I look forward to working for him."
In a wide-ranging interview with Fox News, Harris, who leads all U.S. forces as head of Pacific Command, also shared his assessment of the many hot spots under his watch throughout that region.
Speaking just outside his Pearl Harbor, Hawaii, headquarters, Harris was quick to note the directives from Washington that guide his stewardship of a sometimes volatile region.
It's a role that requires him to pull from his background as a Navy pilot to execute complicated military movements, while also drawing upon a mix of diplomatic acumen, economic understanding and the flexibility to adjust to geopolitical realties.
Harris readily calls attention to Defense Secretary Ash Carter's determination that Russia, China, North Korea, Iran and terrorism are the five main global pressure points.
"My biggest concern -- imminent concern-- is North Korea," he said. "As I've said before, Russia and China are existential threats to the United States. And both are countries in the Indo-Asia Pacific. And both are in Secretary Carter's list of five-problem sets. North Korea is in that problem set ... the most imminent threat that I face today."
A significant reason for that concern is what Harris describes as North Korean leader Kim Jong-un's unpredictability. He notes the weaponry already pointed toward the United States and its regional allies, combined with the regime's unbridled nuclear ambitions.
"So he's a very real threat today," he said.
While not minimizing the threats posed by China and Russia, Harris describes each as responsible powers. Harris thinks that Russia and China -- unlike North Korea -- can be responsive to normal modes of diplomacy.
An example of this, perhaps, is China's reaction to a recent adverse ruling by an international tribunal about the construction of islands doubling as military outposts in the South China Sea. China had claimed sovereign rights to the water.
Harris said he's seen China "lower its rhetoric" in the months since the decision.
"So we'll have to see what it means in the long run," he also said.
Iran is the only named global concern that falls outside of the admiral's domain.
As for terrorism, Harris says there are thousands of ISIS fighters in the Middle East who come from countries like Malaysia, Philippines, Indonesia and Bangladesh.
"At some point they're going to want to go home -- those who are still alive -- and they will want to come back," Harris predicts. "It's a very real concern to me .... because they're right there in my backyard."
Harris would not offer further comment on Trump, including the president-elect's recent use of Twitter to taunt China.
"It sounds like you're asking me to grade the president-elect's homework," he told a reporter. "I'm not going to do that."
However, Harris praised retired Marine Gen. James Mattis, whom Trump wants as his Secretary of defense and who with Trump would become Harris's new boss.
"I supported him in the beginning on Operation Enduring Freedom, and I think highly of him," Harris said. "I think he's going to be an extraordinary secretary of defense."