Ex-Va. Gov. McDonnell's attorney vows to appeal corruption convictions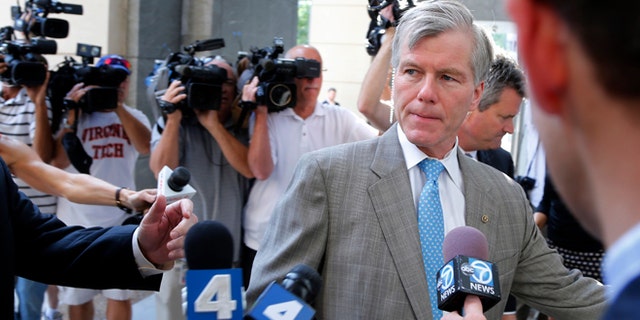 Former Virginia Gov. Bob McDonnell's attorney says his client will appeal his conviction on a range of public corruption charges, and claims that McDonnell did not receive a fair trial.
McDonnell and his wife Maureen were convicted Thursday on a range of corruption charges in connection with gifts and loans they accepted from a wealthy businessman, marking a stunning fall for the onetime rising Republican star.
A federal jury in Richmond convicted Bob McDonnell, 60, of 11 of the 13 counts he faced; Maureen McDonnell was convicted of nine of the 13 counts she had faced.
Both bowed their heads and wept as a stream of "guiltys" kept coming from the court clerk. The verdict followed three days of deliberations, after a five-week trial.
McDonnell's attorney, Henry Asbill, said he was shocked and disappointed by the verdict. Maureen McDonnell's attorney declined to comment.
Sentencing was scheduled for Jan. 6. Each faces up to 30 years in prison. After the verdict was read, FBI agent-in-charge Adam Lee said the bureau will "engage and engage vigorously in any allegation of corruption."
Assistant Attorney General Leslie Caldwell, head of the Justice Department's criminal division, said the state's former first couple "turned public service into a money-making enterprise."
The former governor, up until his federal corruption case, was a major figure in national politics and had been considered a possible running mate for presidential candidate Mitt Romney in 2012.
The couple, though, was charged with doing favors for a wealthy vitamin executive in exchange for more than $165,000 in gifts and loans. They also were charged with submitting fraudulent bank loan applications, and Maureen McDonnell was charged with one count of obstruction.
The former governor testified in his own defense, insisting that he provided nothing more than routine political courtesies to former Star Scientific CEO Jonnie Williams. Maureen McDonnell did not testify. His testimony and that of others exposed embarrassing details about Maureen McDonnell's erratic behavior and the couple's marital woes as the defense suggested they could not have conspired because they were barely speaking.
Williams testified under immunity that he spent freely on the McDonnells in order to secure their help promoting his supposed cure-all, the tobacco-derived anti-inflammatory Anatabloc. Among the gifts were nearly $20,000 in designer clothing and accessories for Maureen McDonnell, a $6,500 Rolex watch for her husband, $15,000 in catering for one of their daughter's wedding, free vacations and golf outings. Williams also provided three loans totaling $120,000.
As the gifts were being given, the McDonnells attended various Anatabloc promotional events and hosted a luncheon at the governor's mansion that the company billed as a product launch. Williams also was allowed to invite several of his associates to a reception for Virginia health care leaders at the mansion, and McDonnell arranged meetings for him with two state health officials as he was taking preliminary steps to seek state-backed research on Anatabloc. No applications for research grants were ever submitted.
Prosecutors claimed that the McDonnells turned to Williams because they were grappling with credit card debt that once topped $90,000 and annual operating shortfalls of $40,000 to $60,000 on family-owned vacation rental properties. Two of the loans totaling $70,000 were intended for the two Virginia Beach rent houses. Williams said he wrote the first $50,000 check to Maureen McDonnell after she complained about their money troubles and said she could help his company because of her background selling nutritional supplements.
A number of witnesses, including the former governor, said Maureen McDonnell despised being first lady and was prone to angry outbursts that prompted mansion staff to threaten a mass resignation.
Defense attorneys also said Maureen McDonnell had a "crush" on Williams, who preyed on her vulnerability.
The Associated Press contributed to this report.