Ex-San Diego Mayor Filner pleads guilty to felony false imprisonment, battery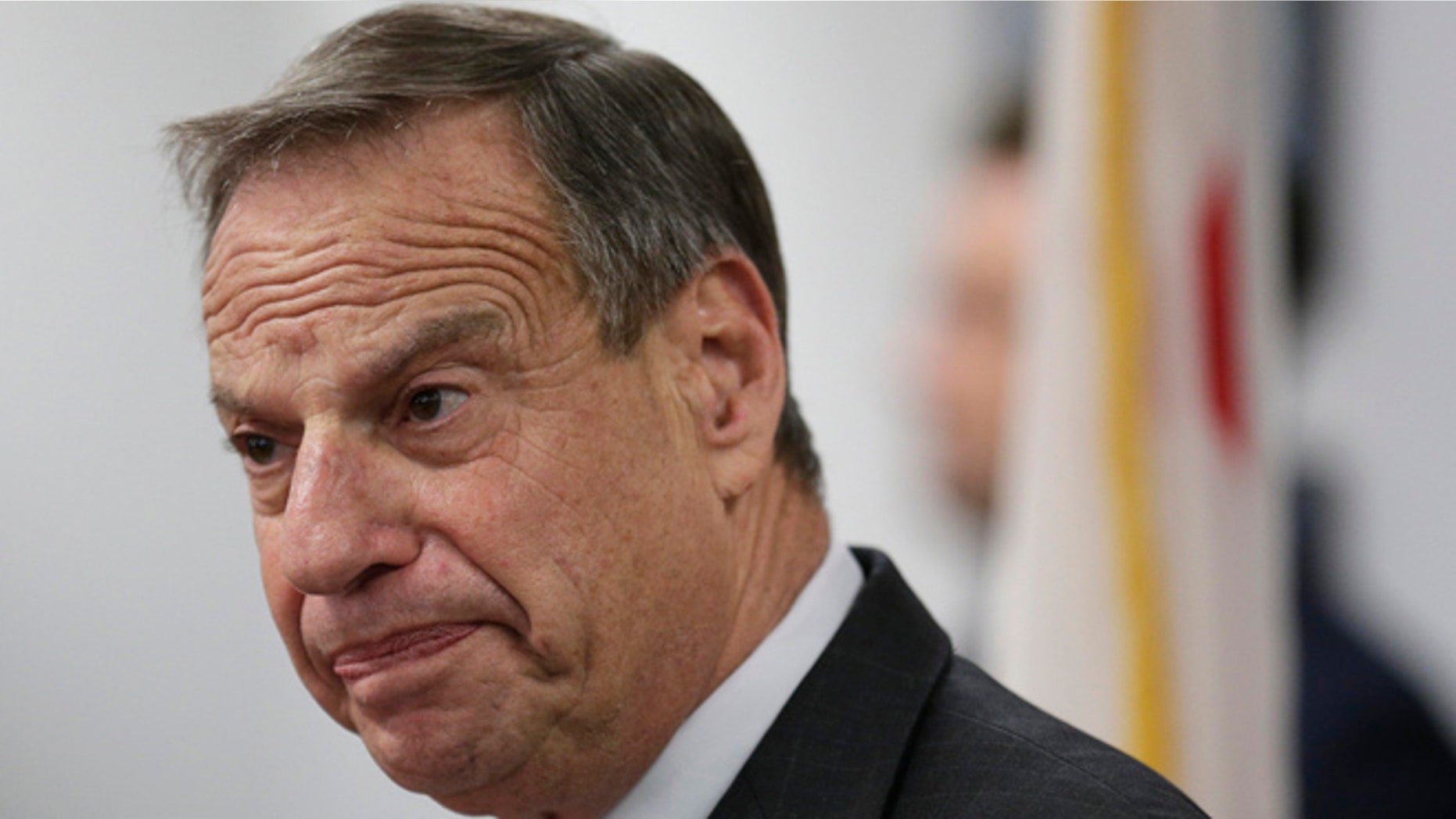 Former San Diego Mayor Bob Filner pleaded guilty on Tuesday to felony false imprisonment and two misdemeanor counts of battery involving three women, just weeks after he left office amid a storm of sexual harassment allegations.
The plea came in California state Superior Court. Prosecutors did not elaborate on the details of the allegations to which Filner pleaded guilty. The victims were identified only as Jane Does. Filner's attorney, Jerry Coughlan, said none of the victims were employees.
Filner, 71, did not address reporters but Coughlan said the former mayor "profusely apologizes" for his behavior.
"I think he wants to redeem his original legacy, which was a wonderful one, and put this behind him," Coughlan said.
Filner entered court alone in a dark blue suit, chatting amiably with his two attorneys before the hearing began. He said little to the judge beyond, "Guilty," when the judge recited the charges.
Filner could have been sentenced to three years in prison for the felony false imprisonment charge. The technical term refers to restraining or otherwise detaining someone against their will -- it reaches a "felony" level when violence and other factors come into play.
Under the agreement, Filner will serve probation for three years and "home confinement" for three months. He will be barred from public office, prohibited from voting while on probation, and forced to surrender part of his pension.
He'll also be compelled to undergo treatment, under threat of jail time. Fines and other fees will be determined at his sentencing hearing, set for Dec. 9.
Speaking at a Tuesday afternoon press conference, San Diego County Sheriff William D. Gore said he was pleased that the case would not have to go to trial, saying it prevented Filner's victims from having to relive their experiences.
"To bring this chapter to a close, I think, was the right course of action," Gore said.
Filner resigned in late August, succumbing to intense pressure after at least 17 women brought lurid sexual harassment allegations against the former 10-term congressman. He had been on the job less than nine months into a four-year term and was San Diego's first Democratic mayor in 20 years.
San Diego County sheriff's investigators had been interviewing Filner's accusers and said they would deliver their findings to the attorney general's office for possible prosecution. The state attorney general's office confirmed in August that it launched a criminal investigation.
Filner's former communications director, Irene McCormack Jackson, was the first woman to go public with allegations against Filner and filed a lawsuit against the mayor and the city, claiming her ex-boss asked her to work without panties, demanded kisses, told her he wanted to see her naked and dragged her in a headlock while whispering in her ear.
All nine City Council members as well as fellow Democrats called upon Filner to resign. A recall effort also was launched as more allegations surfaced.
But in a defiant farewell speech, Filner said he was the victim of a lynch mob and believed he would be vindicated if due process was allowed to run its course.
In exchange for his resignation, the city agreed to pay Filner's legal fees in a joint defense of the lawsuit, and cover any settlement costs assessed against the mayor except for punitive damages. The city -- as required by state law -- will also defend Filner against legal actions stemming from other alleged sexual harassment said to have occurred during his nine months in office as mayor.
City Attorney Jan Goldsmith said, however, the city will not represent Filner in any criminal case.
The Associated Press contributed to this report.