Emanuel Would Face Field of Candidates in Race for Chicago Mayor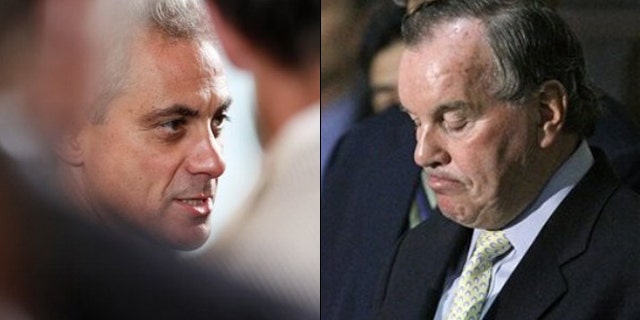 The race for Chicago mayor, a contest that kicked off Tuesday afternoon when Richard Daley announced he would not seek reelection, promises to be an elbow-throwing free-for-all the likes of which the Windy City hasn't seen in decades.
White House Chief of Staff Rahm Emanuel has attracted headlines as arguably the highest-profile contender to openly discuss his aspirations for the office dominated by the Daley dynasty for the better part of the last half-century. But a host of congressmen, aldermen and other officials are also mulling bids. Though Emanuel would no doubt have the White House and a piggy bank of favors at his disposal out of Washington, the competition for one of the top jobs in American city politics will be fierce. This is the first open Chicago mayor's race since 1947 and no matter how he is cast, Emanuel is not the incumbent.
"A guy like Rahm, I mean, they're gonna bring vast resources," said Chicago political consultant Philip Molfese. But he added: "I'm thinking about how large this field could be. It could be 12 candidates."
Chicago does not have a primary process to winnow down the field of candidates, so the Feb. 22 election could be a veritable derby of heavyweights and lightweights, insiders and outsiders, all scrambling for a majority of the votes.
Some of those potential contenders left the door wide open in the minutes and hours after Daley announced his surprise decision Tuesday.
Out of Congress, Democratic Reps. Danny Davis, Luis Gutierrez and Jesse Jackson Jr. are all considered possible candidates.
Gutierrez, who has built a reputation as a local and national advocate for Hispanic Americans, conceded that he was thinking over his options.
"In the coming days, I will talk with my family and meet with my supporters and make a decision about my future plans," he said, adding that he's received "many questions" about his intentions.
While Gutierrez has a network of Hispanic support, Davis could tap into some of the local, black constituencies. He served as a member of the Chicago City Council for more than a decade and considered running for president on the Cook County Board of Commissioners, but elected to stay in Congress instead.
He cited a litany of lingering Chicago challenges in a statement on Daley's departure, but did not say whether he'd seek to take them on as mayor.
Jackson also refrained from stating his intentions, though he implied that candidates should think over their decision carefully.
"Regarding potential successors, I expect there will be numerous candidates, but only a few can mount a serious bid for mayor," he said.
Jackson publicly mulled a mayoral bid against Daley in 2007 and was poised to revive the speculation, but the scandal over former Gov. Rod Blagojevich's alleged pay-to-play political schemes has embroiled him, potentially dampening his shot at a full-scale campaign now that the seat is open. Jackson has denied wrongdoing, and most of the charges against Blagojevich have to be retried after a jury failed to reach a verdict last month.
The opening at the top of the food chain in Chicago has, in effect, set into motion ambitions that many politicians had long-harbored but did not expect to act on so soon.
Several city aldermen are said to be considering a bid. A source told the Chicago Sun-Times that Cook County Sheriff Tom Dart is "all in." A spokesman told the Chicago Tribune that retiring Cook County Assessor James Houlihan is also "very interested" in the job. Other characters now under political surveillance include Cook County Commissioner Forrest Claypool, state Attorney General Lisa Madigan, City Clerk Miguel del Valle and Daley brother William.
If no candidate earns above 50 percent in February, then the top two vote-getters move on to a final runoff April 5.
Molfese, co-founder of Grainger Terry Inc., said the aldermen, some of whom represent constituencies of just a few thousand, would have a tough call to make. They would effectively have to give up their seats to launch what in many cases would be a long-shot race for mayor.
Members of Congress, on the other hand, would not have to sacrifice their seats since the election in Chicago does not coincide with congressional elections.
However, Molfese said the local figures will be able to leverage grassroots coalitions that some of the heavyweight figures may find tough to cobble together.
White House senior adviser David Axelrod made clear that Emanuel would have his support if he chose to run -- meaning he would likely have the support of one of the most powerful grassroots coalitions in the country.
"Look, Rahm is a talented, extraordinarily talented guy. He has all the skill set to be a great mayor of Chicago and he has a love and a passion for the city that would be helpful ... essential," Axelrod told Fox News. "But he also has a lot of responsibilities here and, you know, he has a tough decision to make and he'll in due course make that decision."
White House Press Secretary Robert Gibbs said Emanuel would take some time to think about it.
Anybody running for mayor in Chicago also has a minefield to navigate -- racial politics -- which Illinois Rep. Bobby Rush sought to remind the chattering classes. He said in a statement that any candidate is going to have to come to the table with a "black community agenda" and took a shot at the unnamed "imaginary front-runner" in the race.
"I must admonish the media to end its coordinated commentary on who will be the next mayor of the city of Chicago," Rush said. "Whoever that person will be will have to come through my community -- and address my community and have an established record of working with my community on its many deep-seated problems. Before anyone is deemed an imaginary front runner in this particular race, they should pause and take that into consideration."