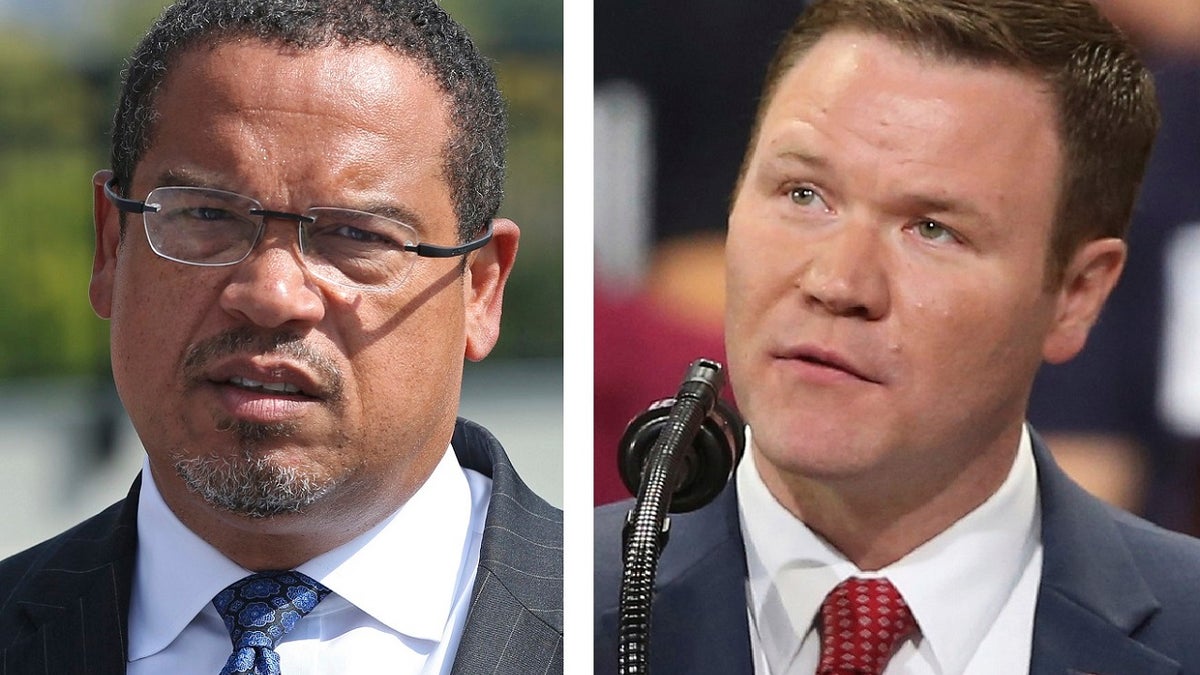 Rep. Keith Ellison, D-Minn., on Sunday evening squared off against his GOP rival for state attorney general in a debate that largely revolved around allegations of domestic abuse against the representative, KSTP-TV reported.
Ellison, who represents Minnesota's 5th congressional district and is the deputy chairman of the Democratic National Committee, vehemently denied allegations leveled by his former girlfriend, Karen Monahan. She claimed that he once dragged her off a bed by her feet while screaming obscenities. He maintained that investigations have cleared him and accused his Republican attackers of remaining silent about allegations against President Trump.
DEMOCRATIC REP. ELLISON TO ASK HOUSE ETHICS COMMITTEE TO INVESTIGATE ABUSE ALLEGATIONS
His Republican opponent, Doug Wardlow, called Ellison a "cheerleader for cop killers." Ellison denied those claims, pointing to his support of police reform groups like Moms Demand Action, a grassroots movement that "seeks to address our nation's culture of gun violence," according to its website.
Wardlow also blasted Ellison for his association with Louis Farrakhan, the Nation of Islam leader, who has drawn controversy for his repeated anti-Semitic comments. Ellison said he has rejected Farrakhan's incendiary comments but qualified that he thought Farrakhan had some things "to offer" in the 1990s as a Civil Rights leader.
LOUIS FARRAKHAN WON'T BE SUSPENDED BY TWITTER DESPITE ANTI-SEMITIC TWEET
"(Farrakhan) made it absolutely clear in the early 1990s that his views and mine were absolutely incompatible, and I've been saying that ever since," Ellison said.
Wardlow said Ellison's denial of his association with Farrakhan was given "Four Pinocchios" by The Washington Post.
Ellison will face off against Wardlow in the November midterm elections.
Fox News' Frank Miles and The Associated Press contributed to this report.