Election 2012: Latino Races to Follow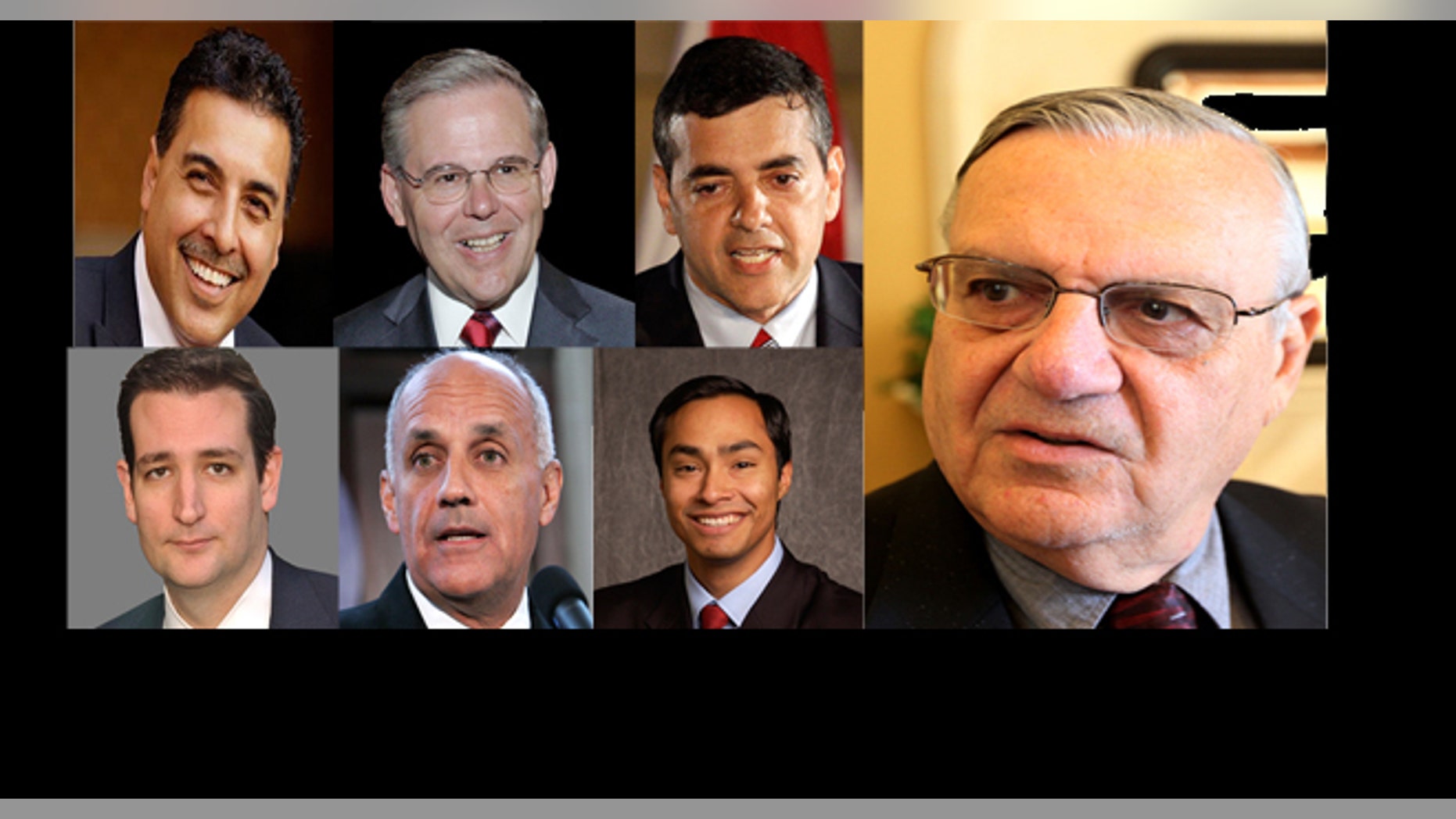 From California to Miami to Texas, Latinos are either making history this election or trying to hold on to their politics seats.
One could be the first Latino astronaut to hold national office, another could be the first Latino senator in Texas history. What they have in common: if they win, they could make this the most Latino looking Congress and Senate in U.S. history.
Here are some of the important races to look out for:
Jose Hernandez 
Democrat Jose Hernandez, a party favorite, says he is not a politician, he's an engineer and an astronaut. While he may not consider himself one, he's hoping he'll be elected to political office in the newly redrawn 10th congressional district in California in the Northern San Joaquin Valley.
The Mexican-American former NASA astronaut grew up working in the fields in Modesto with his parents and has made his personal story a big part of his appeal to voters. He is currently running against Republican Rep. Jeff Denham, an almond farmer and Air Force veteran. Denham just completed his first term.
The race is expected to be close, but experts say it leans Republican. The campaign has become heated and in some cases vicious thanks to nearly 12 million dollars that have been infused into both campaigns from Super PACS.
Money has mainly been used for vicious TV ads. California is as blue a state as can be, but both Republicans and Democrats view the 10th congressional district as a real battleground. The district is considered more politically balanced than ever after it was redrawn. The district is 40% Hispanic.
Joaquin Castro 
Joaquin Castro is a rising star of the Democratic Party and a big front-runner to become the U.S. Representative for the 20th congressional district in Texas.
He is the twin brother of San Antonio's Mayor Julian Castro, who received presidential type hype after delivering the keynote speech at the Democratic National Convention.
Castro is currently a representative of the 125th district in the Texas House of Representatives.
However, he has a chance to make his own headlines with a win tonight. The 20th congressional district represents much of the city of San Antonio and is currently represented by Democrat Charles Gonzalez, a chair of the congressional Hispanic caucus.
Gonzalez is retiring, which will put an end to nearly four decades of district representation by his family. Castro is going against Republican Dave Rosa, an insurance salesman. This is Rosa's first race. The 20th district is about 64 percent Latino and a majority of Democrat registered voters. (55 percent)
David Rivera
Several months ago, the seat held by Rep. David Rivera in Miami seemed a lock for the Republicans.
Dogged by several investigations, Rivera emerged from a bruising primary battle and was set to take on challenger Joe Garcia, a Democrat whom Rivera defeated in 2010 and was expected to win handily again.
But then Rivera's problems escalated.
He is the target of two federal probes looking into his finances and whether he created a shadow candidate to run against his opponent. He also faces 11 ethics violations for allegedly filing bogus disclosure forms and misusing campaign cash. While Rivera has emerged from previous corruption allegations battered but triumphant, the most recent allegations seem to have more of a political impact.
Rivera has denied any wrongdoing.
Rivera and his opponent are Cuban-American and have worked, at different times, for the Cuban American National Foundation in Washington. Rivera was a researcher and Garcia was executive director.
While Garcia lost two years, even Republicans think he has a better shot to win this year. They are already testing candidates to run against Garcia if he wins Tuesday.
"It's bad at this point," Dario Moreno, a Florida International University political science told The Miami Herald. "David faces a real Herculean task to keep his campaign together."
Robert Menendez
The first Cuban-American senator, Robert Menendez, D-New Jersey, seems to enjoy a comfortable lead ahead of challenger Joe Kyrillos, a well-respected state senator in the state.
Menendez is outspending Kyrillos 4-to-1 and in a state where he served in the House of Representative from 1993 to 2005, and was a local and state politician for almost a decade, it's tough to not be overshadowed by him.
Menendez is a solid liberal who has fought for immigrant rights groups and won praise by environmentalists – but he's come under fire from some Latinos, particularly in the west coast, who believe he does not do enough for their cause.
He claims to be more than a Latino senator, one who represents his constituents and not one particular group.
Kyrillos, who has acknowledged that while Menendez may be more knowledgeable of issues, it takes more than that to lead the state.
"A lot of this is about style," Kyrillos told the Newark Star Ledger. "It's an attitude, a mindset, a temperament."
But Menendez says he wants to continue what he has started.
"As I travel the state, there are far too many people who say to me, 'Senator, this is the first time in my life that I have been unemployed,' " Menendez told the Philadelphia Inquirer. "While we have made some progress from what we had inherited in 2008 . . . we still have a lot more work to do, and that drives me every day."
Ted Cruz
Republican candidate Ted Cruz is on the verge of becoming the first Latino to represent Texas in the U.S. senate.
The former Texas solicitor general under George W. Bush, the Cuban-American Cruz is the favorite in the senatorial election.
At 41 years old, the conservative Cruz has earned popularity among the Tea Party, which is one characteristic Latinos do not look upon favorably.
When it comes to hot bed Latino issues like immigration, Cruz has kept relatively mum touting the Republican party's stance on "securing the border" before even discussing any comprehensive immigration reform.
Despite his Latino roots, Cruz's conservative view on issues like immigration, healthcare, and voter ID laws have caused many Latino's to side with his opponent, Democrat Paul Sadler.
Looking to represent a state where Latinos make up 40 percent of the population, Cruz has been compared to fellow Cuban-American politician, Florida senator Marco Rubio.
Richard Carmona
Richard Carmona is a former U.S. surgeon general under the George W. Bush administration.
Born to poor Puerto Rican immigrant parents in New York City, Carmona rose through the political ranks from working in the Pima County sheriff's department to his highest role as surgeon general.
In late 2011 Carmona joined the Democratic Party and announced his candidacy for the Arizona state senate seat vacated by Jon Kyl after receiving a personal call from President Obama asking him to run.
The race favorite is Carmona's opponent, Republican Jeff Flake, who is veteran of Arizona politics, having served six-terms in the state's congress.
While Arizona has historically been known for being conservative and leaning Republican, the state's growing Latino population, which now amounts for more than 30 percent of the population, has made the Senate race closer than expected.
"He has activated an important segment of the Democratic Party," Arizona State University professor Richard Herrera told EFE.
"I'm convinced that if the Latino voter goes to the polls in greater numbers than in the 2008 elections, that could be the decisive factor for Carmona's contest."
Joe Arpaio
Known as the self-proclaimed "Toughest Sheriff in America," Joe Arpaio's war against undocumented immigrants has made him a national political figure when it comes to Latino issues.
Running for his sixth term as Maricopa County sheriff, the 80-year-old law man has garnered national attention for his hard-line stance against illegal immigration.
Representing a state were Latino's account for more than 30 percent of the population, Arpaio has faced his toughest re-election campaign to date.
Arpaio's outspoken view points helped him raise over $8 million for his re-election campaign with most of the funds coming from outside Arizona. In comparison, his Democrat opponent Paul Penzone raised just $527,000.
Arpaio has been accused of racial profiling and targeting Latino's in his enforcement of the controversial SB 1070.
His opponent Penzone has received a wave of community support, especially among Latinos, who are looking to end Arpaio's 20 year long run as sheriff.
Penzone is a retired police veteran who has vowed to turn the department's attention away from the headline grabbing policies of the Arpaio administration that have alienated much of Arizona's Latino population.
Penzone argues that Arpaio has turned the sheriff office into a political machine focused more on image than public safety.
Despite Penzone's strong popularity among Latinos, Arpaio is still expected to take the election.
Follow us on twitter.com/foxnewslatino
Like us at facebook.com/foxnewslatino