Ecuadoreans in U.S. seeking temporary protected status after massive quake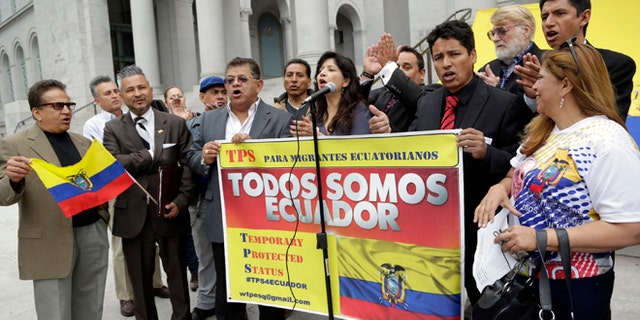 LOS ANGELES (AP) – Ecuadorean immigrants are asking the Obama administration to allow their fellow citizens living in the United States illegally to stay here and work while the South American country recovers from a magnitude-7.8 earthquake.
A group of Ecuadorean activists in Los Angeles on Wednesday joined similar calls by Democratic lawmakers after an April 16 quake killed more than 650 people and left thousands homeless.
The U.S. periodically grants so-called temporary protected status to countries ravaged by war or natural disasters, such as Nepal following a 2015 earthquake. Under the program, immigrants can get work permits but not green cards and are not allowed to bring relatives to live in the United States.
More than 300,000 people from countries including Haiti, Nicaragua and Somalia have temporary protected status, according to U.S. government estimates.
New York Mayor Bill de Blasio and immigrants in New York and New Jersey have called for Ecuador to be added to the list of more than a dozen countries eligible for the status since the quake flattened entire towns along its Pacific coast. A group of 32 Democratic members of Congress signed a letter asking the Obama administration for the change.
Some activists have also urged Ecuador's President Rafael Correa to request the program for his countrymen living in the United States.
"Remittances are vital to rebuild the country," said activist Wilfredo Triviño-Pérez. "Without the remittances from our countrymen here, who are undocumented, it will be difficult to rebuild."
Critics, however, say the status isn't really temporary since it can be continually renewed, noting Salvadorans granted the benefit in 2001 still have it.
"The problem is because presidents are able to renew TPS on their own, it has simply been renewed indefinitely for everybody," said Mark Krikorian, executive director of the Center for Immigration Studies, which wants more limits on immigration. "Illegal immigrants from countries where there are earthquakes end up winning the lottery."
Krikorian said a better way would be for the U.S. to simply refrain from deporting citizens temporarily while their countries recover from a crisis.
About 130,000 Ecuadoreans were living in the country illegally in 2012, according to the Washington-based Pew Hispanic Center. The biggest communities of Ecuadoreans are in New York and New Jersey.
The U.S. government is evaluating the recovery in Ecuador and has offered to expedite immigration applications for those affected by the quake.
Like us on Facebook
Follow us on Twitter & Instagram