Ecuador Hires Washington Lobby Group Amid Snowden Scandal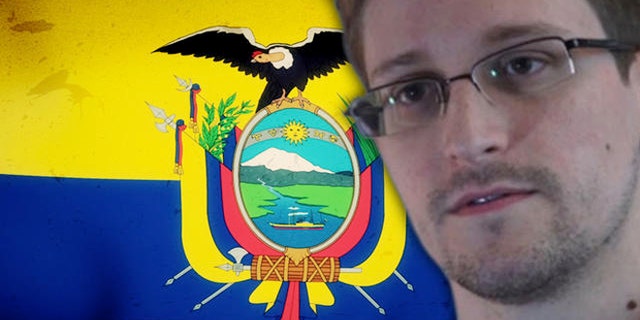 Facing criticism from Washington over its willingness to consider granting National Security Agency leaker Edward Snowden asylum, Ecuador has a hired a beltway lobbying group to work for its interest and refurbish the Andean nation's image in the U.S.
Agreeing to a $300,000, six-month contract earlier this month, Ecuador's embassy in Washington D.C. hired lobbying group Van Scoyoc Associates to clean up the tainted image that the government of President Rafael Correa has in the U.S. Congress and the Obama Administration
The lobbying company "will provide counsel to the Embassy of Ecuador on strengthening the Embassy's ties to the United States government and relevant U.S. institutions," which "will involve contact with officials of the executive branch and members and staff of the U.S. Congress where the Republic of Ecuador has a direct interest or need for advocacy and consulting assistance," Newsmax reported.
Bilateral dialogue, foreign affairs, trade, economic development, migration, and security will be the top priorities for the lobbying group when it enters the halls of government in D.C.
U.S.-Ecuadoran relations have soured in the past few years since the leftist Correa took office. Siding ideologically with the former Venezuelan leader Hugo Chávez and Bolivian President Evo Morales, Correa has ruffled the feathers of many in Washington for his ardent anti-American stance in the region.
More recently, Ecuador said it was renouncing major tariff benefits on hundreds of millions of dollars in trade with the United States, its largest trade partner, all thanks to National Security Agency leaker Edward Snowden.
The trade benefits were set to expire in July and were up for renewal by the U.S. Congress.
The announcement by Communications Minister Fernando Alvarez comes at a moment when Ecuador faces U.S. pressure to avoid granting asylum to Snowden. Alvarez told a news conference that the trade deal had become "a new instrument of blackmail."
"In consequence, Ecuador unilaterally and irrevocably renounces said preferences."
This move resulted in lobbying powerhouse Patton Boggs to cut off its work for Ecuador, the Hill reported. A day later Van Scoyoc announced it was taking up the Latin American nation's lobbying work.
Follow us on twitter.com/foxnewslatino
Like us at facebook.com/foxnewslatino