Dozens of Dreamers have signed U.S. Army enlistment contracts under special program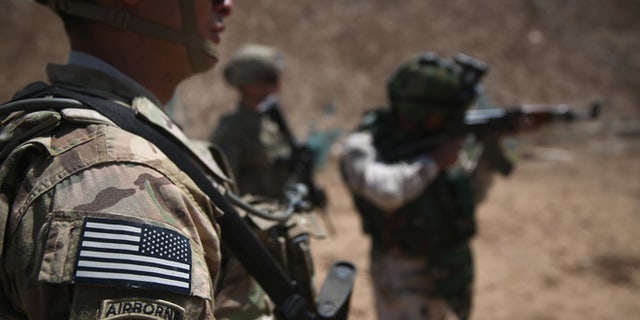 NEWYou can now listen to Fox News articles!
Despite the ongoing debate in Washington and on the campaign trail about immigration reform and the potential role in the military of undocumented immigrants who arrived in the country as young children, the United States Army has begun having dozens of them sign enlistment contracts under a special Department of Defense (DOD) program that would fast-track their path to citizenship.
Since March, 81 people who immigrated to the U.S. as children and qualify for President Obama's Deferred Action for Childhood Arrivals (DACA) program have signed Army enlistment contracts for a special program that would fast-track them to citizenship if they are accepted. Such undocumented immigrants are frequently referred to as "Dreamers," after the DREAM Act, which has been introduced in Congress various times, but has failed to pass.
And there are thousands more hoping to join the armed forces, immigration attorney and retired Army Lt. Col. Margaret Stock told The Hill.
The 81 Dreamers who have signed enlistment contracts have not yet joined the Army: They still need to pass a background check to deemed qualified to enlist.
Stock – who in 1998 helped start the Military Accessions Vital to the National Interest (MAVNI), program, which permits highly-skilled legal immigrants to enlist in the military and fast-tracks their citizenship applications – added that the DOD expanded the program from 1,500 enlistees to 3,000 in 2015 and 5,000 in fiscal year 2016, which begins in October.
Increasing the number of those who can be enrolled under the program was originally intended to make it easier to meet recruitment goals, but, Stock said, it also allowed the Army to accept Dreamers, as the MAVNI program already had a backlog of thousands of applicants.
"Otherwise, none of them would have been able to sign [enlistment] contracts, because there were no spaces left," she said.
Until 2014, MAVNI was limited to people who are legal permanent residents, but last September the Pentagon announced that Dreamers granted deportation protection by DACA, a program that would be expanded if President Obama's executive actions on immigration aren't struck down in court, would be made eligible for consideration under MAVNI.
At the time of the announcement, Pentagon spokesman, Lt. Cmdr. Nate Christensen, told Fox News Latino that Dreamers who wanted to join the military under MAVNI needed to show expertise in a field that the DOD considers "vital to the national interest."
Typically, he added, that includes "certain health care professionals in areas where the military services have shortfalls and certain experts in languages critical to the Department."
According to Christensen, there is a minimum number of MAVNI slots reserved for health care professionals in the regular Army and the Army Reserve – 260 in 2015, and 500 in 2016.
The DOD's "Critical Foreign Language" list does not include Spanish "as it is a common enough language spoken by many in our force already," Christensen noted. "However, if a MAVNI applicant is a Spanish-speaking certified and licensed health-care professional, then they can apply under [the] Health Care Professional category, as those positions have been deemed vital. So far, none have applied under the Health Care Professional category."
The possibility of letting Dreamers into a program that allows a fast-track to citizenship caused concern in some quarters, and the entire thing was put on hold before it began, officially for bureaucratic reasons. On March 27 of this year, the increased number of possible MAVNI enlistees was put in place, effective immediately.
Since its beginning in 1998, most applicants to MAVNI have been doctors who entered the active-duty Army and Army Reserve, receiving an officer's commission once they attain their citizenship.
The other branches of the military don't rely on MAVNI recruitment nearly as much as the Army. In 2013, Military.com reported, the Air Force recruited just two people under the program, both brought in for their linguistic skills. The Navy recruited one doctor in 2009.
Like us on Facebook
Follow us on Twitter & Instagram