Doomed flight likely downed by pro-Russian separatists; at least 1 American aboard, says Obama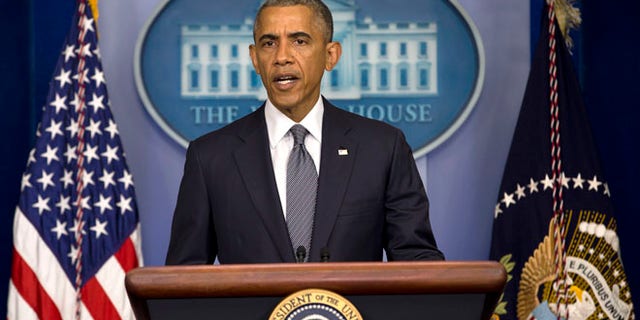 WASHINGTON – President Obama said Friday at least one American was among the passengers killed aboard Malaysia Airlines flight 17, and said the plane appears to have been downed by a surface-to-air missile launched from Ukraine by pro-Russian separatists.
[audio-clip]
Calling it a "global tragedy," Obama said the "the eyes of the world are on eastern Ukraine," and pledged "we're going to make sure that the truth gets out."
U.S. authorities identified Quinn Lucas Schansman as the US-Dutch citizen that was on the doomed flight.
Obama also called for an immediate ceasefire in the region among Ukraine, Russia and Russian-backed separatists in order to conduct an investigation into the crash site in eastern Ukraine.
"We know they have received steady support from Russia, which includes heavy weapons and training ... and includes anti-aircraft weapons," Obama said.
He noted, though, it wasn't the first time the separatists had shot down planes in the region, adding that a "steady flow of support from Russia" had included heavy weapons and anti-aircraft weapons.
He called for an immediate cease-fire to allow for a full investigation
The attack Thursday killed all 298 people on board. They were from nearly a dozen nations -- including vacationers, students and a group of scientists heading to an AIDS conference in Australia. At least 189 of the dead were from the Netherlands.
The Ukrainian government in Kiev, the separatist pro-Russia rebels they are fighting and the Russia government that Ukraine accuses of supporting the rebels all denied shooting the plane down. Moscow also denies backing the rebels.
At an emergency meeting of the United Nations Security Council Friday, U.S. Ambassador to the UN Samantha Power stopped short of blaming Russia for the downing of a Malaysia Airlines passenger plane, but said even if the missile was fired by separatists, Moscow shoulders blame.
"We cannot rule out technical assistance from Russian personnel in operating the systems," said Power, who forcefully demanded that Russia end the war in eastern Ukraine between separatists it backs and the Ukrainian government.
"Russia can end this war," she said, warning that more sanctions against Russia could come if Moscow continues to "choose escalation over de-escalation."
The Boeing 777 bound for Kuala Lumpur from Amsterdam was shot down Thursday afternoon at cruising altitude about 35 miles from the border. All 298 passengers and crew were killed. Although Russians and the separatists they back have blamed Ukraine for the attack, U.S. intelligence sources believe the missile was likely launched from within Ukraine, but by separatists.
"A full, credible, and unimpeded internationally investigation must begin immediately," Power said at an emergency meeting of the UN Security Council. "The perpetrators must be brought to justice. They must not be sheltered by any member state of the United Nations."