Donald Trump says Hispanic judge showing 'hostility' in court case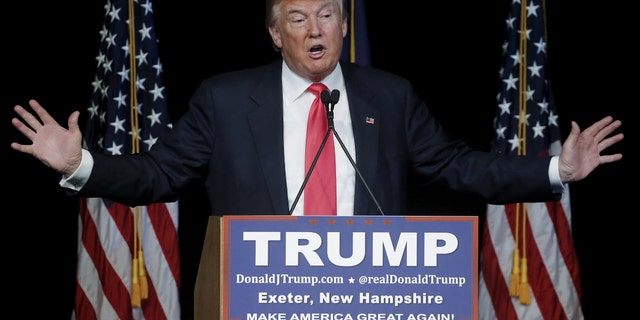 NEWYou can now listen to Fox News articles!
Donald Trump doubled down on his assertion that he's being treated unfavorably by a U.S. district judge because of the judge's ethnicity and disagreements over border policies.
The Republican front-runner is the defendant in a class-action suit in front of U.S. District Judge Gonzalo Curiel stemming from Trump's association with Trump University – one of three ongoing legal actions against Trump for his link to the so-called university, which was a series of seminars. Plaintiffs who attended the seminars from 2005 to 2011 have complained about subpar instructors and taking pictures with a cardboard cutout of Trump after being promised a photo with the man himself.
But Trump said he believes Curiel, who was born in Indiana to immigrant parents, according to a 2013 profile in a Federal Bar Association newsletter, has acted unfairly due to Trump's oft-stated promise to build a wall along the U.S. border with Mexico.
"I think it has to do perhaps with the fact that I'm very, very strong on the border, very, very strong at the border, and he has been extremely hostile to me," Trump said on "Fox News Sunday."
During a rally in Arkansas on Saturday, Trump specifically cited Curiel's ethnicity after noting perceived "hostility" from the judge.
"I believe he happens to be Spanish, which is fine," Trump said. "He's Hispanic — which is fine."
New York Attorney General Eric Schneiderman, who has filed a $40 million suit against Trump and Trump University for fraud, accused the tough-talking businessman of "racial demagoguery."
"I will not engage in a debate about ongoing litigation," Schneiderman said in a statement on Saturday. "But there is no place in this process for racial demagoguery directed at respected members of the judiciary. The state Supreme Court has already ruled that Trump University operated illegally in New York as an unlicensed education institution, and we look forward to prevailing on the rest of our claims as the legal process moves forward."
While the suits against Trump University have been common knowledge for years, they recently entered the spotlight after Sen. Marco Rubio, R-Fla., attacked Trump for the university during Thursday's GOP debate.
"There are people who borrowed $36,000 to go to Trump University, and they're suing now — $36,000 to go to a university that's a fake school," Rubio said. "And you know what they got? They got to take a picture with a cardboard cutout of Donald Trump."
Trump brushed off any notion of wrongdoing.
"I could've settled this suit numerous times. Could settle it now. But I don't like settling suits," he said.
The Associated Press contributed to this report.