Donald Trump: I Deal With The World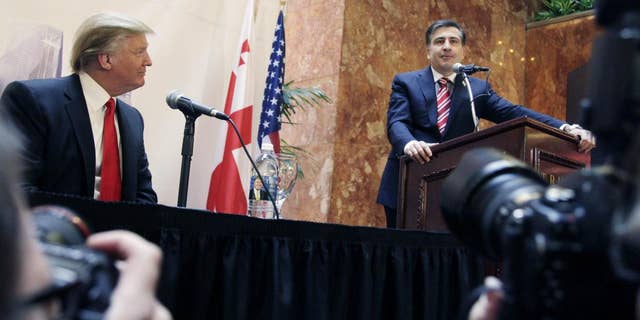 NEWYou can now listen to Fox News articles!
Donald Trump says his business dealings overseas should count as foreign relations experience when and if he decides to run for President.
"I have a lot of relationships with many of the leaders of the world," Trump said while sitting alongside the President of the Republic of Georgia at a news conference in New York. "I understand how the world works. I deal with the world."
Trump and President Mikheil Saakashvili held the news conference to formally announce a $250 million dollar deal to build two new Trump properties in Georgia: a luxury residential tower in the capital Tbilisi, and a five-star hotel in the Black Sea Resort town, Batumi. The projects are part of Georgia's effort to bring tourists and businesses to the former communist country. It gained its independence from the Soviet Union in 1991.
Trump praised President Saakashvili's efforts in turning Georgia around. "This is a country with amazing leadership," he said. "It shows what can happen to a country. Now in this case it was a small country, but it's becoming a very powerful country economically." Trump used the opportunity to slam the current leadership in the US. "We, unfortunately in this country, don't have that kind of leadership. We're being very, very badly decimated by other countries taking advantage of us. We're like a whipping post."
President Saakahvili says he actually has a very good working relationship with the Obama administration, saying, "We want them to succeed."
But Saakahvili joked that Donald Trump could probably give him a run for his money in Georgia.
"If he decides to run for President in Georgia, he might win."
Trump says he will decide whether to run for the White House by June.