Donald Trump considering Rudy Giuliani to head commission on immigration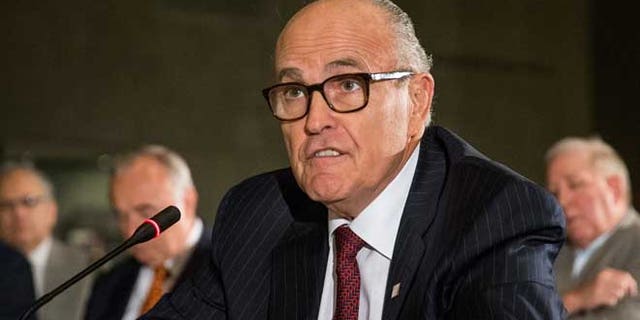 NEWYou can now listen to Fox News articles!
The presumptive Republican presidential nominee Donald Trump is considering putting his friend and former New York City Mayor Rudy Giuliani in charge of a commission on immigration.
During a phone interview with Fox News Channel's "Fox and Friends," Trump said that he is thinking about setting up a commission to review immigration policy and a temporary ban on Muslims.
He said he might name Giuliani – who was mayor of New York City when it was attacked by terrorists on Sept. 11, 2001 – as its head.
"We are allowing Syrians to come in here," Trump said. "We have no idea who they are – we have no paperwork. There's no documentation. They're pouring into the country, our country, by the thousands."
"I want to be very, very careful. So I'm going to be extremely vigilant."
"I'm thinking about setting up a commission, perhaps headed by Rudy Giuliani, to take a very serious look at this problem," Trump said on the Fox program. "But this is a worldwide problem, and we have to be smart."
The candidate also repeated his criticism of the administration of President Barack Obama as being too lenient in dealing with terrorism.
"We have a president who won't even use the term radical 'Islamic terrorism,'" he said. "He won't even use the term. He refuses to say the term, even after Paris, where 130 people were killed, or San Bernardino or any other place."
Trump's hard-line on immigration, and his call for a ban on Muslims trying to enter the United States, have been among his most controversial policy proposals during the campaign.
Giuliani has appeared often on television in recent months to defend Trump, saying that the real estate magnate was right to call for a hard line on immigration while conceding that perhaps he should have used less offensive rhetoric in expressing his views.
Giuliani, who has endorsed Trump, has a somewhat checkered past on the issue of immigration and minorities. Under Giuliani, surveillance of mosques was conducted after the 9/11 attacks. The Justice Department found that elements of the New York Police Department engaged in racial profiling while he was mayor.
At the same time, Giuliani assertively promoted the city as one that welcomed both legal and undocumented immigrants. He defended the city's policy of forbidding government employees from asking about a person's immigration status.
After the 9/11 attacks, he adopted a more restrictive approach, saying that immigration had become a national security issue.
When he ran unsuccessfully for president in 2008, he hardened his stance on illegal immigration. Giuliani called for stricter enforcement, while at the same time expressing support for giving some undocumented immigrants an opportunity to legalize their status.