DOJ and Sheriff Joe's Lawyers Meet, Possibly Avert Showdown In Court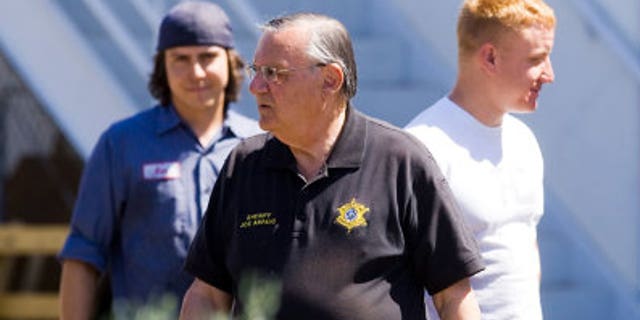 Controversial Arizona sheriff Joe Arpaio and the Justice Department may have averted a legal showdown in federal court, possibly finding common ground during a meeting in Washington on Tuesday.
The Justice Department has been threatening to sue the controversial Maricopa County sheriff over what officials describe as his refusal to cooperate with an investigation into alleged civil rights violations by his office. Critics have accused Arpaio of employing overly aggressive tactics to fight illegal immigration.
Both sides entered Tuesday's meeting skeptical that anything would come of it. But what was expected to be a brief meeting inside the main Justice Department building turned into a two-and-a-half-hour "back and forth," as one of Arpaio's lawyers, Bob Driscoll, described it.
"I think we made great progress," said Driscoll, a partner in firm Alston and Bird's Washington office. "I wasn't incredibly optimistic, but we've said all along that if the Department was willing to articulate what they were investigating and define what they were looking for, we'd respond to reasonable requests. And to a large extent they did that today."
A Justice Department spokeswoman, meanwhile, said her department is "hopeful that today's meeting" will "prove productive," insisting the department's "goal all along has been to gain voluntary compliance" with its requests.
In a letter dated Aug. 3, the head of the Justice Department's Civil Rights Division, Tom Perez, accused Arpaio of failing to cooperate with the department's investigation, warning that, "Absent [your office's] voluntary cooperation with this investigation within two weeks -- by August 17, 2010 -- the Department will file a Title VI civil action to compel access to the requested documents, facilities, and personnel."
The Aug. 17 deadline was rendered moot when the Justice Department and Arpaio's lawyers agreed to meet in person. Senior Justice Department officials attended the meeting on Tuesday, but Perez was not one of them.
Under Title VI of the Civil Rights Act, law enforcement programs receiving federal assistance, such as Arpaio's, cannot discriminate on the basis of race or national origin, and those in charge of the programs promise to operate in accordance with all requirements and assist the Justice Department in any oversight as appropriate.
While Arpaio has provided some documents, he has largely refused to meet the Justice Department's requests, condemning the investigation as politically motivated. His lawyers have denounced the investigation as a "fishing expedition," but that sentiment seems to have given way to cautious optimism after Tuesday's meeting.
"We went through a series of different document requests and negotiated about, 'Maybe the department doesn't need every single arrest record for two years. Maybe the department doesn't need every single policy that exists for the history of time for Maricopa County,'" Driscoll said of the meeting. "We went back and forth, and we tried to reach some agreement, and now we're in the process of seeing if we can finalize that and both get comfortable with it, and hopefully we will."
Driscoll said he hopes "in the short-term there's less chance of a lawsuit." But, he said, it all depends on whether both sides can reach final agreement.
"I think they're waiting to see ... if we're as good as our word, that we'll produce what we said we would," he said. "We should know in a matter of days whether or not we have agreement on the small issue of the production."
The Justice Department agreed, saying in its statement, "We will know in the coming days if voluntary compliance is forthcoming."
The department launched its investigation in March 2009, telling Arpaio in letters at the time that the "investigation will focus on alleged patterns or practices of discriminatory police practices and unconstitutional searches and seizures conducted by the Maricopa County Sheriff's Office, and on allegations of national origin discrimination, including failure to provide meaningful access to MCSO services for limited English proficient individuals." In addition, the Justice Department said, the investigation will look at allegations that Maricopa County Sheriff's Office "has an English-only policy in its jails," including a requirement that even bilingual detention officers "speak to inmates in English at all times, except in case of an emergency."
Arpaio's lawyers have argued that their client is legally required to cooperate with a "limited portion" of the Justice Department's investigation, the portion looking at "allegations of national origin discrimination." But, they have said, Arpaio is not obligated to comply with requests not covered by Title VI, particularly requests related to "alleged patterns or practices of discriminatory police practices and unconstitutional searches and seizures conducted by the Maricopa County Sheriff's Office."
Still, in the midst of the tug-of-war over documents, Driscoll said there is a "larger question" of whether the Justice Department finds a basis for the allegations against Arpaio.
"On that question, the sheriff has no doubts that he applies the law in an even-handed manner, and does not act in discriminatory fashion," Driscoll said. "It's simply enforcing immigration laws that's perfectly appropriate for local law enforcement to do. ... I assume they'll find that there is no credible evidence of discriminatory conduct by Maricopa County. ... but if they don't, that's what lawyers and lawsuits are for."