Does the GOP Need Univision?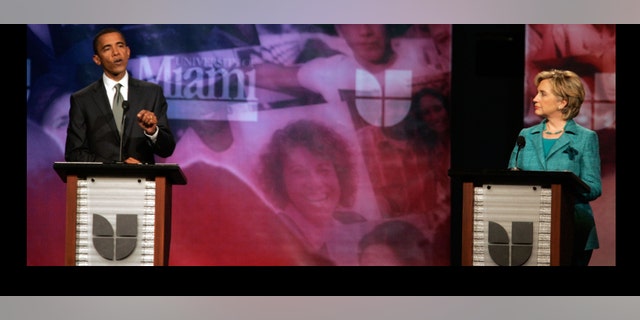 Just a decade ago, any political candidate who wanted Latinos to pay attention had to get someone else's attention first: Univision.
The largest Spanish-language network in the U.S. was the dominant player in the Latino market – and how they covered a story influenced how Hispanics viewed a political candidate or issue. The network had the power to elevate or sink a candidate.
But Marco Rubio's ongoing saga with Univision underscores how its near stranglehold on the Latino market is weakening as a growing number of networks are now paying attention to the growing political influence of Latinos in the United States.
The rift between the Florida Senator and Univision burst into the open over Univision's in-depth story on the conviction of Orlando Cicilia, Rubio's brother-in-law, during the federal-led "Operation Cobra," in the 1980s. According to a report by the The Miami Herald, the Senator's staff felt that the network tried to use the investigation as leverage to strong-arm Rubio into an interview.
Univision, the paper said, offered to soften or even kill the story about the senator's brother-in-law if he agreed to appear on Al Punto, a weekly news show, to discuss his views on immigration. Sources told Fox News Latino that when Rubio declined to be interviewed by Jorge Ramos, the host of the show, Univision canceled an interview the senator had previously scheduled with a reporter from the network's Miami affiliate.
Univision has strongly denied the allegation that it made any such offer to Rubio.
"With respect to Senator Rubio, Univision covered the story in the same objective, fair manner we cover every significant story," the network said in a statement. "Univision did not offer to soften or spike a story...we would not make such an offer to any other subject of a news story and did not offer it in this case."
"There's obviously a serious disagreement between the Rubio staff and the Univision staff," said Ana Navarro, a Republican strategist. "Univision has been the dominant political platform to reach Hispanics, but now this will make political candidates take notice of other alternatives out there."
The GOP has called for a boycott of Univision, and so far several presidential contenders -- Texas Governor Rick Perry, businessman Herman Cain, former Massachusetts Governor Mitt Romney, Minnesota Congresswoman Michele Bachmann and former Utah Governor Jon Huntsman -- have said they would boycott Univision's proposed January 29th debate over the flap.

And some candidates are using as leverage the fact that Univision is not the only network where they can go.
"With NBC and Telemundo (Univision's much smaller Spanish-language competitor) also hosting a debate the same weekend in January 2012, we will have ample opportunity to engage with Spanish-speaking Americans," Perry's communication director, Ray Sullivan, wrote in a letter to Univision CEO Randy Falco.
But Miami Democrat strategist Freddy Balsera said the brouhaha over Univision just proves how far Republicans have to go to understand Latinos.
"Univision is the number one source for news and information for Latinos in the US. In my view, ignoring Univision shows how little certain Republicans understand how to communicate and connect with Latinos," Balsera said.
He said the GOP still doesn't get that it cannot win the presidency without Latino support.
"You cannot win swing states like Arizona, Colorado, Florida, Nevada, New Mexico and Virginia without having strong results among Hispanic voters," Balsera said. "How do these Republicans propose to do that by boycotting Univision?"
Cristina Puig is a freelancer based in Miami.
Follow us on twitter.com/foxnewslatino
Like us at facebook.com/foxnewslatino