Does a Palin Endorsement Matter? You Betcha!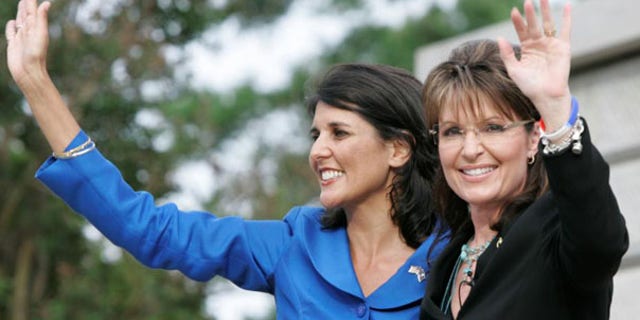 Sarah Palin's still got it.
After a few strikeouts during the campaign season, the former Alaska governor saw three of the four candidates she endorsed sail to victory -- or move on to a runoff -- in Tuesday's primary elections. While one of them was the frontrunner well before Palin got involved, two of those candidates were trailing far behind until she stepped to their side.
Palin downplayed her impact on Wednesday, telling Fox News that "any credit given to me is way overblown." She credited the "message" of the candidates, particularly the women she calls the "mama grizzlies."
"Perhaps an endorsement can shift just a tiny bit of momentum in some cases, and I think that's what we saw. But it certainly wasn't me as an individual," she said.
While the victories don't mean Palin was the only factor in those races, political analysts said they certainly show she is a factor.
Democratic strategist Doug Schoen called Tuesday's results "a feather in her cap."
"Palin is a queen or kingmaker within the Republican Party," said former Republican New York Sen. Alfonse D'Amato.
The former GOP vice presidential nominee hasn't exactly shown a modus operandi in the way she chooses candidates. In some cases, she's gone for outsider, Tea Party-aligned contestants. In others, she's drifted toward more mainstream, moderate picks.
In South Carolina, where the Palin factor was arguably strongest, she went for the outsider -- in a big way. State Rep. Nikki Haley climbed past three other candidates in the polls after Palin backed her at a rally in May and on Tuesday blew away the rest of the field with 49 percent of the vote. Because she did not reach the 50-percent threshold, Haley still has to face Rep. Gresham Barrett, who got 22 percent, in a runoff.
Palin's support in that race was heavy-handed. She stood firm by the candidate after a former campaign consultant claimed last month that he had an affair with the sudden frontrunner, using Facebook and robocalls to assail the consultant as a coward and dismiss the allegations as fabricated. A second affair allegation surfaced and Palin continued to support Haley.
Elsewhere, Palin endorsed candidates running against the outsider Tea Party types -- former Iowa Gov. Terry Branstad in the race for the GOP gubernatorial nomination in Iowa and former Hewlett-Packard CEO Carly Fiorina in the race for the GOP Senate nomination in California.
Both were winners.
While Branstad was the favorite to win his nomination, Karl Rove, former adviser to George W. Bush and a Fox News contributor, said Palin boosted Fiorina in a race where her opponents, former Rep. Tom Campbell and Tea Party favorite Chuck DeVore, had more conservative or well-known reputations among base voters.
"She helped give conservative credentials to Fiorina," he said.
The only candidate Palin endorsed in Tuesday's primaries who lost was Arkansas House candidate Cecile Bledsoe.
The 3-1 record means things could be looking up for Palin after she decided months ago she was going to try to shake up the primary season as well as certain special elections by wading in.
Her endorsement last fall seemed to help third-party candidate Doug Hoffman get recognition in the special election race for an upstate New York congressional seat. Hoffman's rise forced the Republican candidate, Dede Scozzafava to step aside -- but Democrat Bill Owens ended up winning.
Republican Tim Burns also was not able to pull out a victory in the May special election for the House seat formerly held by the late Pennsylvania Rep. John Murtha after he was endorsed by Palin. Shattering a mouth-watering upset for Republicans, Democrat Mark Critz won that race.
Then in Idaho, the candidate Palin endorsed for the House melted down last month following a series of gaffes and missteps, including allegations that he plagiarized from other lawmakers' websites. Palin pick Vaughn Ward lost the primary race to state Rep. Raul Labrador.
One of her biggest endorsees, though, secured a victory last month when Tea Party-backed Rand Paul took the GOP Senate nomination in Kentucky.