DNC hires East Village fire 'selfie' tourist as new spokesperson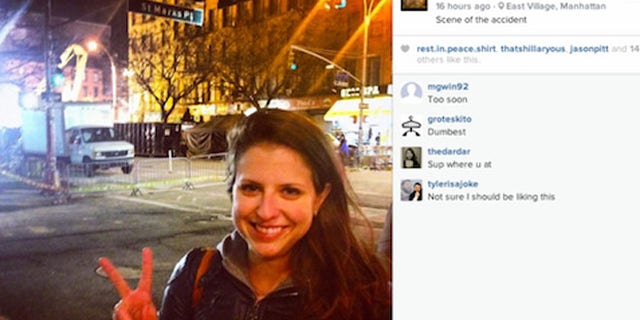 NEWYou can now listen to Fox News articles!
A New York City tourist who sparked national outrage after taking a smiling "selfie" in front of the rubble of the deadly East Village inferno in March is now working as a spokesperson for the Democratic National Committee and criticizing GOP candidates for their social media output.
Christina Freundlich, who previously worked at the Iowa Democratic Party and the Obama campaign, was criticized for posting an online picture of her grinning and flashing a "peace sign" in front of the scene of the fire, which killed two people and injured over two dozen in March. Freundlich apologized after the picture was published by the New York Post and became a national news story.
Freundlich has bounced back from the controversy and has since been hired by the DNC.
On Monday, the DNC press office sent out a statement from Freundlich -- identified as "DNC spokesperson" -- which blasted Jeb Bush for a Medium post he wrote about President Obama's economic policies.
"When it comes to talking about the state of the economy, Jeb Bush can't stop digging up the failed Republican ideas that just won't die," said Freundlich.