DNC cash crunch fuels Dem frustration, questions about Perez leadership
The Democratic National Committee just posted its worst July fundraising numbers in a decade, raising questions about why the party machine cannot capitalize on President Trump's low approval ratings and whether new Chairman Tom Perez is up to the task.
The DNC raised $3.8 million last month, compared to $10.2 million for the Republican National Committee. The tally fit a pattern for the Democrats, who have posted a string of depressed fundraising numbers month after month this year, even after new party boss Perez took charge in February.
Perez, after the small haul was announced last week, attributed the disappointing July results to understaffing and too few fundraisers as he tries to rebuild the group in the wake of 2016's damaging controversies.
The DNC had a similar response when reached by Fox News, issuing a statement from press secretary Michael Tyler saying the group is "still focused on rebuilding" but confident that "our team will raise the resources needed as we head into 2018 and beyond."
Many Democrats seem willing to extend Perez, a Labor secretary in the Obama administration, a longer honeymoon, considering the situation he inherited. DNC Chairwoman Rep. Debbie Wasserman Schultz, of Florida, resigned last July after hacked emails revealed discussions about undermining primary candidate Bernie Sanders. Then the party suffered a devastating defeat four months later when nominee Hillary Clinton lost to Trump.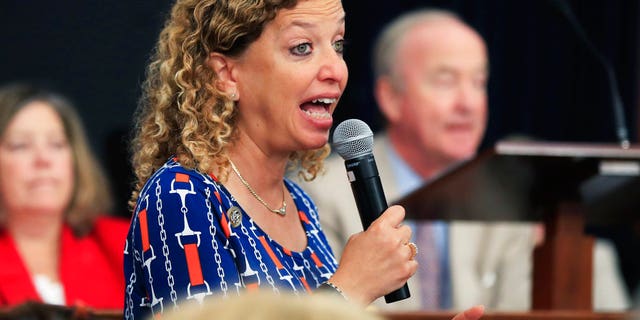 "Perez is trying to reorganize," said a Democratic strategist, whose ties to the DNC go back the early-2000s, when now-Virginia Gov. Terry McAuliffe used his fundraising prowess to finally get the group out of debt.
But Democrats also aired a sense of frustration over the fundraising lag.
"We really should be kicking their asses," one Democratic donor told The Hill. "It shouldn't even be close, considering all hell is breaking loose on their side."
DEMS TARGET 80 HOUSE SEATS; REPUBLICANS GO ON OFFENSE
Former Tennessee Democratic Rep. Harold Ford suggested Monday that the fundraising issues are connected to House Minority Leader Nancy Pelosi now essentially being the party's most recognizable and influential figure.
"Unfortunately for Democrats … Nancy Pelosi is less popular than Donald Trump is in many of these districts where Democrats have to win," he said on MSNBC. "Without a message and a local messenger, it is very difficult to construct a path to victory for Democrats in the Senate winning the majority and Democrats in the House doing it as well."
Ben Tulchin, pollster for Sanders, on Monday downplayed the fundraising numbers, arguing they should be viewed in a larger context.
"DNC and RNC fundraising is largely tied to the president who's in power," said Tulchin, president of San Francisco-based Tulchin Research. "Debbie Wasserman Schultz was a good fundraiser, but President Obama was also in the White House. So I'm not overly concerned."
But time is running out. The primary races for the 2018 midterms are now just months away, with Democrats aiming to win at least 24 House races to take control of the chamber.
Below the surface, some have started to question Perez. RoseAnn DeMoro, a Sanders supporter and head of National Nurses United, tweeted a link in June to a Reddit post calling for Perez' resignation, after another bad fundraising month.
"Dems call on Tom Perez to resign as Party continues to push corporate candidates, ignore members: http://bit.ly/2sZuWXn . #FridayFeeling," she wrote.
The DNC's haul for last month adds to the group's overall weak fundraising numbers this year.
The group has raised about $42 million through the first seven months, compared to $86.5 million for the RNC, which also has a $47.1 million-to-$6.9 million cash-on-hand advantage.
To be sure, Perez was elected to the post amid a host of problems including Wasserman Schultz resigning after hacked emails showed the DNC eased Clinton's path to the nomination, in part by limiting the number of primary debates.
Clinton's defeat highlighted Washington Democrats' disconnect with voters. And in March, interim DNC Chairwoman Donna Brazile admitted she'd used her position as a CNN commentator to share with Clinton questions for a primary debate.
Perez was elected to the post over Minnesota Democratic Rep. Keith Ellison, a progressive in a race considered yet another internal struggle between Clinton and Sanders supporters that continues to challenge the party.
Tulchin and other Democrats argue the DNC is only one fundraising arm -- with money also going to candidates' individual campaigns, a proliferation of political action committees and super PACs and both parties' House and Senate fundraising teams.
"Don't see this in isolation," Tulchin said.