Disgraced Mark Sanford Wins Back Congressional Seat With Argentinean Mistress Turned Fiancé By His Side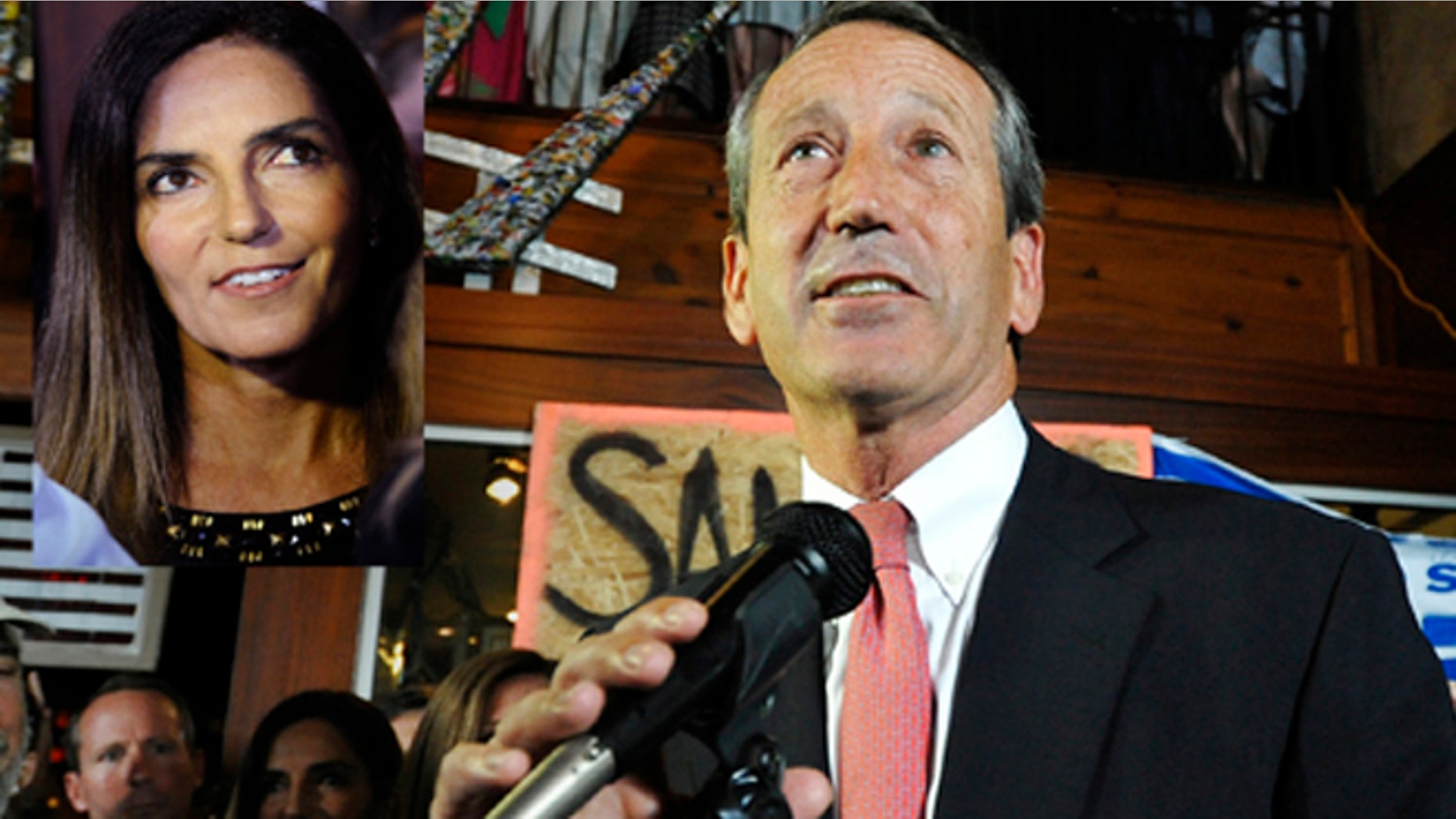 Four years after being caught in the fire of a political scandal, Mark Sanford is headed back to Congress  with his Argentinean mistress-turned-fiancé by his side.
On Tuesday, Sanford defeated Democrat Elizabeth Colbert Busch to win back the 1st District seat he held for three terms in the 1990s.
"I am one imperfect man saved by God's grace," the Republican told about 100 cheering supporters Tuesday. "It's my pledge to all of you going forward I'm going to be one of the best congressmen I could have ever been."
Although the race was thought to be close going into the voting, Sanford collected 54 percent of the vote against Colbert Busch, the sister of political satirist Stephen Colbert, in a district that hasn't elected a Democratic congressman in more than three decades. About 32 percent of the district's voters went to the polls. Green Party candidate Eugene Platt finished far behind.
"Some guy came up to me the other day and said you look a lot like Lazarus," Sanford told the crowd, referring to the man who, according to the Bible, Christ raised from the dead. "I've talked a lot about grace during the course of this campaign. Until you experience human grace as a reflection of God's grace, I don't think you really get it. And I didn't get it before."
Sanford, who turns 53 later this month, has now never lost a race in four runs for Congress and two for governor. And he said before the votes were counted Tuesday that if he lost this one, he wouldn't run for office again.
He saw his political career disintegrate in summer 2009 when he disappeared for five days, telling his staff he was hiking the Appalachian Trail. He returned to admit in a tearful news conference he had been in Argentina with his mistress, Maria Belen Chapur, to whom he is now engaged. Sanford later paid a $70,000 ethics fine, the largest in state history, for using public money to fly for personal purposes. His wife and political ally, Jenny, divorced him.
Three weeks before the special election, news surfaced that Sanford's ex-wife had filed a court complaint alleging he was in her house without permission in violation of their divorce decree, leading the National Republican Congressional Committee to pull its support from the campaign. Sanford must appear in court Thursday on the complaint.
Sanford said he tried to get in touch with his ex-wife and was in the house so his youngest son would not have to watch the Super Bowl alone.
The congressional seat became vacant when U.S. Sen. Jim DeMint resigned from his Senate seat late last year. Governor Nikki Haley then appointed the sitting congressman, Tim Scott, to fill DeMint's seat.
"We put up a heck of a fight, didn't we?" Colbert Busch told a crowd of supporters at a hotel in Charleston. "The people have spoken, and I respect their decision."
Although the district is strongly Republican, Colbert Busch raised more money than Sanford. And national Democrats flooded the airwaves with ads attacking Sanford's past indiscretions.
Steve Israel, the chairman of the Democratic Congressional Campaign Committee, said Sanford now becomes the face of the Republican efforts to reach out to women voters and the GOP will have to defend him.
"In this deep red Republican district that Mitt Romney won by 18 points, the fact that the Democrat made this competitive is a testament to the strength of Elizabeth Colbert Busch as a candidate and the Republican habit of nominating flawed candidates," he said in a statement.
But Greg Walden, his counterpart at the National Republican Congressional Committee, countered that the "results demonstrate just how devastating the policies of Barack Obama and Nancy Pelosi are for House Democrats in 2014. Democrats spent more than $1 million trying to elect a candidate who was backed by the Democrat machine, but at the end of the day, running on the Obama-Pelosi ticket was just too toxic for Elizabeth Colbert Busch."
Based on reporting by The Associated Press.
Follow us on twitter.com/foxnewslatino
Like us at facebook.com/foxnewslatino