Disgraced Dem Conyers endorsed son for his own seat – but he didn't qualify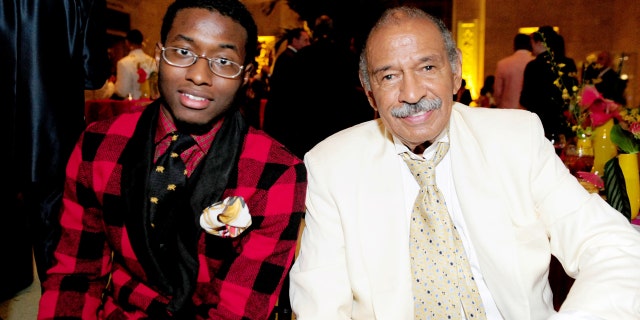 NEWYou can now listen to Fox News articles!
Democrat John Conyers' bedside wish for his son to take his Michigan House seat, after being forced from Congress over a sexual misconduct scandal, likely won't come true -- now that the younger Conyers reportedly has failed to qualify for the ballot.
The Wayne County Clerk Office's elections staff said last week that John Conyers III, the ex-congressman's son, was ineligible because he didn't submit enough valid signatures on his application to run in the Aug. 7 Democratic primary, according to local reports.
The review was launched after a challenge from another Conyers family member. Clerk Cathy Garrett was expected to make an official announcement soon.
Conyers, who turned 89 this month, had backed his son in a December 2017 radio interview from a Michigan hospital where he was recovering from the stress of the scandal.
"My legacy cannot be compromised or diminished in any way," Conyers said at the time. "I have a great family legacy, especially in my oldest boy, John Conyers III, who I incidentally endorse to replace me in my seat in Congress."
Conyers also announced his retirement during that interview, sparking a vicious family feud for the seat he had held since 1965.
State Sen. Ian Conyers, the former congressman's great nephew, also launched a run -- and in doing so, reportedly challenged hundreds of submitted signatures on Conyers III's application.
Conyers III reportedly fell about 95 valid signatures short of the required 1,000 to get on the ballot for the Detroit-area House seat, and nearly half of the roughly 1,800 submitted signatures were ruled invalid.
The former congressman retired as the longest-serving House member after several women accused him of sexual misconduct and a news report stated he'd used his office budget to settle a 2015 claim by a former female staffer who accused him of unwanted sexual advances.
Seven candidates are competing for the heavily Democratic seat, according to Ballotpedia. Conyers III, meanwhile, is reportedly trying to get on the special election ballot to fill the remainder of his father's term, from November to January.