Disasters Challenge GOP Governors of Alabama, Mississippi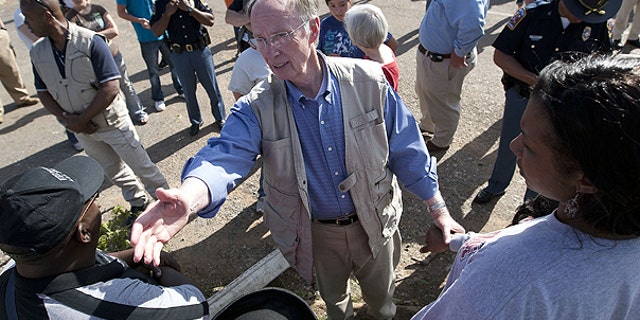 NEWYou can now listen to Fox News articles!
MONTGOMERY, Ala. -- Alabama's new governor thought his toughest job was going to be making double-digit spending cuts and deciding which state services to eliminate.
"Then on day 100 of our administration -- exactly day 100 -- we had this massive outbreak of tornadoes," Gov. Robert Bentley said.
The deadly storms that pounded the South on April 27 were a quick initiation for Bentley into the massive task of disaster recovery. They were just another chapter for his colleague next door, fellow Republican and second-term Mississippi Gov. Haley Barbour. Barbour has overseen his state's recovery from Hurricane Katrina and the BP oil spill in the Gulf of Mexico and is now bracing for Mississippi River floodwaters.
The responses of the two Deep South governors represent the different backgrounds of Bentley, a soft-spoken physician, and Barbour, a savvy, former Washington lobbyist and GOP insider.
Jess Brown, a political science professor at Athens State University, said Bentley's approach reflects "his deep roots in the Baptist Church and his interaction with people facing serious illnesses or death. He's had to deal with more people at difficult times in their lives than a businessman."
Brown said it's important for the governor to get out of the Capitol and be on the scene.
"When the destruction is widespread and there is loss of life, the governor needs to be seen as being concerned and appealing for resources," he said.
The late-April tornadoes killed at least 329 people across the South, injuring thousands and leaving wide swaths of destruction. It was the country's deadliest twister outbreak since the 1930s.
The storms killed at least 236 people in Alabama alone, and left some small towns without stores or manufacturers. Since then, Bentley, 68, has been crisscrossing the state, comforting the grieving and checking on relief efforts.
Bentley doesn't put his arm around the shoulders of storm victims. Instead, he looks people in the eye and holds their hand, much like a doctor would talk to an ill patient in the hospital. He shows emotion in his voice as he talks in specific terms about what happened to them.
Barbour is dealing with twin disasters -- tornado recovery and the threat of floods. Although he has visited the hardest-hit areas and offered comforting words to tornado survivors, his style is not that of a hugging father. Barbour's disaster briefings are businesslike and full of specific information about tornado recovery and flood preparation.
The tornadoes killed 36 people in Mississippi, mostly in the central and eastern parts. Now, an ominous swell of water is heading slowly down the Mississippi River, and forecasters warn the river could reach record levels in mid-May at Vicksburg and other parts.
Since then, Barbour has been warning people in low-lying areas of western Mississippi that they need to secure property and clear out.
"There's going to be flood water where hardly anybody living today has ever seen it," said Barbour, 63, who expects that his own Humphreys County lake house will be among the structures deluged.
In Alabama, neighborhoods that Bentley drove by for decades as a Tuscaloosa physician were wiped away by tornadoes. He took President Barack Obama on a driving tour of the town two days after the storms, showing him missing landmarks near the University of Alabama.
"When you see areas of the city where you have lived for 35 years totally demolished, it makes it difficult," Bentley said.
In Walker County, Bentley attended a church service on a concrete slab where the church once stood. In Fayette County, he held a relief worker who suddenly burst into tears.
Barbour has twice toured the tiny north Mississippi town of Smithville, which was mostly flattened by an F-5 tornado. Looking at what he called "utter obliteration," he vowed that the community will rebuild.
Dealing with disaster is nothing new to Barbour. He'd been governor just 18 months when Hurricane Katrina struck in August 2005. He also dealt with last year's BP oil spill and with a massive tornado that barreled through the state in April 2010, hitting his hometown of Yazoo City.
After Katrina, Barbour had a calm, take-control demeanor. He left the business suits at home and dressed in casual slacks and a golf shirt with a logo for MEMA, the Mississippi Emergency Management Agency. He conducted press briefings on live TV at least once a day for the first several days. He also pointedly did not criticize President George W. Bush or FEMA in the storm's aftermath, as others did.
Barbour flew over south Mississippi the day after Katrina. "It looked like the hand of God had wiped away the coast," he recalled five years later.
After Katrina, Barbour used his lobbying skills to help bring home billions of federal dollars for recovery, drawing praise even from political opponents.
"He ought to write the book about how an executive of a state should respond to a disaster," said Democratic state Rep. John Mayo of Clarksdale, whose district is now endangered by the rising river. "I absolutely think he has just done an extraordinary job as a chief executive, both politician and head of state, responding to disasters.
"Now, on everything else, I probably disagree with him," Mayo said.
Bentley was a little-known legislator for eight years before he was elected governor last November, largely by using his own money.
Before April 27, the biggest disaster he had dealt with was the death of seven people in tornadoes on April 15. But he said his background, including working in an emergency room and serving in a military hospital, prepared him to comfort people.
"I've seen destruction all my life, but it never makes it easy," Bentley said.
He credits local, state and federal workers with getting into damaged areas quickly. He even praises the Democratic president and Cabinet for state visits and the swift approval of aid.
"They have done everything I've asked, and I'm very appreciative of that," Bentley said.
Bentley credits the speed of relief work to changes made after Katrina, which also battered Louisiana and Alabama.
"It's so different than when you saw New Orleans, and it looked like nobody was showing up," he said.
There have been some snafus, though.
At a news conference Saturday, Bentley announced "very good news." Three people had been found alive in the rubble, he reported. Within a few minutes, his staff learned the initial report was false and notified the news media.
"People understand if you always try to tell the truth and if you make a mistake, you say it was a mistake," Bentley said later.
On Sunday, the Alabama Emergency Management Agency raised the death toll to 250, then lowered it to 236 on Monday. By Tuesday, the agency was not giving a total and was recounting.
"We lowered the number. We are happy we can lower it. I think it's going to go higher. I think there are some we have not found yet," Bentley said.