DeVos awards Texas district $1M grant for recovery after Santa Fe High shooting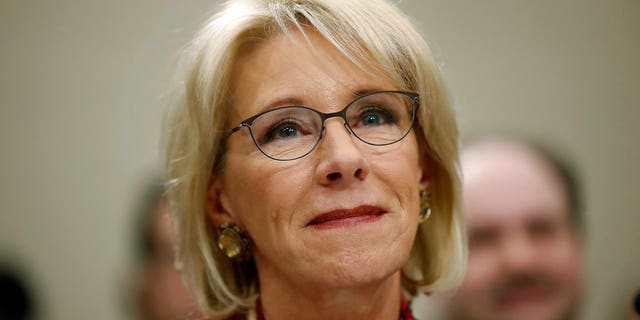 NEWYou can now listen to Fox News articles!
Secretary of Education Betsy DeVos awarded a $1 million Project School Emergency Response to Violence (SERV) grant to the Texas school district affected by the May 18 shooting at Santa Fe High. The money is to aid in the "healing and recovery process."
"No student, parent or educator should have to experience the trauma suffered by so many at Santa Fe High School and other schools throughout the country," said DeVos, according to KTRK. "Every day, the work of the Federal Commission on School Safety grows more urgent. We continue to focus on identifying proven ways to prevent violence and keep our students safe at school."
President Trump created a commission to review ways to make schools safer, naming DeVos to chair it. The panel on Thursday made its first field trip, to a Baltimore-area elementary school.
The Texas school shooting left eight students and two substitute teachers dead. Student Dimitrios Pagourtzis, 17, faces capital murder charges in the attack. Investigators say he carried out the massacre with a shotgun and a pistol that belonged to his father.
"This a crucial first step in federal funding to help the Santa Fe High School community recover," Sen. Ted Cruz, R-Texas, said in a statement. "I applaud Secretary DeVos for expediting this grant, and will continue to work to ensure Santa Fe High School receives the assistance it needs. I also remain committed to working with the governor, the administration and my congressional colleagues to put an end to these violent crimes and protect our students."
Gov. Greg Abbott recently unveiled plans to offer $120 million in funding to help strengthen school security across Texas.
The Associated Press contributed to this report.