Dems, Republicans Craft Separate Debt Plans as Bipartisan Talks Hit 'Deadlock'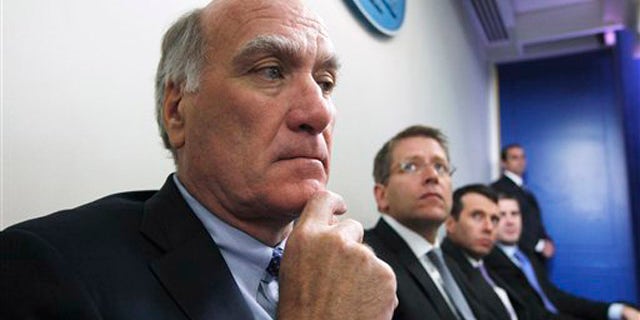 NEWYou can now listen to Fox News articles!
Unable to find common ground, Republicans and Democrats worked Sunday to prepare separate fallback plans for raising the debt ceiling as they tried to provide some assurance to the global financial markets that the country will not default on its obligations.
But Asian stocks fell Monday after the U.S. leaders failed to reach a deal. Japan's Nikkei 225 was off .6 percent at 10,068.6 points, while China's Shanghai Composite Index declined by a similar margin to 2,754.97. Hong Kong's Hang Seng Index also lost .6 percent.
Major stocks were also down in China Monday with market heavyweight PetroChina Ltd, Asia's biggest oil and gas producer down .8 percent.
Many analysts expect U.S. leaders to reach a last-minute deal to raise the government's $14-trillion borrowing limit before the Aug. 2 deadline, but markets are watching anxiously for what tax or spending changes may be part of the settlement.
Party leaders were huddling in their respective camps late Sunday as they weighed what can reasonably be accomplished before the deadline.
"This is about what is doable at the 11th hour," House Speaker John Boehner told "Fox News Sunday."
On that question, the parties diverged. As Boehner hosted a conference call with House Republicans, the White House invited House Democratic Leader Nancy Pelosi and Senate Democratic Leader Harry Reid to the Oval Office for a meeting Sunday evening.
Back-channel talks have been rocky all day, and a Senate Democratic aide told Fox News that while those talks continue, Reid is now working on his own fallback proposal. The plan would call for at least $2.5 trillion in deficit reduction -- without revenue increases -- and would extend U.S. borrowing authority until 2013. This would fulfill a White House demand that the debt ceiling be increased to last through the next election.
Late Sunday night, Reid issued a statement saying talks broke down after Republicans continued to insist on a short-term debt ceiling raise.
"A short-term extension would not provide the certainty the markets are looking for, and risks many of the same dire economic consequences that would be triggered by default itself," Reid said in a statement. "Speaker Boehner's plan, no matter how he tries to dress it up, is simply a short-term plan, and is therefore a non-starter in the Senate and with the President."
Boehner, meanwhile, said he wants a two-stage process -- and he's looking for a plan modeled after the controversial "Cut, Cap and Balance" bill that passed the House but died in the Senate last week. In an indication that it will not be something Democrats like, one source said Boehner was getting a lot of "atta-boys" on the GOP conference call as conservatives applauded his stance.
"It's won't be Cut, Cap, and Balance as we passed it, but it should be a package that reflects the principles of Cut, Cap, and Balance," Boehner said, according to excerpts of his remarks provided to Fox News. Boehner accused the president of wanting a debt-ceiling hike "all at once, without any guarantees that we're going to cut more than $2.4 trillion in spending ... so we don't have to deal with this again until after the next election."
House Republican Leader Eric Cantor called that position "purely political and indefensible."
Despite anticipation that Boehner would pitch a plan sometime Sunday night, he said on the conference call that he's now looking to have a bill out Monday afternoon. The White House warned earlier Sunday that the markets are starting to "question" the ability of Washington to deal with this problem.
While Boehner would not publicly detail what the GOP approach entails, others have said it involves roughly a $1 trillion debt-ceiling increase now, coupled with commensurate spending cuts, and another set of votes early next year.
Disagreement over the prospect of splitting the debt-ceiling increase into multiple votes is what so far has kept Democrats and Republicans apart, sources say.
One senior Senate Democratic leadership aide told Fox News that talks on Sunday "hit a deadlock" over the issue.
"Boehner is sticking with his short-term plan even though Democrats have rejected it and (the) president says he will veto it," the aide said. Another source said revenue -- as in tax hikes -- continues to be a big wedge.
The White House is not fundamentally opposed to dealing with the problem in two steps. But Obama administration officials made clear Sunday that they do not want the second phase to entail another epic debt-ceiling fight months before the election.
"The idea that we're going to spend another seven months lifting the cloud of default from the American economy, it seems irresponsible," Treasury Secretary Tim Geithner told "Fox News Sunday." "There's no reason why we have to do it that way."
White House Chief of Staff Bill Daley said Sunday that Obama would be "fine" with a two-step process, but not one where the second part "lets the political system once again show its dysfunction" -- suggesting the White House wants the debt-ceiling issue taken care of first, leaving deficit-reduction to be dealt with over two stages.
Senate Democratic Whip Dick Durbin also ridiculed "this notion that we're going to replay this movie in four or five months."
But Boehner said "it's just not physically possible to do all of this in one step."
Though Boehner is keeping details close to the vest, Senate Republican Whip Jon Kyl outlined a possible approach. He told CBS' "Face the Nation" that Boehner could propose a plan to raise the debt ceiling through the end of 2011. He said Congress can "surely extend it for five or six months," and then consider deeper deficit-reduction proposals in the second phase.
"If we can reduce spending by $1 trillion, then we can extend the debt ceiling $1 trillion worth. And that would take us at least through the end of this year," he said.
Both sides, once again, are taking a gamble.
The Obama administration says Congress has until Aug. 2 to raise the debt cap or face default, and the unsteady negotiations have brought Washington precariously close to wreaking havoc on the financial markets, not to mention the country's credit rating.
Boehner, after splitting off from White House talks on Friday, says he wants to get bipartisan support on a new approach but is willing to move forward without Democrats if necessary.
In doing so, Republicans would have to bet that at least a handful of Democrats would ultimately accept their plan in the Senate and that Obama would have no choice but to sign it.
Sen. Tom Coburn, R-Okla., said as much on NBC's "Meet the Press," when asked about the White House threat to veto any short-term plan that doesn't extend U.S. borrowing power into 2013.
"That's a ridiculous position, because that's what he's going to get presented with," Coburn said. "I think they won't have any choice."
A default could mean the U.S. government could not pay all its bills staring next month, including interest and principal on Treasury bonds. That would cause shockwaves through Asian economies and financial markets.
The Associated Press contributed to this report