Dems, GOP Trade Accusations of Politically Exploiting Threats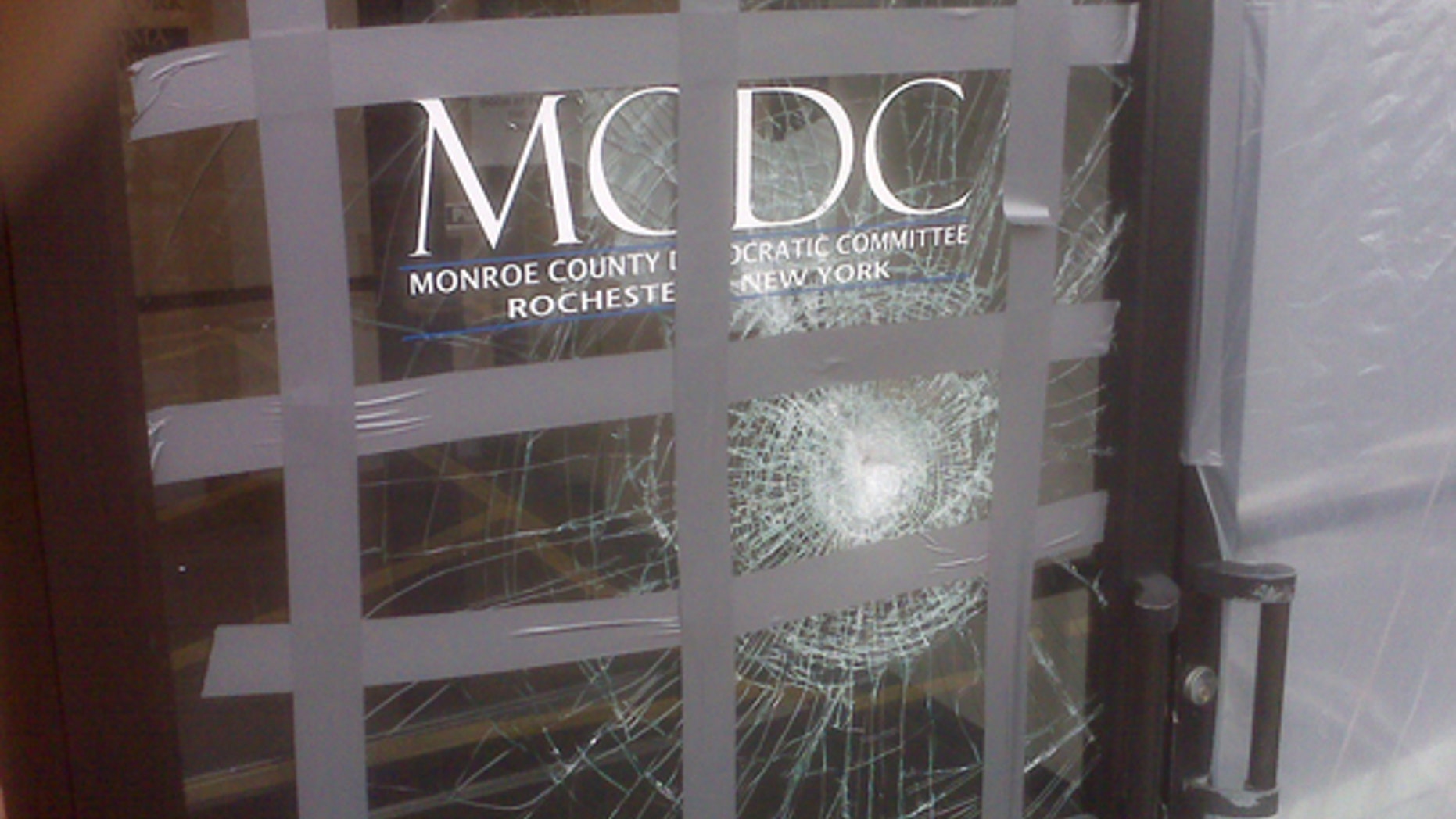 As federal authorities investigate threats made against members of Congress in the wake of the passage Sunday of the Democrats' health care overhaul, lawmakers on opposite sides of the aisle are trading sharp accusations of trying to use the incidents for political gain.
House Minority Whip Eric Cantor, R-Va., whose campaign office was shot at this week, set off a war of words Thursday by criticizing Rep. Chris Van Hollen, D-Md., and Democratic National Committee Chairman Tim Kaine for "dangerously fanning the flames by suggesting these incidents be used as a political weapon."
And Rep. Steve King, R-Iowa, suggested Democratic Rep. Barney Frank of Massachusetts needs to toughen up, after Frank accused a Tea Party protester of hurling an anti-gay slur at him Saturday as the House closed in on passage of the overhaul bill.
The back and forth comes as more lawmakers fall victim to acts of intimidation and one state political party attempts to financially exploit the ugliness of the health care debate.
Rep. Anthony Weiner, D-N.Y., is the latest lawmaker to face a threat after a suspicious envelope was sent to his community office where the New York Police Department sent a Haz-Mat team.
Weiner said the envelope contained white powder and a threatening letter. As a result, he said he is closing his office until the investigation is completed.
"My first priority is the safety of my staff and neighbors, and the authorities are currently taking steps to investigate and resolve the situation," he said in a statement.
The Ohio Democratic Party sent out a fundraising e-mail to "fight back against these types of vicious attacks between now and November."
The e-mail highlighted a story in a local newspaper that identified the health care protester who hurled insults and dollar bills at a senior citizen with Parkinson's disease as a registered Republican.
The organization asks for $10 contributions, saying a "generous supporter has offered to match every online contribution for the next 72 hours to help us overcome these attacks."
On Wednesday, Van Hollen told MSNBC that Republican leaders were "pouring more and more gasoline on the flames." Kaine, in an interview with the Huffington Post, said Republican leaders are "trying to stoke anger" with lies.
Cantor responded Thursday when he made a statement about the incident at his Richmond campaign office and the threatening e-mails he's been receiving.
"Any suggestion that a leader in this body would incite threats or acts against other members is akin to saying that I would endanger myself, my wife or my children," he said. "It is reckless to use these incidents as media vehicles for political gain."
Doug Thornell, a spokesman for Van Hollen, shot back at Cantor, saying that instead of using an opportunity to join Van Hollen in calling for restraint, "he chose to use his press conference to level false accusations."
"This is straight out of the Republicans' political playbook of deflecting responsibility and distracting attention away from a serious issue," he said.
Democratic National Committee spokesman Brad Woodhouse also criticized Cantor's comments and renewed calls for Republicans to join Kaine in "working to ratchet down the rhetoric, condemn deplorable behavior and find ways to disagree on these issues without the charged rhetoric that we've been hearing from Republican leaders."
"Let's be clear: calling on Republican leaders who have contributed in part to this anger by wildly mischaracterizing the substance and motives of health reform to condemn these acts is entirely appropriate," he said in a written statement.
Brad Dayspring, a spokesman for Cantor, pushed back, saying Kaine should listen to Cantor's statement in which he repeatedly called for restraint and condemned violence.
"It's very simple," he said. "If Chairman Van Hollen misspoke, he should correct the record, and if not, he and the DCCC should accept responsibility for their actions." Van Hollen is chairman of the Democratic Congressional Campaign Committee.
Lawmakers first became concerned about their safety on Saturday when several black House Democrats and Frank said health care protesters hurled racial and anti-gay slurs at them and spit upon one of them.
But King characterized the jeers as "a little push back" and said Frank needs to buckle down.
"I would think that Barney Frank has a thick skin," King said. "If he doesn't, I'll give him some thick-skin lessons."
King said that he was heckled as he tried to attend a University of Iowa football game last fall in Iowa City.
"It was about sexual orientation," King said of the barbs directed at him. He noted people hollered about him about his opposition to gay marriage.
Frank took issue with his Iowa colleague.
"This is how many Republicans try to diminish and dismiss bigotry," Frank said. "I don't know anyone would ever denounce (King) as a heterosexual."
Frank also said he'd pass on King's offer to help him toughen up.
"I appreciate the offer of lessons," Frank said. "But I cannot think of any issue on which I'd like to learn something from Mr. King."
Fox News' Chad Pergram contributed to this report.