Dems force candidate with same name as incumbent to change his on ballot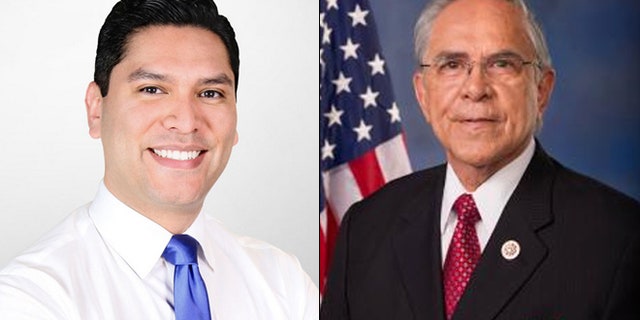 NEWYou can now listen to Fox News articles!
At first, it seemed Ruben Ramirez Hinojosa might be able to take a page from "The Distinguished Gentleman," the 1992 film where Eddie Murphy plays a character who gets elected to Congress by running under the same name as the dead incumbent.
Hinojosa, a young Texas law student, also happens to have the same name as retiring U.S. Rep. Ruben Hinojosa, D-Texas – and is running to replace him.
But the state Democratic Party has intervened, and reportedly is forcing Ruben Ramirez Hinojosa to change his name on the ballot to avoid confusion for voters.
The Texas Tribune reports that state party officials have informed Ruben Ramirez Hinojosa they will list his name as "Ruben Ramirez" on the ballot, over his objections and after he refused to sign an affidavit.
The University of Houston law student and Army veteran ripped the party over the decision.
"They're letting their political friendships pressure them, and they're caving in to their friends," he told the Tribune.
The candidate's name apparently had caused a big stir in the local political scene. Retiring Rep. Hinojosa reportedly was among those worried voters would mistakenly think they were voting for him if they saw the nearly identical name on the ballot.
The dispute was fueled by the fact that the candidate has gone under varying names. He reportedly ran, unsuccessfully, as Ruben Ramon Ramirez in 2012. But "Hinojosa" is his mother's last name, and the candidate reportedly says he uses that interchangeably with his father's last name, "Ramirez."
The dispute with the party escalated earlier this week, when, according to the Tribune, an official demanded proof he meets a legal requirement that Ruben Ramirez Hinojosa is his "given name" or a frequently used nickname.
The candidate submitted his birth certificate and an affidavit from a friend. But he then reportedly declined to respond to another demand to swear he met the requirements in a signed affidavit himself.
He reportedly does not plan to challenge the decision to list him as Ruben Ramirez.
But his Facebook page still promotes his candidacy under the name, Ruben Ramirez Hinojosa, and he's drawing attention to the buzz created by the controversy.
The primary will be held in March, and the younger Hinojosa is one of many candidates.
Also in the running on the Democratic side are: former Hidalgo County Democratic Party Chairwoman Dolly Elizondo; Edinburg School Board Member Juan "Sonny" Palacios Jr.; former Hidalgo County Commissioner Joel Quintanilla; and others.