Democrats lose top Senate candidate in Montana, adding to 2014 challenge to keep chamber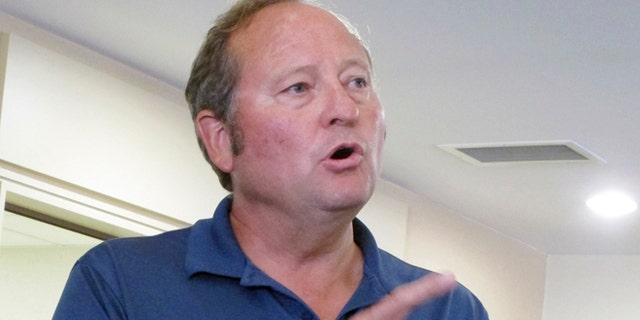 Democrats' top candidate to fill the seat of retiring Montana Sen. Max Baucus dropped out Saturday, adding to his party's challenge to keep control of the chamber next year.
Former Montana Gov. Brian Schweitzer said he doesn't want to leave his home state for Capitol Hill and felt compelled to consider a run only because many in his party said they needed him.
"I love Montana," he said. "I want to be here. There are all kinds of people that think I should be in the U.S. Senate. But I never wanted to be in the U.S. Senate. I kicked the tires. I walked to the edge and looked over."
Republicans need to pick up six seats to win back the majority. At the same time they must defend just 14 incumbents compared to 21 for Democrats. Among them are seven won by 2012 Republican presidential nominee Mitt Romney.
The 57-year-old Schweitzer was largely popular, easily winning reelection in 2008 and retiring in January because of term limits with a high approval rating.
Though a Democrat, he also displayed the ability to tap into Montana's conservative-leaning yet libertarian politics.
However, his heavy handed approach, which resulted in state surpluses, fostered a confrontational relationship with majority Republicans.
In addition, there appeared to be concern among Washington Democrats about recent stories connecting Schweitzer to politically active nonprofits.
As Schweitzer was mulling his options, the Montana Republican Party circulated a 2010 Internal Revenue Service form that showed a politically active nonprofit group called The Council for a Sustainable America used the same Helena post office box used for Schweitzer's 2008 re-election campaign and was signed by David Gallik, the state commissioner of political practices appointed by Schweitzer at the time.
The Council for a Sustainable America spent about $60,000 on politics in 2010, but it did not say in which races.
Schweitzer adviser Franklin Hall said at the time the nonprofit was never used for Montana politics or to aid Schweitzer.
Schweitzer was recently elected board chairman of Stillwater Mining Co., Montana's largest publicly trading company and said he is enjoying his life.
And he hinted last year that Congress was not in his future.
"I am not goofy enough to be in the House, and I'm not senile enough to be in the Senate," he said.
Republicans hope freshman Rep. Steve Daines will run for the Baucus seat.
Among the potential alternative Democratic candidates are Montana Supreme Court Justice Brian Morris, state Sen. Kendall Van Dyke, Stephanie Schriock of Emily's List, state schools Superintendent Denise Juneau and Montana insurance Commissioner Monica Lindeen.
"We remain confident that Democrats can hold the Montana seat and the overall math still favors Democrats next year," Guy Cecil, executive director of the Democratic Senatorial Campaign Committee, said after the Schweitzer announcement.
The party of a second-term president often loses congressional seats during midterm elections.
But Cecil remained confident. He said only three Senate Democratic incumbents have lost reelection in the past decade and that the party has already recruited a strong challenger to Senate Minority Leader Mitch McConnell, R-Ky.
Fox News' Chad Pergram and The Associated Press contributed to this report.