Democratic Sen. Bingaman to Retire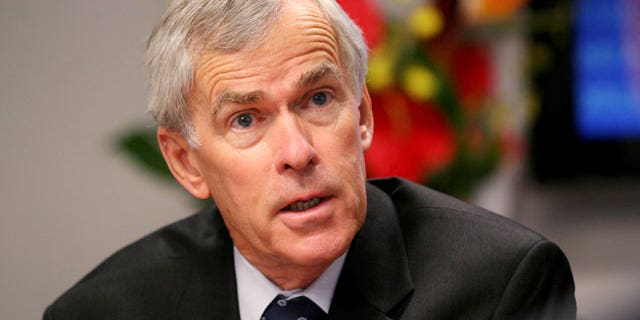 NEWYou can now listen to Fox News articles!
New Mexico U.S. Sen. Jeff Bingaman intends to retire at the end of his term, his office announced on Friday, the latest in a string of departures to hit the Democrats as they look ahead to the 2012 elections.
Bingaman was making a formal announcement Friday afternoon in Albuquerque.
Bingaman, 67, was first elected to his seat in 1982.
He is the third Democrat and sixth member of the Senate to decide to step aside at the end of their current terms. The others are Democratic Sens. Kent Conrad of North Dakota and Jim Webb of Virginia; Republicans Kay Bailey Hutchison of Texas and Jon Kyl of Arizona; and independent Sen. Joseph Lieberman of Connecticut.
Democrats currently hold a 53-47 majority, including two independents who side with them. But they must defend 21 of the 24 seats on the ballot next year, and face a struggle to retain control.
For years, Bingaman has flummoxed New Mexico's Republican Party leaders, who have criticized him for keeping a low-profile.
But he has remained popular with the voters, and his quiet, serious-minded style helped him carve out a reputation on Capitol Hill as a no-frills legislator who eschews the limelight. He once said not tooting your own horn can be very effective.
Republican leaders would not speculate on who might seek the seat in 2012, but state Republican Party Chairman Monte Newman said "our bench is going to be broad and deep."
Bingaman won his first election to the Senate with 54 percent of the vote, defeating incumbent Republican Sen. Harrison Schmitt, a former Apollo astronaut. In winning a fifth term in 2006, Bingaman garnered nearly 71 percent of the vote against a Republican newcomer.
A lawyer, Bingaman was New Mexico's attorney general from 1978 to 1982 before being elected to the Senate.
He was born in El Paso, Texas, but grew up in the southwestern New Mexico community of Silver City, the son of educators. He earned a bachelor's degree in government from Harvard University in 1965 and a law degree from Stanford University in 1968.